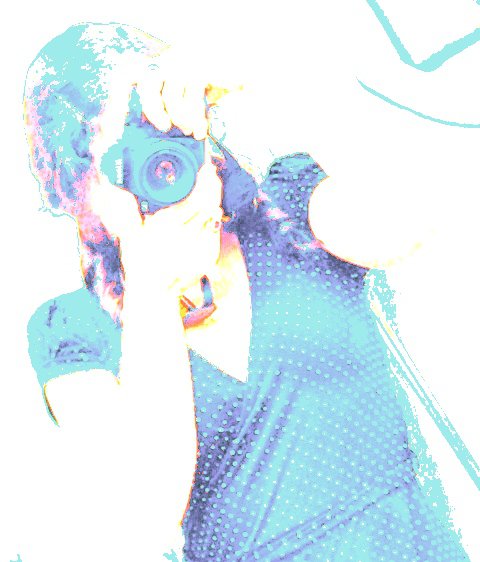 [self-portrait, Melody Mudd]
Melody Mudd was with us from the beginning. When I started writing about burlesque for CulturalCapitol, she was the friendly face behind the camera; not just the gorgeous woman on my arm, but a passport in a dress, ushering us through the velvet curtains of burlesque into a female-centric world of sequins and glamour. She made it possible to inhabit this world fully, to appreciate it and record it for prosperity.
In launching Burlesque Beat in 2010, Ms. Mudd and I became partners. She managed designers; I wrote taglines. We chose logos together. We shared the Sisyphean task of creating the first automated global burlesque events calendar still loved by the pros and the pervs. Since our free calendar's debut, Ms. Mudd has painstakingly kept it updated and tidy.
Ms. Mudd became the face of Burlesque Beat, in more ways than I can express. (It's no secret that she also became my wife.) She's behind all the social media of Burlesque Beat—that's her on Twitter with over 2,200 followers, that's her on Facebook, Tumblr, and Google Plus. (I'm like, "What's Google Plus?") She's our primary conduit to producers worldwide, with our friendly "competitors," with our advertisers. Along the way, she never stopped taking photographs at shows or managing our contributors around the world.
Ms. Mudd developed our new advice column, Ask Astrid, now a full-blown webisode series, and took over managing the comic strip #StripperProblems by Lauren Barnett. And while I've carefully edited our other writers, Ms. Mudd has carefully edited me. She looks at all my stuff—she'll probably look at this piece before it runs. I can't think of another person in the world who would want that job.
In 2013, I stepped back to focus on other projects, and Ms. Mudd took over more than ever. As I push new boundaries, I will continue to be a contributing editor to Burlesque Beat. That being said, I've made the important decision to promote the most deserving member of our team to the position she's already inhabited for some time.
With all due credit to the bulging—I mean, burgeoning—field of boylesque, the arena is rightly dominated by women. And I think it's fitting that our creation, a website dedicated to the art of burlesque, be helmed by a woman.
You may have already seen her first major work—our legendary calendar is now new and improved, and there will be more changes with our magazine to come.
Join me in making it official. Please help me celebrate the promotion of our own Melody Mudd as the new editor-in-chief of BurlesqueBeat.com.
Congratulations—
Melody Mudd, Editor-in-Tease
Sincerely,
J.D. Oxblood
Contributing Editor