Your Hair of the Dog: Burlesque Hall of Fame Movers, Shakers and Innovators, 2014
by J.D. Oxblood
[Full show coverage and photos by Photolena to come—Ed.]
Thursday, June 5
Orleans Showroom, Las Vegas
The Burlesque Hall of Fame Weekender kicked off in dazzling style last night, helmed by producer Jonny Porkpie, who delivered a finely-tuned evening of punch and delight that ran barely two and a half hours and felt even shorter. Porkpie hosted with the always-hysterical Branche DeBris, and together they were like peanut butter, after heartbreak and ice cream binges and bottoming out on eHarmony, finally finding chocolate. Porkpie turned in the hosting turn of his career, tag-teaming the stage with the presciently button-pushing DeBris, and when the two shared the Great Glittery Way, all was right in the Burlesqueverse.
Jonny opened with classic buffoonery to Deano's "I Love Vegas," drinking himself into a stupor and passing out cold. Per consummate commitment to a bit, Porkpie collapsed and stayed face down as the curtain closed over him, and DeBris faked his voice to introduce the show without him.

Key Sera elegantly kicked off the performances as Eve in the Garden routine, and despite her smoking-hot body with kick-ass biceps, it was her gaze and her smile that dictated the crowd's response. Without a skipped beat, up next was the burlesque's Minority Whip from NOLA, Bella Blue, who appeared in the dark in a sparkle-laden morph suit and proved that she knows who Martha Graham is. All modern, all spooky—to a Shiny Toy Guns track—and peeling off her mask last, a choice move, and hitting the last beat by raising her head an inch. Just an inch—the James Brown technique of "See how well-rehearsed I am?"
Swing Time's Pink Lady and Russell Bruner both killed it, the latter's cane work positively flawless, and he admitted to me that he wanted to piss people off by being so good at these techniques that others would almost hate him. Their piano player John Bennett worked burlesque in the '50s for $5 a show, and hasn't had a raise since.
Darlinda Just Darlinda gave an onstage master class in what you can do with nothing but a chair and a passion. ONE costume item, folks, and she grinded into the music and into our pants with more abandon than three average burlesque acts served in a blender with spiced rum.
Sizzle Dizzle made everyone in the house suddenly remember that their manicures weren't yet dry, as 500 people flickered their hands at their eyes, pretending they weren't crying. To Katy Pary's "Firework," Sizzle danced with her IV drip pole, saying a tearful goodbye as she rolled it offstage. It was a lovely and celebrational piece, and then she popped her wig off to reveal a completely bald head, and, as Lola Frost said later, tears just flew out of everyone's eyes. It was dedicated to Sizzle's friend Martha, who bravely lost a fight with cancer, and—fuck, it is too early in the morning for me to start crying.
A slick show, from DeBris's verdict on polyamory (too much talking about feelings and boundaries), to the double glove bite by Violet Tendencies, to the light-up costume fantabulousness by New York freshman Evelyn Vinyl, to Bobby Burlesque's upside-down zipper pull, to Lola Martinet, who redefined the concept of "Balloon Act," flipping the script Yeezus-like. Recipe: Reveal crinoline lined with pink flowers that match your outfit, then BLOW THEM UP, since they're actually balloons, via some unseen pneumatic mechanism. Start popping, and give up halfway through, just drop the crinoline and walk off.
Then there was Ray Gunn. "Jabberwocky." Weird word-salad video backdrop. A cloak-cum-straight jacket scribbled by a madman. And twisted, writhing choreo, shunning a top hat with inset birdcage and ditching a mask to reveal eyes covered by—IDK—gold glitter eye patches? Gunn went full downtown avant-garde to music by Amon Tobin, and I loved every minute of it. By turning in an act that might not be universally celebrated in competition, Gunn demonstrated that it is, indeed, good to be the King.
Tonight, Legends!!!
Kiss kiss,
JDX
Check out all our Burlesque Hall of Fame coverage.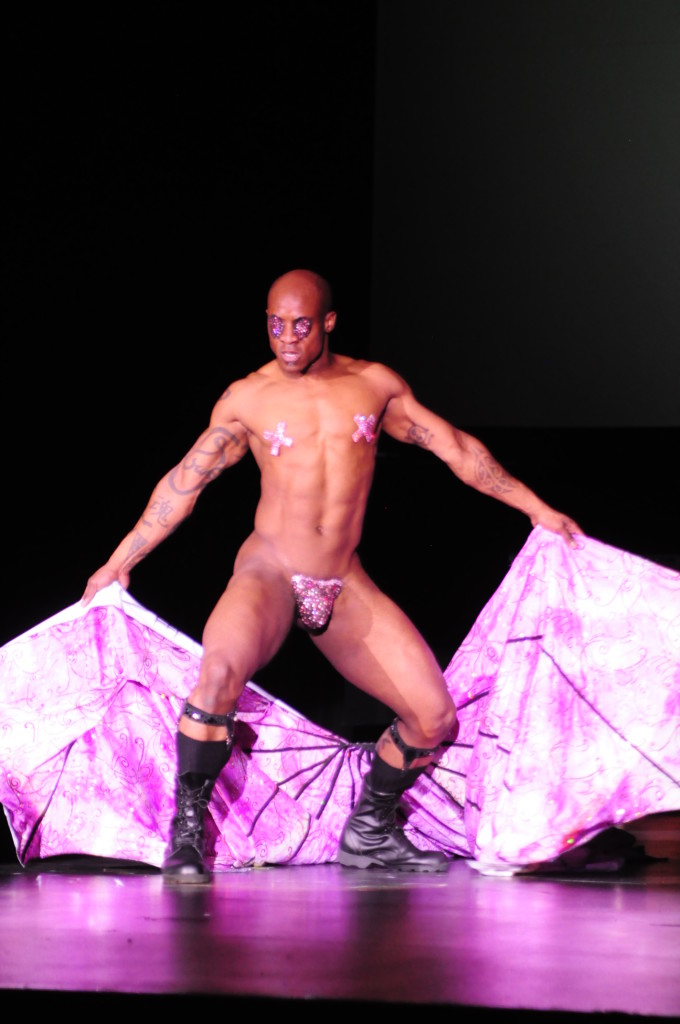 Are you here in Vegas with us? What were your top five acts from the Thursday night show?
J.D. Oxblood is a contributing editor to BurlesqueBeat.com. His writing has also been seen in New York Magazine's Bedford + Bowery, Burlesque Magazine, 21st Century Burlesque, and Zelda. His academic work appeared in Borrowers & Lenders. Follow J.D. Oxblood on twitter.
Melody Mudd is co-founder and Editor-in-Tease of BurlesqueBeat.com. All photos ©2014 Melody Mudd for Burlesque Beat. Please respect copyrights and request permission for usage. Performers may use shots for promotional purposes, but please credit properly with photographer's full name and a link to this piece in all instances. Performers who would like hi-rez images, get in touch.