Your Hair of the Dog: 2014 Burlesque Hall of Fame Weekend 57th Annual Titans of Tease Reunion Showcase
[Full show coverage and photos by Photolena to come—Ed.]
Friday, June 6, 2014
Orleans Showroom, Las Vegas
Every year, World Famous *BOB* tells the newbies to get out a tissue, because at some point during the Reunion Showcase (aka "Legend Night"), you need one. This year, for me, it was the presentation of the Legend of the Year Award to Toni Elling, who is so charming and delightful she's like a cool glass of lemonade in a smoky Vegas casino. When Dixie Evans first asked her to return to the stage, Toni told us, "I thought she was crazy." Presenting the award was Perle Noire, as intense on the mic as she is onstage, intoning with the cadence of a preacher. "Toni knows about the importance of keeping 'community' in the burlesque community," she said, and applauded Toni for her courage, thanking her on behalf of Burlesque Hall and " all of her special mahogany children, for opening the door with style and grace." Toni said, "Thank you for those beautiful words. I try to deserve them."
In performance, Penny Starr Sr. proved that she can still bump it with the best of them—at 80 years old. "Muscle memory," says her granddaughter Penny Starr Jr., along with a response to the howl of the crowd.
Lovey Goldmine, who used to date Richard Pryor, stunned in a costume designed by Gina Bon Bon, with a giant white boa riding like angel wings on her backside. With a seated stocking peel followed by slowly sliding down into a split, she got the crowd out of their seats. *BOB* said that Lovey had told her, "I'm almost 69 ," and *BOB* replied, "You want me to do what?" Yes, please.
Val Valentine appeared like a dream on the apron of the stage, glimmering in a silver dress. She swung her ample derriere, cutting the air with pink gloves, and began to peel, showing us full leg—a sheer crowdpleaser. And Dee Milo entered so sweetly, with such a charming, demure face, simply breathtaking in a soft red dress. When it came to showing some leg, Dee reached all the way down to her toes. There is no substitute for natural charm.
Shannon Doah has been a crowd favorite since she first appeared on the Burlesque Hall stage, and she did not disappoint. In gossamer blue and bare feet, she flowed across the stage mesmerizingly, and fell into a two-step combination with an insatiable hip wiggle. She unzipped her dress from the bottom up—mama!—and turned upstage to bounce on one foot and show us why the bottom should always be top on your list. She finished with a tassel twirl, and Mr. Gorgeous (possibly her personal crush)  carried her offstage with a kiss. The look on her face, head on G's shoulder, was of sublime contentment. Overheard after the show: "Shannon Doah? Holy fucking balls, she was amazing."
April March's Burlesque Hall debut was robustly received, a pas de deux with Jett Adore. (April admitted to me that she really enjoyed rehearsing—and rehearsing—the kiss.) A fun act, with Jett following her onstage like a dog, on all fours reaching for April's giant purple boa.
Harvest Moon gave a tribute to Haji, and El Vez gave a star-spangled tribute to Dixie Evans, killing it with custom-made lyrics.
The night was full of master classes: Liza Jourdan on how to polish your ass with your corset, Gail Winns on the charm of corny jokes, Julie Mist on stage effects, weaving through fog to a sultry Shirley Bassy James Bond soundtrack, Ellion Ness on bravery (Floor work? Top that!), Holiday O'Hara on STANDING UP (holy shit), and Gabriella Maze—fucking gorgeous—on the sheer power of the strut, and using the ENTIRE stage. Gabriella took upstage center as her home base, making intense descents downstage, utilizing the full depth.
Then there was that time when *BOB* asked the Saturday competitors to cheer, and only four people responded. She read us the riot act on your behalf, absentees. It's scary when Bob says, "I am disgusted officially." As my burlesque mentors (Jo Weldon, Tigger!) taught me when I first came to the Burlesque Hall of Fame: The Legends are the reason we are here. It's easy to forget in the bacchanal of competition, free-flowing booze, fabulous dresses, and the buzz of seeing all your friends. But keep it front of mind, kiss these women when you see them, and get your happy ass out of bed tomorrow morning and get to the Legend panel. We'll record it for posterity, but reading it on a screen is a paltry substitute. And every year, reviewing last year's panel, we hear the voice of someone who is no longer with us. Death is coming for you all, strippers and pimps alike. Look to her as an advisor.
While not every legend has been mentioned here, it's important to thank all the Legends for their work last night, and applaud all of them for the sheer bravery and fierce commitment they displayed in taking the stage and showing us how it's done. In all humility, please offer big wet glittery kisses to each and every one of them, including those in the Walk of Fame: Bic Carroll, Big Fannie Annie, Daisy Delight, Ezi Rider, Gina Bon Bon, Gypsy Louise, Isis Starr, Judith Stein, Suzette Monique, Tai Ping, Toni Elling, and Viva La Fever.
Love Love Love,
and Kiss kiss, JDX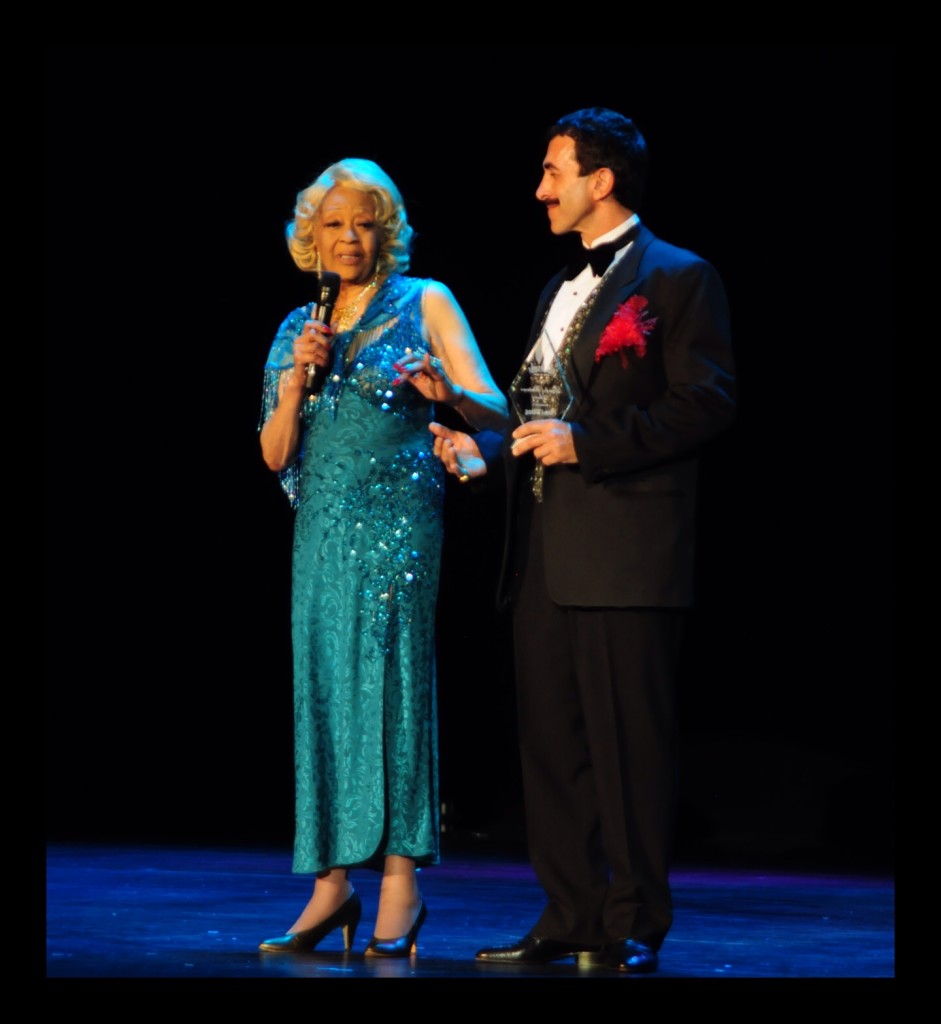 Ed: What do you think is an acceptable reason for missing Legend Night at the Burlesque Hall of Fame?
Check out all our Burlesque Hall of Fame coverage.
J.D. Oxblood is a contributing editor to BurlesqueBeat.com. His writing has also been seen in New York Magazine's Bedford + Bowery, Burlesque Magazine, 21st Century Burlesque, and Zelda. His academic work appeared in Borrowers & Lenders. Follow J.D. Oxblood on twitter.
Melody Mudd is co-founder and Editor-in-Tease of BurlesqueBeat.com. All photos ©2014 Melody Mudd for Burlesque Beat. Please respect copyrights and request permission for usage. Performers may use shots for promotional purposes, but please credit properly with photographer's full name and a link to this piece in all instances. Performers who would like hi-rez images, get in touch.