A chat with our 2014 Reigning Queen of Burlesque, Miss Midnite Martini
By J.D. Oxblood
At the Burlesque Hall of Fame, I caught up with newly-crowned Queen Midnite Martini at the afterparties both Saturday and Sunday night, but the opportunity to take a statement on the record did not present itself. We caught up via email so that we could talk about her palpable surprise at winning the crown, what being Queen means to her, and the visibility of the Colorado scene. We did not discuss how journalists can avoid bad puns about an aerialist based in a Mile High city where weed is legal; I chose to take the high road.
—JDX
Burlesque Beat: The night you were crowned Queen, you looked legitimately surprised.
Midnite Martini: I was definitely in shock. When they called my name I just stood there slack jawed thinking to myself I must have heard it wrong and it wasn't until Ray Gunn picked me up and spun me around backstage that I realized I wasn't dreaming!
I guess I was not expecting the routine I did to necessarily score high enough to get the crown. It was dark and moody and neo with circus, untraditional costume and a bright blue wig, not an act that usually comes away with Queen. So when 2nd and 1st runner-up went to two very amazing and well-deserving ladies (Ginger Valentine and Medianoche), I thought my chance of winning something had passed and had really come to peace with that fact in the couple seconds of coming to that conclusion. So when my name came next, yeah, I was just completely stunned! That's why it took me so damn long to even get out onstage to accept the crown, I was backstage flabbergasted!
BqB: But seriously—you didn't win 2nd or 1st runner-up—was there no part of your brain saying, "I could be Queen"?
Midnite: There was a part in my brain saying, "I'm gonna perform like I'm going for Queen," but yeah, again, after all the awards were given out and just Queen was left, I had really come to peace with not getting anything and was still very proud of my performance, so that felt like the ultimate inner win for me. "I could be Queen" didn't really sink in until about two days after winning. True and utter shock!
BqB: Did anything about this performance feel different from your other turns on the BHOF stage?
Midnite: It did! Just in general, I feel like my performances are shifting as I have my own personal journeys in life. I've gone through some heavy inner soul searching and reconnecting to painful and hard things in recent years, all necessary and good, though not easy. But I've noticed a big change in how I feel onstage and how I feel I connect with the audience.
I just feel more present onstage, and don't worry about being "perfect" or having no mistakes. I'm slowly starting to learn how to just show myself and perform.
I've said this before, but Miss Indigo Blue gave me a piece of advice years ago that resonates so hard with me now. She said that before you can become the best performer you can be, you have to get to know yourself and love yourself. So that means you gotta put in the work there before finding your full potential onstage. So true, Miss Blue! 
BqB: Did you see any of the other performances?
Midnite: Unfortunately I wasn't really able to see any of the other performances. There is a TV screen that feeds onstage video to the dressing rooms, but the feed is hard to see and does not do the performances justice. I know! I can't wait to see the videos—though I know that won't be the same as seeing it live either.
What I can tell you is that I heard the roars of applause and accolades after each performance backstage, and I know all of those performers well enough to know that they all killed it!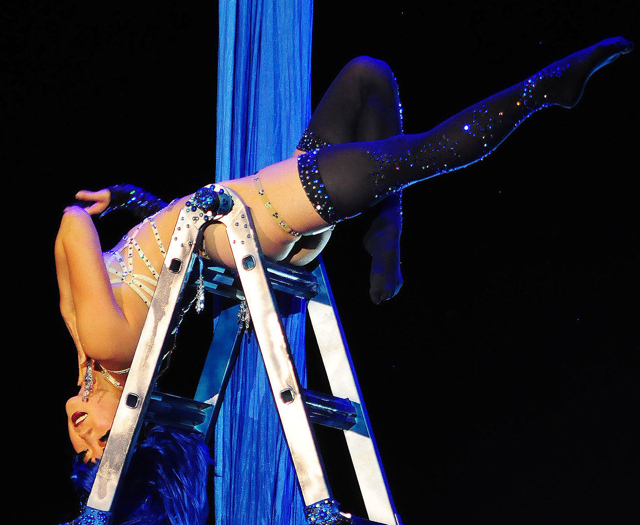 BqB: The BHOF crown doesn't guarantee any gigs or appearances, but there is certainly a sense of responsibility. What are your plans? What kind of Queen will you be?
Midnite: I feel totally unprepared but completely game to take on this Queen-dom-hood. I already talked to Joyce and Dustin, and my first campaign is to help get more people to become members of the Burlesque Hall of Fame. For just $35 (or up to $2,500 and anywhere in between), you can become a member and support the museum as it looks for a new larger space to move into. I just renewed mine and upped to a Flash Act membership and hope I can help to get more people to join this burlesque family. We have a goal of reaching 1000 members by the end of this year. I think we can do it!
To become a member you can sign up online.
The lowest membership level gets perks like a member card (which is fabulous to flash at festivals or your local show), plus the chance to receive early bird Weekender tickets with the early bird discount, and 20% museum purchases. Plus the satisfaction of supporting the world's only museum exclusively dedicated to the art, artifacts, and traditions of ecdysiasm (that's fancy for strippin').*
Then I will continue to advocate and coordinate the Legends Challenge fundraiser for the Weekender. That is where people can donate individually or hold a fundraising event to assist a specific legend and/or help BHoF recoup the money spent on helping bring our legends to Vegas each summer. We comp every attending legend a weekend pass, put performing Legends up in the Orleans hotel, and try to provide travel assistance to those Legends who need a little hand up to get out to the Weekender.
Find out more, donate individually, or submit a fundraising event.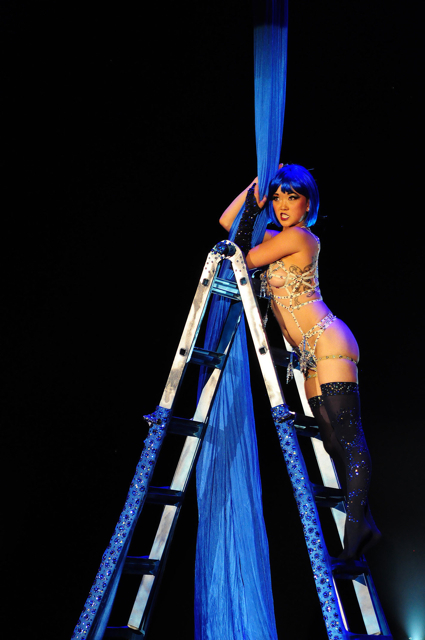 BqB: Your fellow Coloradoans are flipping out, rightfully. Do you intend to use your crown to draw more attention to the Mile High scene?
Midnite: Colorado certainly represented this weekend! Vivienne VaVoom of Denver also won a Sassy Lassy award, so the Mile High city did well to show BHoF we know what's going on!
And we have the Colorado Burlesque Festival July 10-13th where I will reunite with my King, Mr Gorgeous, and fellow competitors Sydni Deveraux and Lola Frost, and tons of other fabulous sparkly people who we will show Colorado off to.
But I do hope people turn an eye more to Denver and Colorado, it's a wonderful state rich in performance and burlesque. Represent the square state y'all!
BQB: There's already a lot of talk about the meaning of your Queen-dom because of your circus-skill act. Roxi D'Lite did NOT win the year she did ring (she won the following year), so you may be the first to win with such a routine. What do you think? Are you trailblazing?
Midnite Martini: Well, I think Roxi is the true aerial trailblazer, I don't think I would have won with such an act unless Roxi did it first. She didn't win with aerial, but the following year she did aerial for her step down act and has had an element of aerial or circus in each act since then. I think she really broke circus and aerial into the Queen status and paved the way for artists like myself.
But yeah, again, I was not expecting an act like mine to win Queen! I don't know what it means but at the very least I hope it encourages performers of all different styles, from classic to neo, to just find what moves them, find who they are and stay true to that, and know that the community appreciates it. Ray Gunn gave me that advice years ago as well, thanks Ray. 🙂
BQB: You've been Queen for 5 days. Are you still high?
Midnite Martini: So so much . . . I don't think I felt a thing all Saturday and Sunday. Monday it started sinking in more when I finally checked my Facebook and text messages, but it still feels so unreal. I'm still in Las Vegas right now, leaving tomorrow to head back to Denver, and I think there's apart of me that thinks once I get back to Denver this will all be a crazy dream that I made up. But I'm riding that dream for as long as I can!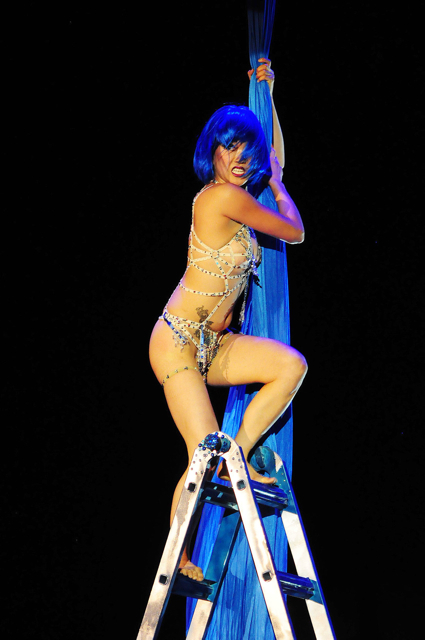 BqB: Anything you'd like to add? 
Midnite: Just a big thank you to the Burlesque Legends who paved the way for us and who have been so sweet and supportive to me. It's always been a pleasure to dance for them each year at BHoF and to get to watch them perform. Seriously, the Friday night show at BHoF is spectacular and it always makes me cry. It is the epitome of what this community is about, so much love, so much sass and inspiration onstage, and just being in that audience makes me remember why I love this burlesque family so much!
Another big thanks to the BHoF crew for all the VOLUNTEER work they do to bring us together each June and to keep the museum going year round. Thank you to the judges and the audience and all the queens before me, and all my fellow competitors and the Denver peeps and just thank you's to everyone and anyone! So filled with love for each and every one of you!
*[a word invented by H. L. Mencken for Georgia Sothern, and scorned by Gypsy Rose Lee. —Ed.]
Check out all our Burlesque Hall of Fame coverage.
J.D. Oxblood is a contributing editor to BurlesqueBeat.com. His writing has also been seen in New York Magazine's Bedford + Bowery, Burlesque Magazine, 21st Century Burlesque, and Zelda. His academic work appeared in Borrowers & Lenders. Follow J.D. Oxblood on twitter.
Melody Mudd is co-founder and Editor-in-Tease of BurlesqueBeat.com. All photos ©2014 Melody Mudd for Burlesque Beat. Please respect copyrights and request permission for usage. Performers may use shots for promotional purposes, but please credit properly with photographer's full name and a link to this piece in all instances. Performers who would like hi-rez images, get in touch.
Say hello to our new Reigning Queen of Burlesque! Leave your comment below, and please take a moment to share via social media.