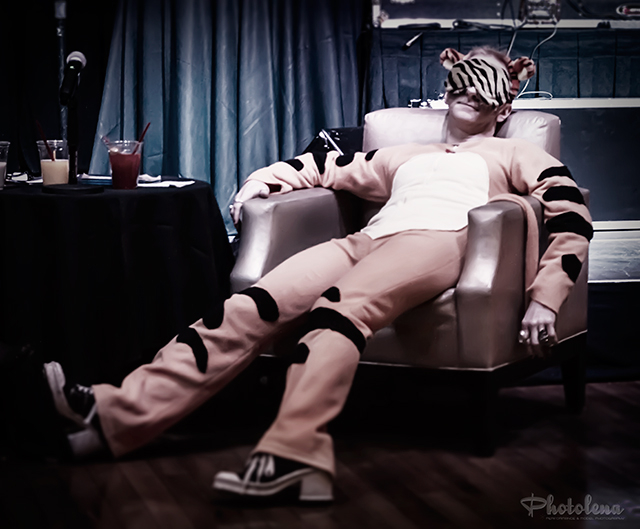 BHOF Has a Kiki – Burlesque Hall of Fame 2014
by Photolena
June 6, 2014
Buzz 'n Brushes, The Orleans Hotel & casino
Kiki (Scissor Sisters)
          "…a party for calming all your nerves, spilling tea and dishing just desserts one may deserve."
Now that those of you who don't listen to popular music, have lived under a rock, or generally poo-poo all that newfangled slang the kids are tossing about these days are up to date on the terminology, this brand new event at Burlesque Hall of Fame – and subsequently this article –  should make a hell of a lot more sense.
It's easy enough every year at BHOF to get to know our burlesque legends. No seriously, it is! If you haven't dragged your hungover ass over to the Legends Q&A (panel, brunch, or whatever they name it this year) to listen to their inspiring stories and meet them face-to-face, maybe even buy a photo or 2 (or 10), then you're missing out on one of the best events of the weekend. Meeting the other talented people who make BHOF – and burlesque – so fabulous isn't quite as easy, especially since many of these other creatives don't tend to get their four minutes in the BHOF spotlight.
Courtesy of Bazuka Joe this year that all changed with the new Let's Have a Kiki event on Friday afternoon – or as Tigger! called it, the "first-time live daytime TV without the TV talk show". Exactly! A laid-back affair at Big Gay Al's, it featured our onesie-toting host Tigger! interviewing and showcasing a couple of guests in his own unique way with DJ accompaniment (lovingly referred to as Macklemore by Anita Cookie). (FYI – Big Gay Al's has been officially renamed Buzz 'n Brushes, which we officially think is lame. Now it's a venue for art classes listed on their "BeeCalendar" and with the company of "BeeBuddies". BeeCause why?)
So who did we get to know just a bit more in-depth at the Kiki?
Luma Rouge is an illustrator/painter who has created artwork for Selfridges in London, sketched live on set during the filming of Burlesque (with Cher and Christina Aguilera), and has been illustrating on-the-spot at live burlesque shows. You can find her at shows with her watercolour sketchpad, paints and brushes in hand as she puts her own artistic spin on performers and their craft.
          "I thought – here's incredible talent and people need to see this."
Anita Cookie is of the leading comedy queens of burlesque and has appeared at BHOF with Gigi & Pop and won the Best Variety Award in 2009. She's one of the cutest, funniest gals I've seen up on the burlesque/interview stage and I was happy that Tigger! just let her do her schtick. I could have sat there all day listening to her jokes.
Harlequin Aces is a man obsessed with burlesque; the producer of the Southern Colorado burlesque festival, he did his thesis on burlesque and it became the Berlesker hand-crafted literary journal of which he remains editor in chief.
           "I was never blind to the fact that everything that most of us do here is somehow connected to her [Dixie Evans]."
Brad French performs all over the US as "That Juggling Guy," although more recently he's been referred to as "The Silver Fox". In 2011, he performed at BHOF with the Dolls of Doom and won most comedic award for the Octopus. To say he is a punny man is an understatement of gigantic proportions!
          "I hope you all die peacefully in your sleep like my grandfather did, and not screaming in terror…. like the passengers in his car."
Judith Stein aka Mama Beaver is Canada's only legend of burlesque to be inducted into the Burlesque Hall of Fame in Vegas. This grand gal of Canuck burly-q dished out all the goods on sex, drugs, and partying. I don't know about anyone else, but I was exhausted and hungover just from listening – this is one sassy lady that can par-tay!
          "I burnt my bra but I didn't inhale."
Miss Anita Goodman is a burlesque hostess and comedian in Seattle, she's got a resume the length of my arm including motivational speaker, film and video actress, and variety show hostess. And she was funny as hell doing a stand-up routine for all of us in the Blues 'n Blouses… Buns 'n Britches…sorry, Buzz 'n… Big Gay Al's.
          "In Seattle, you can only start a conversation if you're an expert in Doctor Who, Buffy the Vampire Slayer or Firefly."
And of course there were some memorable Tigger! moments…
          "I danced on my left leg. I danced on my right leg. And between the two of them, I made lots of money."
          "On our wedding night he gave me a sheer nightie with fur trim on the bottom. I asked him 'What's this for?' He said 'To keep your neck warm.'"
Check out all our Burlesque Hall of Fame coverage.
Olena Sullivan (Photolena) is a Toronto-based model and performance photographer who specializes in onstage burlesque photography and covers the Canada burlesque scene for Burlesque Beat. All photos ©Olena Sullivan-Photolena for Burlesque Beat. Performers may use shots for promotional purposes, but please credit properly with photographer's full name and a link to this piece.
Did you attend Let's Have a Kiki? What did you think? Leave a comment below.