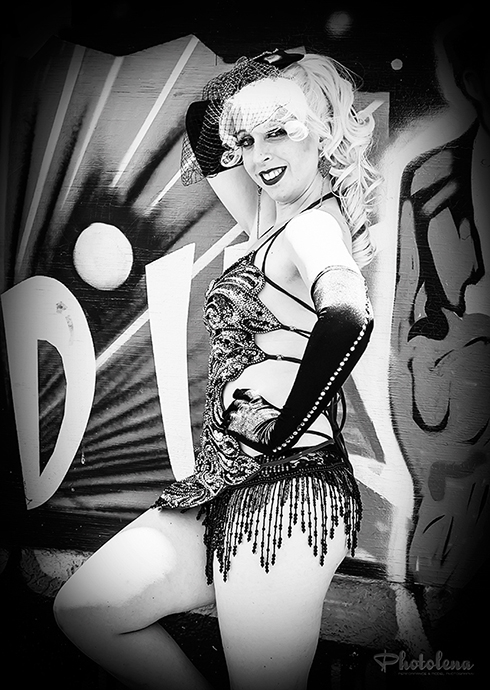 The 2014 Burlesque Hall of Fame Photo Safari
by Photolena
June 8, 2014
Pinball Hall of Fame, the Freemont Las Vegas sign, and The Beauty Bar
What do you get when you throw together twenty-nine burlesque and pin-up models and twenty-nine photographers onto a double-decker bus in 107 degrees that feels like a balmy 111? You get the always sold-out (I've done it twice now, so that's "always") sexy, classy, super fun Burlesque Hall of Fame Weekend Pinup Photo Safari.
Before you go all "but I'm not a professional photographer and all I have is a point and shoot" on me, let me tell you–that doesn't matter. There's no requirements here other than (and I've made these up but I think everyone will agree):
♦ you buy your ticket early–this sells out!
♦ don't be a perv–these are classy ladies and this is not a Hustler photo shoot, not that there's anything wrong with a Hustler photo shoot; this just isn't one
♦ knowing how to work with models is not a MUST, but it does help as there are different levels of experience on both sides of the lens
♦ you are going to BURN in the sun on the top of the double-decker bus–bring sunscreen and a hat or get ready for heatstroke in the first hour
♦ drink water like you're a stranded mermaid…. so, a lot!
Every year the guys behind the photo safari come up with the most amazing and classically kitschy locations to shoot in and I am thankful to Java from Bachelor Pad Magazine and Chris Beyond for topping themselves year after year! So where did we go this year?
Pinball Hall of Fame
Why not a Hall of Fame for pinball machines, right? I remember spending my teenage years pumping endless rolls of quarters into these noisy beasts at the local arcade. It was also my parents' numero uno choice of babysitter when I got bored of the beach on vacation. The Pinball Hall of Fame brought back some great memories, and if someone has said to me when I was 8 that someday I would get to shoot beautiful pinups leaning against and playing some of my childhood favorite machines I would have lost my mind (ok, I would have said "what's a pinup?")! Haunted House, Kiss, Space Station, Star Trek, Vegas… what a collection! Bonus points to Java and Chris for providing the surreal experience of pinup-clad models draping themselves on bright games machines, ping-ping-ping in the background, while parents try not to let their little boys openly ogle the girls. Awesome!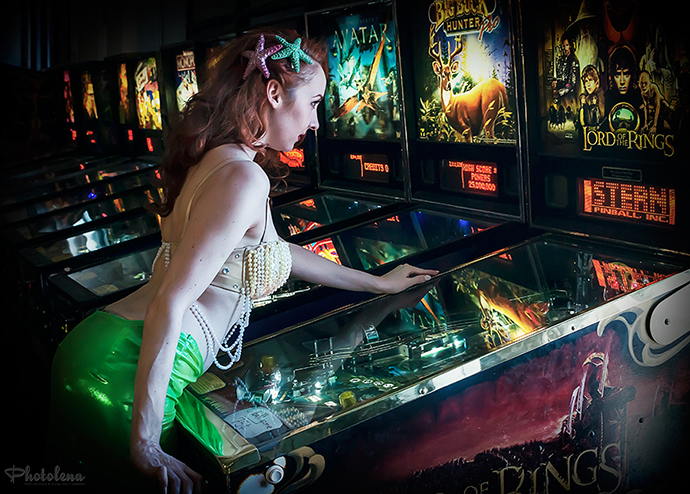 The Fremont Las Vegas Sign
I think this is a standard location every year–and I'm glad it is. Who doesn't want to get photos of the Las Vegas sign–near the Fremont Experience, not the really busy big, big one everyone goes to–with gorgeous models under it? Gives your photos that real 50s postcard feel. The bonus with this location is the building in the parking lot where the bus parks–it's covered in graffiti which makes for a great background. One side is colorful abstract graffiti and the other is a black and white retro Rat Pack-style design. So many ways to pose your models here. And the bonus? A gorgeous Harley-Davidson just sitting there, waiting for a hot mama to pose on it–and yes, it's there for us to use. Pretty cool!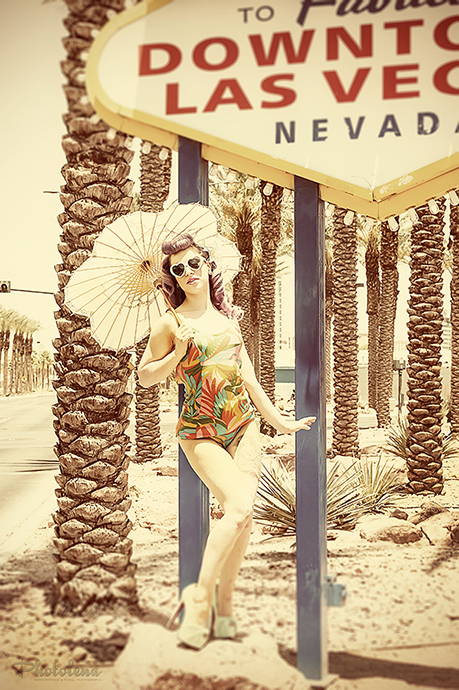 The Beauty Bar… and detour
There are three locations to the photo safari–which is perfect as we all get roughly an hour to shoot at each. With the amount of photogs and models that's about the right amount of time to let us shoot en masse or pull a model aside for some private posing if we want. The third location this year was the retro-themed Beauty Bar near Fremont…. which wasn't open when we got there. Lucky for us! This gave us a chance to shoot a 4th location–a bonus of sorts.
So we all headed across the street to the Medical Arts Building to take a break and check out the Burlesque Hall of Fame Museum. But half-naked pinup girls must model, and photogs with cameras must shoot, and there were just too many opportunities there to just sit nicely and wait for the Beauty Bar to open its doors. So off everyone went–into the art galleries, outside onto the street, into the museum… posing, camera flashes going off, searching for that perfect spot to shoot.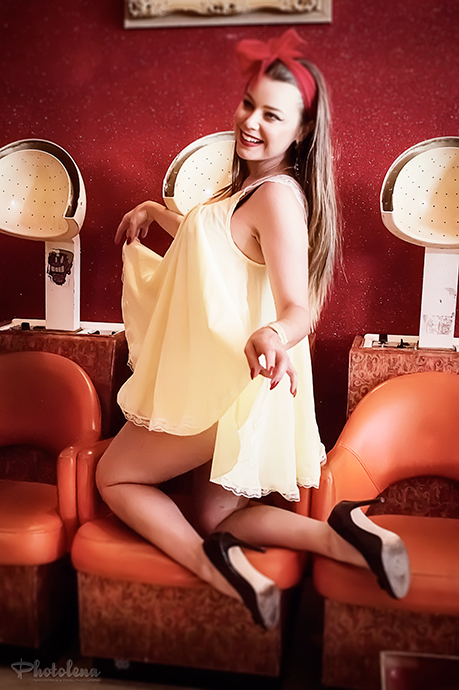 The Beauty Bar is a great, small space and really tested our photographer etiquette–nobody really walking in front of other people's shots or getting in their way. According to its website, it's an event space that's "retrofitted with the late fifties Capri Salon of Beauty from Trenton, New Jersey." I know, cool right? It's got that row of chairs with the 50s hair drying cones, a great long glittery bar, and the walls are purple and gold glitter. At the back, there's a small stage for live shows. I think I felt my most creative here, and the ladies were in lingerie and pasties so it was 50s beauty burlesque boudoir all the way.
I cannot wait to do this all again next year! OK, let's see that gallery…
Check out all our Burlesque Hall of Fame coverage.
Olena Sullivan (Photolena) is a Toronto-based model and performance photographer who specializes in onstage burlesque photography and covers the Canada burlesque scene for Burlesque Beat. All photos ©Olena Sullivan-Photolena for Burlesque Beat. Performers may use shots for promotional purposes, but please credit properly with photographer's full name and a link to this piece.
Have you gone on safari with BHOF as a photog or a model? What locations did you hit?