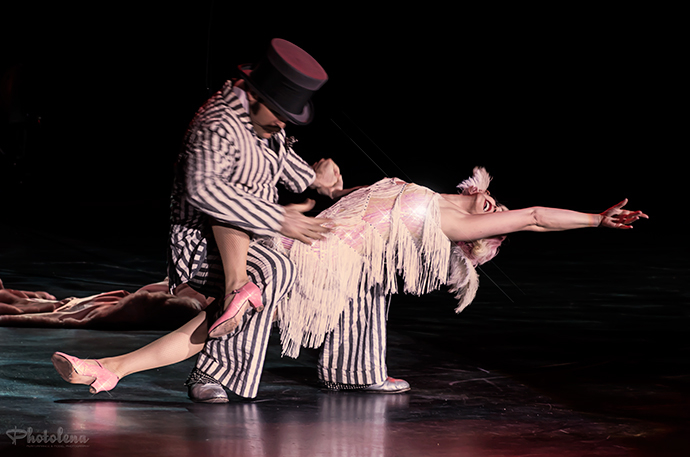 by Photolena
June 5, 2014
Orleans Casino Showroom, Las Vegas
Burlesque Hall of Fame Weekend 2014: Movers, Shakers and Innovators
It's hard to pick just one evening to call my favorite, but the thing that makes the Burlesque Hall of Fame Movers, Shakers & Innovators show truly wonderful is getting the chance to see some really creative boundary-pushing talent that I otherwise may not get the chance to check out back in my home town. A lot of these performers are new to me and the BHoF Thursday night show is the perfect big bang way to start off one mind-blowing night after another (after another, after another) of the biggest annual, international celebration of envelope-pushing striptease.
Dunk me in gravy 'n cheese and call me Miss Poutine, but hot damn(!) am I ever proud of my fellow Canuck James & the Giant Pasty for not only making it to BHoF, but also getting a standing ovation for his truly artistic and moving performance. With Fleetwood Mac's "Landslide" as a perfect accompaniment, we watched a strong and proud tree shed its autumn colours as it went through the changes of the seasons, from the glittery glamorous chill of winter to the (nearly) naked rebirth of spring. I have seen this act once before and I am happy to see that the Vegas audience was just as moved as I was by its artistry and emotion.
I usually don't like neon or black light acts – too many times they're improperly lit, rely on the lighting prop instead of marrying it into the performance, and are generally a bitch to photograph. The performances by Miss Theresa and Evelyn Vinyl  brought back my faith in well-crafted low-light burlesque. Miss Vinyl's black leather-clad cowgirl was that much more spectacular with her ingeniously equipped illuminations that rimmed her cowboy hat and were patterned on her outfit. The most crafty thing was how she controlled them, turning them on and off, in chunks or individually at her will. Even when she stripped off the leather her beautiful body continue to emit a sensual light – truly an innovator.
Miss Theresa was a fetish burlesque dream! She dedicated her performance to the band Puscifer and along with her blacklight cage skirt she sported a headpiece that was a replica of the band's mascot, horns and all. The music was dark, the stage was dark, and everything was glowy, including the white wispy fabric billowing from her skirt as she glided across the stage. It was quite beautiful to watch, like a floaty dream and I really wish I could do it justice with the photos.
This year I was introduced to some truly marvelous drag kings and Ernie von Schmaltz was one of them. A mustachioed sex machine in gold and green lamé cape, the perfectly coiffed ladies' man got in touch with his Celtic side to mesmerize us with his feet of flame. The Ron Burgundy/Michael Flatley love child jigged his way across the stage, oozing manliness like Eau De Panache. As he stripped down to his purple glitter leotard he held the audience in his thrall – such a fine specimen of machismo just could not be denied!
Baltimore's Kay Sera, a founding member of Bawdy Shop Burlesque brought us back to our beginnings – wayyyyyy back. As the ever-curious Eve in the Garden of Eden, wearing only 3 strategically placed leaves and long white hair flowing to the ground, we watched as she came upon the tree of knowledge holding the forbidden fruit. The tree prop was genius, complete with serpent hand puppet and big shiny red apple. A separate prop apple opened up to reveal a red hot little fringed outfit that our formerly naive Eve put on to shimmy and shake her way into our hearts. She performed this act at NYBF 2013, and we loved it then too.
Chicago's Lola Martinet had one of the smartest acts of the evening. I'm always impressed when a performer can take a tried and true concept and turn it on its head and add something new. Last year, Laurie Hagen blew me away with her ultimate backwards routine. This year Lola brought that little extra. After all, anyone can do a balloon act – but not everyone has the great idea to come out with a cage skirt (so hot!) and have the balloons inflate as part of the act before popping them. Lola – smart and gorgeous! And they didn't inflate all at once – a little here and there to go with the music and her moves. Fabulous! Then pop, pop, pop! And even then she cleverly teased us, leaving a few balloons unpopped.
One of the most touching performances of the evening was by Brooklyn's Sizzle Dizzle. Dedicated to a friend who lost her battle to cancer, she brought us along the emotional journey as she danced a duet with her IV drip pole, cast it off to celebrate in her stunning red dress, then not only stripped down to her pasties but pulled off her wig to reveal her shaved head. Ever hear an auditorium full of burlesque performers try really hard not to cry off their mascara? I did that day and I was happy to join in. It was a heartfelt tribute and the emotion carried through the hall to touch each and every one of us.
Los Angeles' Bobbie Burlesque – "the boy who glitters" – brought some aerial acrobatics to the evening with his hoop act. Aside from the traditional posing, this glittery lad pulled off a "wow" moment in the air when he walked out of his pants. I know, you're going "What now?" It was a cool trick – stripping while on the hoop, he was hanging on using his arms and he "walked" in the air, one foot in front of the other, as his pants fell away. It looked really awesome, trust me on this one.
I love burlesqu-allet (ballet-esque?) acts, especially when they have more of an edge to them and Seattle's Violet Tendencies brought some serious attitude with her pointe shoes to the BHoF stage. After being temporarily blinded by an over-enthusiastic backlight, we saw her emerge in all her feathered glory. The statuesque beauty seamlessly blended burlesque and ballet to a dubstep sound for a fierce performance. Thigh-high tights with black feather trim, black shorts with feathers, and a feather collar – this gal was dark yet soft, harsh yet classic. She stood there in the end, high on her toes, milky white skin covered in gorgeous tattoos, with sparkling pasties and multi-string gold necklace. Just stunning!
What moves and shakes in the dark and is covered all over in teeny tiny sparkly dots? It's New Orleans School of Burlesque headmistress Bella Blue whose black bodysuit performance immediately brought to mind the Tainted Love starry dancers. It was a cool concept and would have looked even better if the room was truly dark so that you could only see the sparkles, so that every move looked like it was floating across the stage and the costume blended into the background. As it was, it was just shy of that. From where I was standing in the back of the auditorium it still looked really cool when limbs began to emerge, stark light against a darkened stage.
I've seen Rubenesque Burlesque perform this act before and I love it; I've written about it previously here. I had the pleasure of seeing it at the Toronto Burlesque Festival in 2012.
The "Doing The Most With The Least" award (mine, not BHoF's) goes to Darlinda Just Darlinda for showing us just how much of a striptease you can do with nothing but a chair, high heel shoes, and a red piece of fabric. Right at the beginning, it was all sexual tease as she writhed on the chair, fabric wrapped to expose her entire back and gorgeous behind. The rest is a blur. I think she hypnotized me with her beautiful butt. There was red everywhere and when fabric finally fell away she was gyrating on the floor, and having a more realistic orgasm on the chair that would make Meg Ryan blush. I'll have what she's having!
I would love to write something about Desire D'Amour but unfortunately from my vantage point I could not see her act well. The props were dark, the costume was dark, and there was no spotlight. I look forward to seeing this act again someday with some good lighting so I can get some good photos and really get to appreciate the artistry. It looked like a lot of fun.
At this point you're saying to yourself – "How come she hasn't said a single word about the hosts of the evening?" That's because I wanted to build up to what I think is the perfect pairing of the two funniest performers out there who have the chops to pull off not one, but two hilariously creative numbers. Blanche DeBris and Jonny Porkpie – on their own they're great hosts that keep the audience engaged in between sets, but together they've got magical timing the likes of Sonny and Cher, Donny and Marie, or George Burns and Gracie Allen. Who else can pull off singing in a sparkly American-themed gown while a full chorus line of gorgeous burlesque gals tries to elegantly maneuver around an unconscious and plastered monsieur Porkpie for a tribute to Dixie Evans? Yeah, that's Blanche. And what other duo could pull off a Rob Base & DJ EZ-Rock/Macklemore burlesque rap mashup that has the entire audience singing along? Yeah, Blanche and Jonny. After all, it takes two to make a thing go ri-ight…
The were several Burlesque Hall of Fame title holders turning in tasty performances throughout the evening – the Peekaboo Revue, two-time winner Best Troupe, 2008 and 2012–and Swing Time–2013's Best Group (mrowr Russell Bruner and Lady Pink!)
Alas, my jetlag just could not compete with the closer of the evening – it was the step down performance by Ray Gunn, winner of Best Boylesque for 2013. Funny story… In grade 8, my teacher thought she'd be creative by not only making us memorize and recite Lewis Carroll's nonsense poem Jabberwocky but also "translate" it into English. Luckily she didn't completely crush my love of literature, and it all came back to me as I found myself reciting the words once again during Ray Gunn's haunting and horror-rotic* interpretation of those insane stanzas (*I think this is a new word I made up – when something is really creepy or eerie but super sexy at the same time). With the words melting on a large screen, he appeared clad in white coat and top hat. Like a living poem he was covered in its words, large and small, and he shed it piece by piece as he gyrated, flipped, and spun across the stage. Finally stripped down to his muscular core, he climbed onto a large platform and donned a huge pair of purple wings for the frenzied finale. His performance took my breath away and was a perfect step down for the outgoing Best Boylesque.
Enjoy the photos, there's so much more to come. Check out all our Burlesque Hall of Fame coverage.
What was your favorite act of the Burlesque Hall of Fame Weekend Thursday night Movers, Shakers and Innovators show? Let us know–leave your comment below.
All photos ©Olena–Photolena–Sullivan for Burlesque Beat. Performers may use shots for promotional purposes, but please credit properly with photographer's full name and a link to this piece. All other requests please contact us to acquire permission.