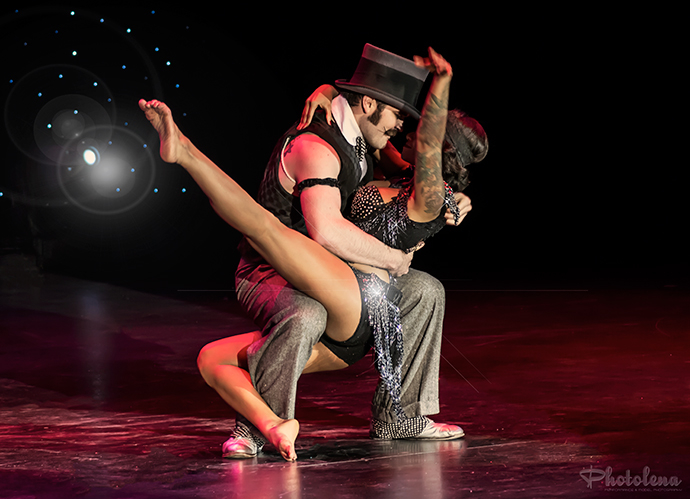 2014 Burlesque Hall of Fame Tournament of Tease: Best Group, Best Troupe, Best Boylesque
June 7, 2014
Orleans Showroom, Las Vegas, NV
Continuing on with coverage of the main event at the Burlesque Hall of Fame, the Tournament of Tease showcase, with competitors vying for Best Group (which used to be Duets – 2 people and Groups – 3 or more – but now have been consolidated for some reason although it seems they're really not the same but whatevs), Best Troupe, and Best Boylesque crowns…
Group
Competitors in the Best Group category came from across the globe and two different continents this year. From Japan – a destination at the top of my bucket list – we had Circus de Moccos, made up of Coppelia Circus and Gilbert de Moccos who competed individually at BHOF 2013. Their adorable quirky twin number was like a surreal Saturday morning stripping cartoon – two bright orange haired clowns dancing and joking around while they pull each others clothes off piece by little piece like pranks being pulled by siblings. It was weirder still to see them in the Orleans during intermission in those costumes – did I ever mention I have an intense fear of clowns?
From the US, two groups hailed from Seattle way – Kitten 'n Lou and Land of the Sweets made up of Lily Verlaine, Trojan Original and Paris Original. I admit, I had never seen Kitten 'n Lou perform before this year's BHOF and now that I have, I know I have missed out on a lot of amazing burlesque. Their "Last Dance" disco suicide routine was beautifully executed (ha! pun) and had me in stitches. In their gorgeous blue disco attire, they drank the proverbial Drano cocktail and danced and stripped like it was all on this one dance – all the while cramping up from poisonous death throes. Brilliant! I like the concept behind the Land of the Sweets act – why move around and take off your own clothes when you can have two virile gorgeous young men hold you, lift you, and pretty much do everything for you? The choreography was spot on and Lily's acrobatics while being stripped down were beautifully executed, right down to the huge steaming cup of tea at the end. I just wish the act had been more about the Group as a whole and made use of both handsome Originals for an overall interaction.
Vancouver's flapper mavens Lola Frost & Rita Star gave a great show. Starting out as a handsome mustachioed gent, it was a hoot seeing Rita after she'd been stripped down to pasties, still sporting the bowler hat and mustache but with that va-va-voom body. As always, this team knows how to work seamlessly together and they always look like they're having the time of their lives up on that stage. That really comes across to the audience and the fun is infectious – we had a great time right along with them.
Are Russell Bruner and Sandria Dore the perfect duet? Every time I watch them, I get this feeling from the ease with which they interact on the stage, the way Sandria seems to perfectly fit in his strong arms and the trust that is there with every move. They're a modern Fred & Ginger, doing this for so long it's second nature. I hope the Best Duet step down number won't be the last time I see them perform together.
Winner: Land of the Sweets
Most Comedic: Kitten 'n Lou
Troupe
It's burlesque on a grand scale when you look at the Best Troupe category. In duet you've got 2 strippers, group you may have 3 or so, but in troupe you have a gaggle of 'em. A tassel of strippers? A peeling? A glitter? I'm sure there's a term… It's got to be a tough job putting together the choreography for such a large group, keeping it fresh, and making sure everyone stays on cue. This year's competitors were all from North America:
Albuquerque's Burlesque Noir brought the pinup aesthetic with their cute sailor costumes and put together some killer fan formations – so much better on a grand scale with a big group. B.C.'s Cheesecake Burlesque Revue went with my favourite musical, Singing in the Rain, and used the umbrella as prop for some fun tricks, flipping them, twirling, and even raining flower petals. Tucson's Don't Blink Burlesque were way out there – you know it's going to be a unique troupe when the four gals come at ya in gold and black breakdance costumes with "Baby's Got Back" thumping in the background… and one of them is sporting a very impressive baby bump (congrats by the way, boy or girl?) What a badass!
Dallas' The Ruby Revue stole the category with their lovely rainbow coloured showgirl costumes. For me, it was everything Las Vegas is about – from the costumes down to the choreography. These girls had it down pat with their line formation, high kicks, and so much more. Blue, green, pink, olive, purple, yellow and orange – the bouncy feather bustles and headpieces stood out against the starry night backdrop of the vast stage. So very Vegas!
Winner: The Ruby Revue
Boylesque
My favourite category in the Tournament of Tease is Boylesque. Because gorgeous men! This is where I get to see all the yummy yummy, their costumes, their acrobatics, and if I'm lucky there might be some comedy thrown in. This year did not disappoint with all the competitors coming in from different parts of the US:
They're twins (le sigh!) They both strip (no, it's too much!) They're Trojan and Paris Original and they each competed for the title of Best Boylesque at this year's BHOF. But their acts could not have been more different… Trojan showed us that you can look fabulous right out of the shower, performing in nothing (and I mean nothing!) but a red towel. With his tousled still wet hair, he teased us with his writhing and undulating on the stage, that towel never revealing everything, but just enough to have everyone gasping, wondering "will it fall off now?" No, it never did. Cheeky boy! On the flipside, Paris had the most beautiful costume ever! Blue velvet with sparkles, he sported a gorgeous bustle tail and matching headpiece. He looked like a blue velvet pony boy (ooh, hot visual). Like a phoenix, he shed the dark to emerge in hot orange and danced across the stage (this boy has classic training) in a gold tassel accented costume that is better seen than described it's so beautiful. That's two years now that I've been wowed by this performer and thought he would take the Boylesque crown – maybe third time's the charm in 2015?
What can I say about Seattle's Eddie Van Glam? This was my first experience with this metrosexual performer oozing machismo at every turn. Performing his signature tribute to Randy "Macho Man" Savage, he claimed the stage the minute the first beats of the Village People's Macho Man thumped the house. In wild red and yellow attire, he performed flips and gymnastics interspersed with fierce wrestling poses, stripping down to his awesome shiny red "Macho Glam" briefs (with 2 stars no less). To top off his act, he brought out a ginormous box of Slim Jims, took a very sparkly one out of the box and attached it to his crotchal area for some beef jerky jerkings. Awesome!
Not only is NYC's Mr. Gorgeous  super tall (6' 5" of yummy goodness), super nerdy (-looking, but that's just his onstage character), and super acrobatic (circus and burlesque mashup) but he also designs and sews his own costumes. Ya-ha! So when he came out on stage balancing ice cream sundaes on a tall pole on his chin, you knew it was going to fun! Stripping out of a costume while balancing heavy items using your face can't be easy, but he makes it look that way – and funny too. The best part was to come. Out of his pants and vest, we got to see his costume skills at work as he sported ice cream sprinkle pants and made his way over to a giant pink ice cream cone (the classic kind, not those horrible new waffle monstrosities). He climbed the ice cream and used it to do all sorts of classic tricks – from peels to splits and even rode it like a mechanical bull at one point. My favourite part was when he ripped two pieces of the cone off and used them like feather fans. What a genius and way to go on making the most out of a concept!
Winner: Mr. Gorgeous
Next up is the big kahuna, the one everyone waits for, the Miss Exotic World Queen of Burlesque competition…
Check out all our Burlesque Hall of Fame coverage.
Which category do you most look forward to at the annual Tournament of Tease?
All photos ©Olena–Photolena–Sullivan for Burlesque Beat. Performers may use shots for promotional purposes, but please credit properly with photographer's full name and a link to this piece. All other requests please contact us to acquire permission.