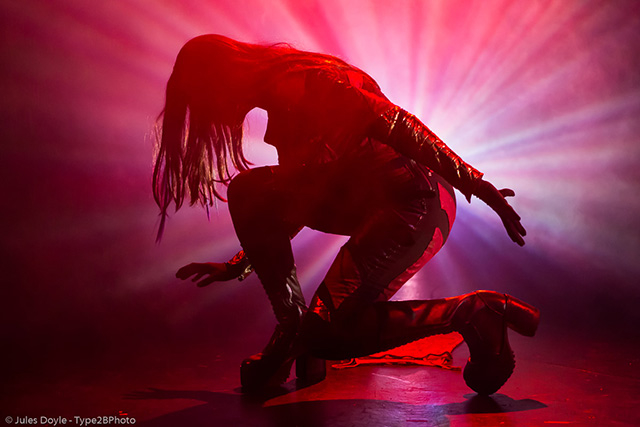 Burlesque Inspired by the Works of Joss Whedon

Aug 15 – 16, 21 – 23, 2014
Theatre Off Jackson, Seattle, Washington
[From the producers of Whedonesque Burlesque:]
After a year hiatus the third installment of Whedonesque Burlesque returned to Seattle for five sold out nights of bonafide nerdlesque shenanigans. Produced by "Professor of Nerdlesque" Jo Jo Stiletto, the shows featured a variety of acts inspired by the works of Joss Whedon: Buffy the Vampire Slayer, The Avengers, Firefly, Dr. Horrible's Sing-a-long Blog, Angel, Agents of SHIELD, Cabin in the Woods and Much Ado About Nothing.
Performers explored the sexy, silly, strange, and emotional aspects of fandom through the art of burlesque. There were puppets, slayers, demon births, critical analysis, drunk thespians, and several big damn heroes. Nothing here is real. Nothing here is right.
Whedonesque Burlesque Featured:
Al Lykya as Mal Reynolds
Ariel Echo as Jayne
Hattie HellKat and Tootsie Spangles as actors from Much Ado About Nothing
Jake Groshong as Captain Hammer/Thor
Jesus la Pinga and Owlbear as Bruce Banner and the Incredible Hulk
Kevin Incroyable and La Petite Mort as technician and unicorn from Cabin in the Woods.
Lady Drew Blood as Illyria
Maggie McMuffin as the Hellmouth
Matt Langston and Vanadium Silver as Fitz and Simmons
Maxie Milieu as Buffy
Rachel Jackson of Vox Fabuli Puppets as Joss Whedon
Rebecca M. Davis as host
Sailor St. Claire as Black Widow and Willow
Scarlett O'Hairdye as Agent Coulson and Vampire Willow
Sin de la Rosa suggests deeper analysis of Asian culture in Firefly
Verity Germaine as River
All photos ©Jules Doyle and used here with express permission for Burlesque Beat. Performers may use shots for promotional purposes, but please credit properly with photographer's full name and a link to this piece. All other requests please contact us to acquire permission.