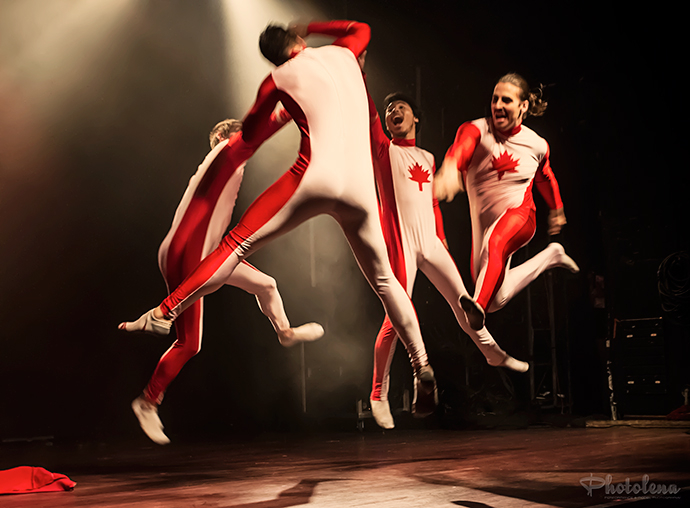 The 2014 Toronto Burlesque Festival Day Two, Part One
July 25 @ 7pm, 2014
MOD Club, Toronto, Canada
This year's two main evenings of the Toronto Burlesque Festival were a marathon of exquisite performers in two shows per night – an early and a late show. And it's not like each show had duplicate acts or performers even – each was a unique experience with their own creative theme that hinted at the evening's performances, starting with Wanderlust. Love that word. Wanderlust: a strong desire to travel. Yep, right up my alley. If I could, that's all I would do for the rest of my life. In this case, the traveling was being done *to* Toronto, not away from it.
So let's take a look at some of the international jetsetters that came all the way to Toronto to entertain the burlesque-adoring audiences…
This was my first time seeing Rasa Vitalia perform and I'm so glad I got the chance. I had no idea what to expect and now that I've done my research on this beautiful lady, I can see why she's so sought after. This golden goddess is not only a popular dancer but can also perform some amazing moves with a sword sitting upon her head. I mean, this woman is flexible and has amazing balance! Her dance was fast, energetic, and hypnotizing. The music was really interesting and catchy and I understand from her website that she writes a lot of her own music for her performances.
Does anyone ever really know what to expect from Nasty Canasta? Every time I see her act I think "hmph, that's so not what I was expecting." I was not disappointed this time either. I have learned from this festival that she is very bendy and she loves tigers. Not the way I love my cat…. she loves tigers. Her act had me, and everyone else in the audience, all hot and sweaty. Not only did she strip out of her tiger-print coat, at one point she lifted her thigh-high leopard-print clad leg wayyyy up and licked her own boot…slowly. I swear I had to force myself to keep taking photos. She committed acts with a tiger rug that people would pay so much money on the internet to watch. It was debaucherous. It was gorgeous. It was tiger-rug-porn of the highest quality and it rocked!
I love a good hoop act and there's truly an amazing lady behind Lady Hoops. So adorable in her red kilt and little white tank top, glasses and curls, this gal was able to work five (six?) hoops all over that stage. It was a beautiful sight to see. At one point, it looked like she'd created the Olympic logo – but she didn't, nope, not at all. No need to go after anyone for copyright issues here. This little gal went wild with multiple hoops and I truly enjoyed the show.
Inga Ingenue!!! I bow to your seductive burlesque awesomeness wrapped up in that small retro package. She was a walking B-Movie poster with her awesome retro do and that killer ruffle gown. Her poses were right out of an old Hollywood film – you know the one. Right? Cute and innocent '50s gal gets abducted by space aliens who turn her into a debaucherous burlesque dancer. Her moves were polished and pure and when she slinked out of the dress into a panel skirt and bra, out came the seductress. I gotta say, I truly love panel skirts. They're so versatile and I love when the fabric just floats on the air. And that final reveal…. well, scroll down and check out that photo. That girl has got some serious booty!
If the Mansfield Brothers ever announced that they would never come to Toronto again, I would have to move. I am in love with their brand of Vaudeville. I mean, three men in various stages of hirsuteness (is that a word? Word isn't correcting me so it must be) dancing their collective asses off to popular music wearing outfits like retro one-piece striped bathing suits, butt pasties, high heels – you name it, they seem to want to do it. Each time they perform it's different and I'm left not only singing along with the music, but laughing my butt off at their shenanigans (yeah, I used that word – I call shenanigans).
Sometimes you just know you're watching greatness. That is what I feel like when I watch the unique creativity that is Dangrrr Doll – so awesome that she gets 3 Rs in her name! I understand the moodiness of her act, I just wish there had been a bit more light so I could have seen it a bit better. Luckily, I was able to catch glimpses here and there of the fabulous makeup she had going but I only caught the slightest hints of her full costume. What I did see looked really cool – a skirt made of tubes and fabric that matched her amazing headpiece. What I do know for sure is that there was a tail involved when she shed her skirt… and some killer fishnets. She looked scary sexy! All that low lighting and mood just made me want to see her even more, made the act that much cooler, blanketed her in mystery.
I have a new favourite comedic burlesque performer to add to my list – Kitty Littéur! Subtle comedy genius all stuffed into a gorgeous corset. Which happened to get caught on her costume when she was stripping out of it – on purpose that is. She's like the Lucille Ball of burlesque – looking all sexy while everything's just going to shit with the act. And the entire time alternating between pouting and smiling, trying to act like nothing's wrong. I have to mention her gorgeous fishnets with the tassels down the side – nice touch. Especially for getting caught in everything.
A big huge Mrowr! to Kitten de Ville. One of my all-time favourites. She's beauty, class, and sass all combined into a bombshell of a performer. She performed her signature Tribute To Dixie Evans act where she comes to audition for the invisible producer in the film chair. She does a super sexy striptease for him, kisses him, and after a quick stint on her knees, heads over to the casting couch for her real "screen test." Her peels and reveals on that couch were absolutely fabulous and you felt like you were peeping into the producer's office the entire act. Of course, in the end she got her big contract… Who wouldn't sign her after that?
Kudos to all the other performers of the evening: Albert Cadabra, Wrong Note Rusty, Lucky Minx, Laura Desiree, Boylesque T.O., Red Herring, St. Stella, Cerise Noir, Bianca Boom Boom, James and the Giant Pasty, and Ruby Moon. Everyone put on a fabulous show and I wish I could write about each and every act. A great evening put on by the Toronto Burlesque Festival organizers – sold out show and a super happy audience!
Part Two of day two of the Toronto Burlesque Festival coming up next.
All photos ©Olena–Photolena–Sullivan for Burlesque Beat. Performers may use shots for promotional purposes, but please credit properly with photographer's full name and a link to this piece. All other requests please contact us to acquire permission.