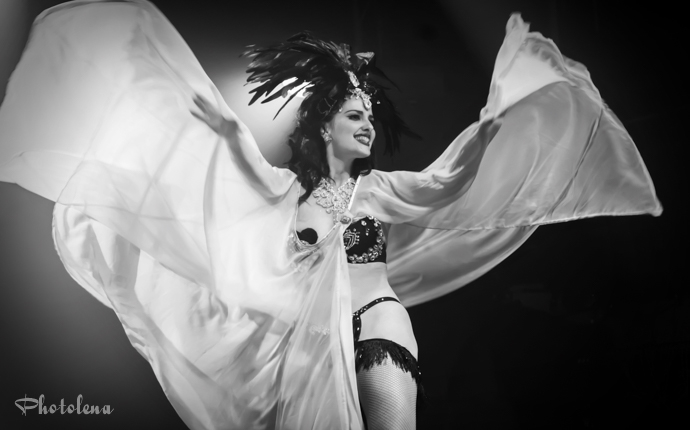 The 2014 Toronto Burlesque Festival Day Two, Part Two
July 25, 2014 10:30pm
MOD Club, Toronto, Canada
Two shows in one night – that meant I had an hour to run out, get something to eat, snarf it down, and get my camera ready for the next 16 performers before the next crowd flowed into the venue. You gotta eat when there's two shows full of cocktails! Huzzah for pizza.
Our late night themed show was the dangerously sinful liaison with promises of steamy performances that would leave everyone breathless. That pretty much summed up the evening. There definitely were some very steamy moments…
Those who've seen my repertoire of work know that I like a little kink with my burlesque and Perth's Agatha Frisky brought that in spades. Our question as to why she was helped out on stage by our kittens when she only had some feather fans as props was answered when the light came on and it was revealed this sexy blonde in shades of pink was blindfolded. Her entire fan act was done without use of sight and it was pretty damn hot watching her peel her gloves with those ruby red lips just inches from that silk sash around her eyes. I was very impressed with her fan work considering the disadvantage.
Some numbers are all about the glamour – and that's what we got with Rome's (yeah, like in Italy) Grace Hall. A contrast in stark black and white, her classic black bejeweled feather headpiece and gown stripped away to reveal a sheer white duster beneath that doubled as cape and skirt at times. And beneath it all, back to darkness again with her black sparkly bikini set. Every layer peeled from dark to light to dark again. A beautiful artistic performance and stunning use of tonal repetition.
It felt like I was watching a silent movie starlet when Tasmania's Lucy Sky Diamond took to the stage. Coming onto the stage with her gold and white sparkle gown, her assistants carried a long train of pink sheer fabric. Long, like really long, which excited me to no end. She used it in a unique way, wrapping one end in front and one behind and having it pulled to the ends of the stage. There she stood in the middle, wrapped from toe to breast in pink gauze, fabric undulating across the stage. It was mesmerizing. The final reveal had her in the darkness, pulling a lit up star up her leg and into the air. So beautiful.
How many times have I gushed about my love for tattoos (I'm up to 4 now and plan for more) and although I've seen many back seam stocking ones, Virginia's Deanna Danger had a little extra detail. This kooky sexy gal has bats at the top of her seam tattoos! So how awesome is that? Guess you gotta love bats. Her act was classic burlesque – it was her signature "Red Right Hand" routine which has a great twist on the final reveal. Throughout the set she had a red glove that turned into a sparkly red pastie on her left boob when she pulled her hand away. Very cool pastie idea. The only drawback to the set was that it was really dark – to be fair, I barely saw the red hand reveal because of the lighting. I wish I had a great photo to show you – maybe next time.
I love watching Chaos Divine do her thing – she's always got something unique going on, whether it's channeling her inner Black Widow spider or going all Gatsby. Her act for this show was one I've seen before and she just improves it each time – and bonus, it uses one of my favorite songs, Radioactive. Which is oddly appropriate, given the radioactive tattoo on her back. This act is beautiful in its storyline, horror, and costuming. A simple story told so often – man makes girl, brings her to life and she turns on him. Kudos to the makeup person and the lighting guy for getting those electricity zaps perfectly timed (and not killing anyone). Chaos played her role perfectly, from the horrified awareness of life to the mischievous gleam in her eye when attacking her creator (who had a wicked ass BTW). Oh, and there's boobs and all that stuff in there too.
One amazing pole performance is always great to see. When you have two amazing pole acts in one, then it just becomes mind-blowing. That's what we got with Mahogany Storm and Natalia Rose. Each of these is a fabulous performer in their own right and I've massively enjoyed watching each of them perform muscle-tearing acts on the pole. But you put both of them on the apparatus and it's magic. In their Solid Gold go-go outfits, they struck the right poses at the top – double inverted crosses, dangling Os, and splits (look at me being all Pepper Brooks and just making terms up). I am so impressed with how far each of them has gone with pole dancing and am so happy to see them working together – I hope to see this partnership happen on the stage again.
Some people like KISS. Then there's Tanya Cheex – she looooves all things KISS and her act was a testament to that. When she came out on stage in full Gene Simmons makeup, wearing the most amazing costume of black with studs everywhere, boots with heeeeeeeels, batwings, and a quadruple feather boa I totally lost my shit. Drop the mike. You don't even need to do anything else here – but it's Tanya, so not only did she do a rock striptease, but she also lit her tassels on fire for a little pyro twirling action. Oh yeah!
There's only one lady who could top that act. That's right, Perle Noire. Every time I see her perform my heart beats faster, I dance along with her music, the pure energy of her act just flows right through me. Especially when that act is her signature "Perle Noire's Boudoir" set. Twirling around the stage with her pink sheer duster floating on the air, she wore that garter set that I'm so in love with – that white and pink number with the multitude of bows – that you could see peeking out from under her white sheer robe. The moves in this performance went from frenzied sexual energy to slow seduction, building up the heat in the room higher and higher to a boiling point. When Perle dropped down into her split then came back up to sit and slowly, oh so slowly, lick her shoulder I thought I was going to hear the audience orgasm in unison just at that perfect moment. What a way to end a long evening of burlesque.
Kudos to all the other performers of the evening: our hostess Dr. Lucky, Fionna Flauntit, Nina La Voix, Suki Tsunami, Two Dames, Love Letters Cabaret, Frenchie Fatale, Sauci Calla Horra, and Mark Brown.
Coming up next, the final night of the Toronto Burlesque Festival.
All photos ©Olena–Photolena–Sullivan for Burlesque Beat. Performers may use shots for promotional purposes, but please credit properly with photographer's full name and a link to this piece. All other requests please contact us to acquire permission.