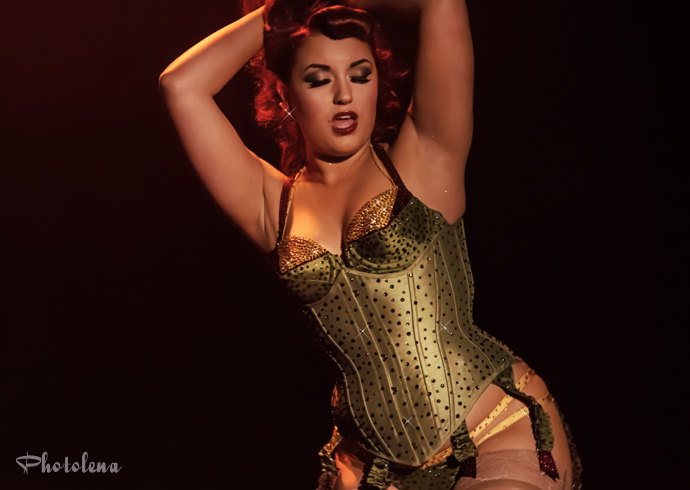 The 2014 Toronto Burlesque Festival Day Three, Part One
July 26 @ 7pm, 2014
MOD Club, Toronto, Canada
It was billed as a madcap martini of a night, with distilled burlesque essentials that would whet our appetite for the night ahead, during this the 7th year of the Toronto Burlesque Festival. The first of two shows for the final evening of the festival, it was filled with a mix of great local and international talent, some coming in from as far away as Australia!
Let's take a peek at some of the fantastic performances from a night filled with creativity, humour, and tons of razzle dazzle:
I have to give a big thanks to El Toro for feeding my pirate addiction. It's the ruffled shirts and the arrrrrrrrgh. Just can't resist. And boy does our local boy make a great Jack Sparrow. The poor boy, got stranded on a deserted island. So distraught he almost took his own life. Luckily sanity prevailed and he just took his clothes off (to the screams of many a fan girl and boy in the sold out audience I might add). In the end, he claimed the stage with his waving pirate flag – no, that's not a euphemism, he actually waved a huge pirate flag.
I love to watch Dolly Berlin in her comedic burlesque roles, but she also has a flipside – this sultry, seductive, old school bump 'n grind Dolly that occasionally comes out and teases the audience. Dressed in the most beautiful red and gold sparkle gown with matching shoes and red flowers in her flowing hair, she gyrated slowly across the stage, peeking out glimpses of the green glittery treasures beneath. And what treasures! A stunning bejeweled green corset with gold topped cups accentuated her hourglass figure. She took us all on a ride into the moment, closing her eyes and moving to the melody, writhing like a cat enjoying a long stretch. Her final reveal was what I lovingly call "The Pastie Pop Incident of 2014" – as nipples were accidentally revealed to raucous applause and we all just went with the flow.
I've seen Dr. Lucky perform several times before, and a couple of times during the Toronto Burlesque Festival, but her straight-out-of-Jesus-Christ-Superstar performance was so fabulous. And so not fair to pick one of my favourite musicals – makes it really hard to move to the music, sing along, AND shoot the show all at the same time. Luckily I'm a stupendous multitasker. Shedding her golden robes and wig to reveal a hot little fringed white flapper dress and ponytail she go-go'd like a goddess in the white spotlights of the stage. There was fringe bouncing everywhere as she moved at what seemed like the speed of light – the energy was chaotic and catching. The crowd hooted and hollered, pushing her on and on to the final, inevitable climax.
I know I've already mentioned Kitty Littéur from another performance during the festival, and although I don't usually write twice about the same performer in the same event, her act for this show was just too good to pass up. For me, there are a couple of criteria for a great burlesque performance, among them: a) there has to be a connection with the audience, if you can't engage with them and make them feel it's personal then it feels hollow, b) the music has to connect with the act, and c) the creativity of the act, if you've got something really unique that gives me a hard time shooting because I'm so into watching, it's golden (yep there's other criteria like movement, costumes, etc. but these are unique). So how about taking the movie "The Attack of the 50 Foot Woman" (that's "The Attack of the 15.24 Meter Woman" in Canada – lol Canuck humour!) and adapting it to burlesque? Bring it on! Poor Kitty was driving in her red car when she gets zapped by aliens and grows so big that her car is now around her hips like a skirt (so cute, seriously). And horror of horrors, her purple feather fans have shrunk as well. But that didn't stop Kitty – she did her entire act with tiny little fans. Because hilarious!
Ever see a German maiden give a gigantic gingerbread man a bj? If you were at this show, then you did. One of my favourite local gals is Honey B Hind of Skin Tight Outta Sight and sometimes she brings out an act that just has me laughing my butt off. This was the one, the biggie. Dressed as a sweet Bavarian maiden with her hair in braids and bosom falling out of her ruffled top (if you're Canadian you'll understand when I say that I think this outfit used to be the Swiss Chalet uniform back in the 80s), she brought out a gigantic gingerbread man (SMB in disguise, shh!) and proceeded to pick off parts of him to eat. But when she got to the front of mister cookie, there was an extra appendage I don't remember on any of the gingerbread men I've ever eaten. Covering it in icing, she proceeded to turn the act into something out of a YouTube food porn video. Kudos Honey, now I have seen it all.
Charlie Quinn has a huge repertoire of acts under her belt and I have a hard time remembering if I've ever seen any of them more than once. So versatile that she actually made me like a character that I've hated throughout my life – the Pierrette. Growing up in Montreal, I read about and saw a lot of Pierrot and Pierret, with the distinctive white face makeup, fluffy collars, and unique costumes – they're sad but buffoonish clowns (and I have serious clown issues). But Charlie's Perrette was beautiful, graceful, and had her own twist – well, she also stripped. That's just a titch out of character and what made this act so great. Charlie can take on any character, play it beautifully and still make anything sexy and sultry.
Aviva the Mirage. Those three words are synonymous with belly dancing in the style of classic sleazy bump 'n grind influenced by old B-movies and rockabilly culture. Her costume was classic – tiger print leotard and matching opera gloves with a black under bust corset and deep aubergine silky panels, all of which complemented her long blue hair beautifully. Her belly dance, as always, was energetic and fast, and once stripped down to a matching tiger print bra and bottoms, incorporated some fabulous floor grinding. If you have the chance to check Aviva out at a show in Toronto or on tour, make it a priority – this gal is hot!
Kudos to all the other performers of the evening: our host with the most Armitage Shanks, as well as Dr. Mysterion (he has a PhD in ESP), Miss Mitzy Cream, Obskyura, The Harlettes, Lady Hoops, The Great Gadso, and A Platinum Production. Everyone put on a fabulous show and as always, I wish I could write about each and every act. A fabulous way to start off the final evening of the Toronto Burlesque Festival.
The final part of the festival coming up next…
All photos ©Olena–Photolena–Sullivan for Burlesque Beat. Performers may use shots for promotional purposes, but please credit properly with photographer's full name and a link to this piece. All other requests please contact us to acquire permission.