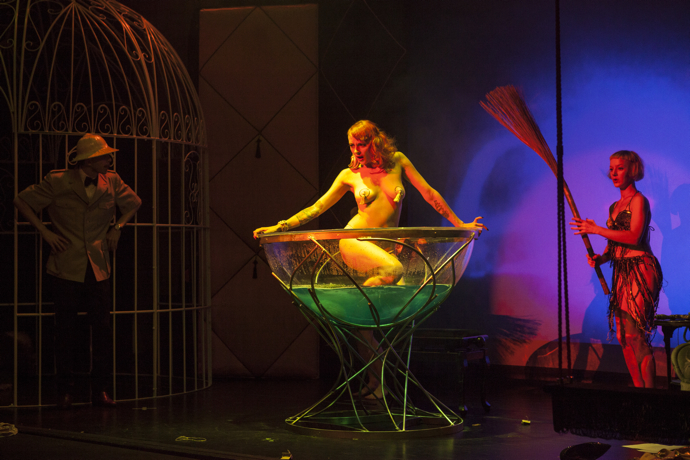 A Peek Into The Premiere Prague Burlesque Show
October 3, 2014
Royal Theatre, Prague, Czech Republic
We recently learned that Prague now has a weekly burlesque show, which is exciting news, especially since the anticipated Prague Burlesque Festival has been delayed.
Have you ever been to Prague? I have, and its a beautiful, magical city. It was the early 90's when I strolled along the majestic Charles Bridge – which I hear is now impossibly flooded with tourists all day long – sipped a cold Budvar, snapped photos of the graffiti that makes up the John Lennon wall, or contemplated the Golem of the Altneu Synagogue in the old Jewish quarter.
Now the Prague Burlesque Show brings their weekly show to the Royal Theatre, so I would add that to my list of things to do in Prague. The troupe aligns itself with the stylings of the infamous Velvet Hammer Burlesque, whose founder Michelle Carr, we all know by now, wrote one of the earlier books on neo-burlesque, The Velvet Hammer Burlesque
.
The Prague Burlesque Show at the Royal Theatre is meant to take the audience on a psychedelic adventure of vaudeville, burlesque and comedy every Friday night with crooner Sonny Vargas at the helm. He is joined by his muses, Lady Mousellyca, Angelina Angelic and Miss Cool Cat as they narrate the stories of their lives for our pleasure. There is some kind of "midnight surprise" and guests are encouraged to stay for the after-party. Sounds like a fun Friday night to me.
The next one is tonight! Click here for tickets and details.
Be sure to check the burlesque show calendar for dates and times of future shows. Select "Prague" under "Categories" for a filtered list of shows in Prague.
 All photos All photos ©Pavel Hejný and Adam Holý and used here with express permission. Please respect photography copyrights and do not use images without obtaining explicit permission.