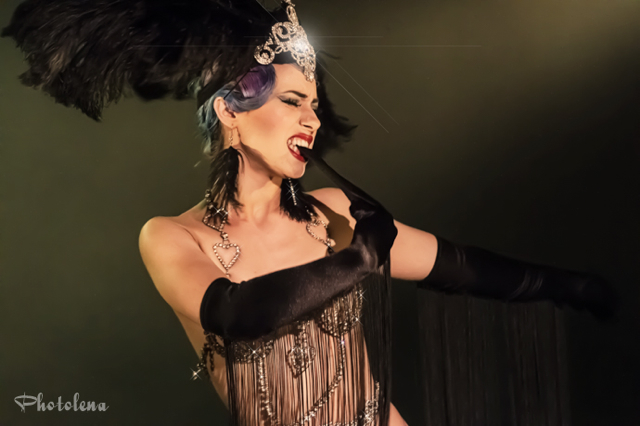 2014 Toronto Burlesque Festival, Day 3, Part 2: The Glam-A-Ganza
July 26 @ 10:30pm, 2014
MOD Club, Toronto, Canada
After three long nights – two of them double-bills – we had finally come to the end of the glitter brick road and made it to the Saturday night spectacular. The Glam-A-Ganza was a decadent climax to a festival at times comedic, extravagant, sultry, sinful, but always inviting and innovative. Year after year, these five days in the heat of the summer have grown into one of Toronto's premiere live performance events.
Here's a snapshot of some of the memorable performances from the final night of festivities:
If you were lucky enough to catch the documentary "I'm A Stripper" episode 3: Boylesque then you know how versatile local performer Percy Katt is. Often performing with his (in)famous collective Kkunt Factory, this time he wowed us with a solo act – the golden matador. Bodypainted a golden hue, with sharp horns atop his head, he spent the first half of his act sensually stripping out of his extremely sexy black and gold matador costume. I've seen some bull fights on TV and I'm pretty sure none of the men had large (large!) golden cups at the front, emphasizing their manliness – but I think it would be a fabulous addition. Once stripped down, he took up his red silken capes and teased us with glimpses of his sinewy form and yes, it was ALL gold. In the end, he flung back his dual capes to reveal his beautiful golden jewels.
I have been in love with Montreal's Lavender May since I first saw her perform at the Montreal Burlesque Festival so many years ago. Since then I've watched her mature and grow as both a burlesque performer and pinup model and was so pleased to see her on the bill at the Toronto Burlesque Festival this year. Her act was beautifully classic and made the most of her neo-classic skills and that killer body. A costume made up entirely of jewels that sparkled in the lights, it accentuated and hugged the lines of her petite frame, leaving just enough to the imagination. With matching jewels in her black feather topped tiara, she was all sparkles on the stage. What really got me were her gloves – black opera pieces, they were lined with fringe that, if she held them at eye level, reached all the way down to the floor creating a rainfall of thin black lines. It was such an effective prop and Lavender was a true expert at using it to its full peekaboo advantage.
Amber Ray isn't just my go-to gal for the best sparkly flower fascinators in the world, she's also one of my all-time favourite multi-dimensional and creative burlesque performers. If you've ever had the chance to see her Lotus act then you know just how fabulous this curvaceous gal is. Her act at the Toronto Burlesque Festival was full of addictive energy and you could see in her movements and her facial expressions that she was truly enjoying herself on the stage – which makes the act just that much more special. A performer with a truly hourglass figure, her golden yellow shimmery feather trimmed gown was a piece of art in its own right. With a matching feather headpiece, this bird of paradise kept the energy in the room to staggering levels as she stripped down to the most stunning blue-grey sparkling flower encrusted bikini. So beautiful and perfect for such a beautiful woman!
Every time I see Miss dd Starr perform, she throws something new at me that blows my mind. She recently returned from competing at the first ever Lake Como Burlesque Competition in Italy where she won the Queen of The Lake (so proud!) Her piece for the Toronto Burlesque Festival kept me thinking of the Depeche Mode Violator
 album – the one with the big flower on it… you'll understand when you see the photos. It was a fabulous, if not perhaps a little too darkly lit piece (just from a photo POV). She started the set in a Flamenco style ensemble with a twist of a corset addition and her moves were all hot and steamy tango. Shedding the long and restrictive skirt she took a life-size rose as her partner (there's the Violator cover imagery for me) and continued her seductive dance across the stage. Her final striptease had her teasing us with peekaboos from behind a silken fabric. It was sultry and seductive and truly and original and unique performance from someone I am now coming to expect pieces that are above and beyond the norm.
I love Kitten de Ville
 and she graced the crowd with a couple of fabulous performances throughout the festival. The set from the final evening – her Temptress act – was perhaps my favourite as it had so many parts to it that were all beautiful and tied in together so well. It started out innocently enough in the Garden of Eden with Kitten as Eve with the snake wrapped around her innocent naked body. Such a simple and effective costume – and really, who doesn't want to see as much of Kitten as possible right from the start? Slowly the serpent seduced Eve – or perhaps it was the other way around – and she received self-awareness, which led her to clothe herself. But not just in any clothes – these are the clothes of a temptress – and she proceeded to use a beautiful long sheer fabric to move and pose seductively for the rest of the act. There were many iconic images throughout the act – the crucifixion, prayer, burkha, even some bondage – and for me, these all came together to make a perfect statement.
I wanted to take a paragraph to not only chat about Coco Framboise's act but also her part in this year's festival. First, let's get into the performance – which was truly beautiful. I've watched Coco do both sides of the coin – comedic and classic – and this act was a hauntingly beautiful piece with those huge lilting white feather fans that remind me of angel wings. Adorned with glittering petal appliqués and a white lily in her hair, she had me mesmerized from the get go with her simple yet emotional piece. As a performer in and the Creative Director of the festival, it's been double duty for Coco this year but what I experienced as part of the TBF, shooting every evening's performances and interacting with everyone involved, there is more than simple praise that should be given for this huge accomplishment. A stellar performance both in front of and behind the spotlight!
As we draw the Toronto Burlesque Festival to a close for another year, I'd like to thank all the others who performed at the final show: the host with the most Armitage Shanks, Perle Noire, Glamour Puss Burlesque, The Rubie and the Pearl, Lady Josephine, Inga Ingenue, Rhapsody Blue, Eve of Destruction, as well as all those who worked behind the scenes to make this festival possible: founder Sauci Calla Horra (who also performed), Executive Director Ava Noir, all the stage people, volunteers and kittens!
Check out all our Toronto Burlesque Festival coverage.
All photos ©Olena–Photolena–Sullivan for Burlesque Beat. Performers may use shots for promotional purposes, but please credit properly with photographer's full name and a link to this piece. All other requests please contact us to acquire permission.