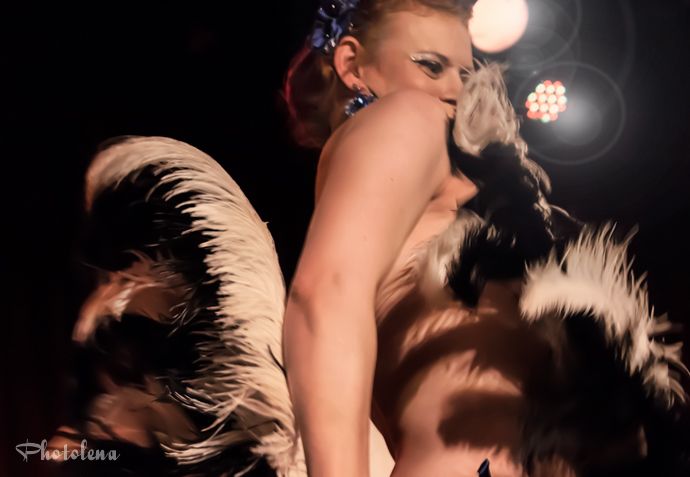 New York Burlesque Festival 2014: The Teaser Party, In Thirty Words Or Less
September 25, 2014
The Bell House, NYC
I made it, I finally made it! New York City and the big, huge, raunchy burlesque festival with the awards show voted on by you (and me). After a 12 hour overnight bus ride I was back in the Big Apple, ready and eager to take on 4 straight nights of shows, after-parties, and cards full of photography! I'd only been here three times before, once in the 80s and twice in the 90s after winning a radio contest and for work (and Lés Miz) and things really do change when you don't visit for decades. I was determined not only to check out all the burlesque fest buzz, but to also finally see all the things I missed the first three times as a tourist: the Empire State, Central Park, Rockefeller Center, Coney Island…
After dropping my things off at Burlesque Beat headquarters, I manoeuvered my way on the subway over to The Bell House on 7th St in Brooklyn for the first show, appropriately titled "The Teaser Party." What a teaser—29 performers, a big on-stage record-breaking tassel twirl led by the lovley Jo Boobs, and a spanking train! How I did not have this in my life until now is a mystery. The room celebrated Mr. Gorgeous's birthday with a cake and then they all lined up, legs open, so that he could crawl under them while they spanked his butt. How is this not a regular thing? My birthday's coming up right in the middle of Girlesque in Toronto—going to have to get this going up in Canada…
Unlike most performances I go to, I had seen less than a ¼ of these gals and gents perform before—which was very exciting for me. Always great to see someone new.
With 29 performances it's going to be a challenge to describe them all, to say the least. So, I've decided to turn in twitter-ready blurbs to accompany this collection of photos. Considering a link to this article, hashtags and tagging people, I'd say I've got about 30 words for each—you'll find them just below the photo gallery. Here we go… enjoy!
Check out all our New York Burlesque Festival coverage.
All photos ©Olena–Photolena–Sullivan for Burlesque Beat. Performers may use shots for promotional purposes, but please credit properly with photographer's full name and a link to this piece. All other requests please contact us to acquire permission.
There's No Business Like Burlesque Business
Luscious blonde Anna Evans channels her inner-Marilyn in for a spot-on Monroe in sheer ruby red.
My Private Robot Dancer
Wind her up and Aurora Black will twirl, jetée, bourrée, and strip for your pleasure.
Legend of the Amazon Princess
Amazon beauty Bettina May lives by the code of the burlesque jungle.
A Dagga to the Heart
Feathers feathers everywhere, in purples and lavender, on costume and in fans. Bianca Dagga, NYC's sexiest queer performer had us moving to the rhythm of the beat. Of course she won the Latin Burlesque Festival the following day!
The Sneeze Heard Round the World
Allergies are a bitch, but lucky for Boo Boo Darlin' her costume doubles as a tissue.
Kill Me, Fuck Me
It's an appropriate award for Bunny Buxom and perfect for her Turn It On performance. Learn how to use a feather boa from a master!
Little Mermaid 3: Ursula's Revenge
Cassandra Rosebeetle's villanous sexy octogal Ursula is back and trading in her tentacles for more versatile silk fans.
My Child of Darkness
Darlinda Just Darlinda reprises her role as the dark child of burlesque, transforming from religious zealot to sinful rocker to writhing pastie twirler.
Mad Hot Burlesque
You'll have to concentrate to keep up with the frenzied footwork of Di' Lovely—with fringe and tassels whipping everywhere, it's a feast for the eyes.
In The Temple of the Gold Goddess
Watch as Foxy Vermouth's goddess of gold escapes money's tight control and comes closer to naked freedom with each extraction.
Blue Velvet
Warmer than May her tender sighs, as Francine The Lucid Dream wore blue velvet and matching satin fans.
I'm Too Sexy for Manlesque
The father of Helsinki burlesque, Frank Doggenstein does his turn on the burlesque catwalk as he strips out of his robotic ensemble.
The Hippie Harlot
Gina Bonbon is a true flower child—literally, seriously!—she's covered in flowers that fall away as she dances in her own little burlesque world. Groovy.
Happy Feet Three: Minsky Nights
Never has there been a gal so eager to tap as the stunning Gin Minsky. From top hat and tails to pasties, it's a strip-tap-ular experience!
1982: Electric Bogaloo
Gypsy Lane Cabaret dress up in glitter wigs and neon tops for a trip down memory lane when breakdance and mesh ruled.
Attack of the Luscious Legs Woman
She's all legs and attitude that Legs Malone! With perfect comedic timing, it's a fringe-tastic performance!
Slow Burn
Sultry jazz notes waft on the air as petite powerhouse Lil' Steph bump 'n grinds her way across the stage in a perfect neo-classic set.
NYC Steampunk
Black boots, a kilt, a top hat, steampunk goggles…. and feather fans! Strip down through those industrial layers and Matt Knife is all black bead and glitter sex appeal.
V is for Vixen
A beautiful woman stands in her luxurious dressing gown, teasing with peeks of skin here and there. With a change behind a dressing wall, Miss Mina Murray emerges for a stunning feather fan dance to charm even the coldest heart.
Lavender on the Breeze
With the mesmerizing scent of wild flowers, Perle Noire delights with her white beaded ensenble performance—this time with a twist! The haunting addition a red veil adds to the intrigue and strength of this endearing piece.
Who's The Real Rat?
A final (ever!) performance by Pistola de Lux of her signature vermin act which begs the question: who's the real rat—those in the NYC subway or those wasteful shoppers up on the city streets?
Balancing the Sword
Rasa Vitalia—belly dancer, musician, sword balancer. These all come together in one frenzied performance.
The Painted Lady
A pink gown, a canvas, and a bottle of paint—the most unique striptease you'll ever see from Red Hot Annie!
Splash!
The most wonderful of mermaid/boat/sea waves costumes ever seen! Rita Menweep and The Bare Necessities are adrift in a sea of silken waves in this mermaid-themed production.
Tron Revisited
In a world full of neon and leather, Stella Chuu brings you back to the Legacy years with her rebirth of the Tron fighter.
Rock Me Marie Antoinette
Strawberry Fields channels her inner Marie Antoinette to do the Hustle with a giant disco ball.
A Night in Shangri-La
Helsinki's own Tinker Bell brings on the beat, beat, beat of the drums to get your heart rushing and mesmerize you with her frenzied dance.
Catwoman: The Pussy Files
Many of us love our feline friends. Üla Üburbusen LOVES her kitty cats and shows you in many, many twisted ways.
A Scene From That Famous Movie
Velocity Chyaldd and Matt Knife recreate a scene from a famous movie (that I don't know but it's famous as they lip-synched the whole thing while stripping).
Congratulations to all who were involved in the show—especially to BOB for keeping everything running smoothly and giving such fabulous intros—and to the producers, stage peeps, and kittens. You're all fabulous—next up: The Premiere Party