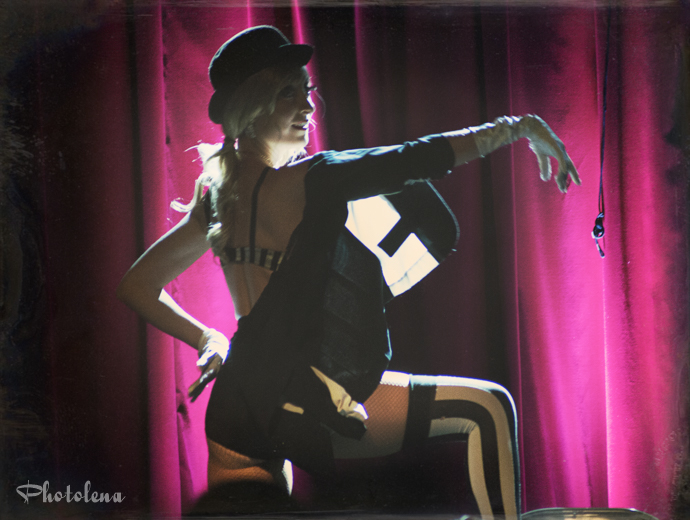 The 2014 New York Burlesque Festival Day 2: The Premier Party
Friday, September 26, 2014
Brooklyn Bowl, NY
My second day in New York! Super gorgeous day with promises of a fabulous party to come in the evening at the Brooklyn Bowl—the traditional second venue of the burlesque festival. A unique location, it marries concert space with 10-pin bowling—what we've always been screaming for, right? If you're into the more traditional mosh pit style of concert space, then the Brooklyn Bowl is right up your alley. It's just one big dancehall space with a stage at one end which can make for a rib-crushing experience and massive nasal shots if you're a photog stuck at the front but I was lucky enough to score a spot at the bowling alley bar. Still made for a blocked view of the entire night with rows of heads and…. grumble… cell phones held high in the air throughout the night in front of the performers.
An aside, if you will. If you're going to a burlesque performance—or any performance really—and all you do is hold up your phone and record the entire thing, then a) you're blocking everyone's enjoyment of the show, b) you're not actually participating in the experience because you're busy watching and taping through a 3" LCD screen when the real live thing is happening right in front of you, and c) you're paying to be entertained while you're at the venue, not to post amateur shaky videos of boobs on YouTube for all to see the show gratis.
OK, rant over.
So, limited space here so I'll get down to it and give you some of my highlights of the evening…
The lovely and always creative Dangrrr Doll put on a wonderful performance with her old school saloon burlesque dancer with a twist, of course. It's not every day you get to see someone this gorgeous strip down to one of the most beautiful green corsets and use the laces as guitar strings to strum along with her music. This gal is sexy, seductive, and surreal in her creative thought process. I love every act I see.
I love seeing a well executed pole dance and Ivory Fox performed a truly sensual and seductive piece. Bonus was watching her reach climax high up in the air as she ground against that cold metal bar between her legs. It was one of the most intimate pole performances I've ever witnessed and showed off her inner core strength as she held her poses for what seemed like hours.
How can you not love a bear of a man who comes out on stage wagging a foam pointy finger and carrying a teddy bear backpack. From his middle-finger salute to his plaid overshirt with Twerk emblazoned in glitter, Jasper St. James grabbed my heart and never let go. This was probably the most fun routine of the evening and I love him for his brash in-your-face sexuality and a performance that seemed more for him than for us. He didn't give a crap what we thought—Jasper's a diva through and through and it was fabulous!
First off, the name is brilliant—Jenny Ç'est Quoi. Coming from Montreal, this one just got me in the nostalgia department. Secondly, her performance took her from a dark corseted, tightly wrapped, green-haired beauty to a black-winged goddess. Her black feather wings extended across the stage like a dark angel and they were magnificent against her pale skin. It was an awe-inspiring performance and she had everyone in the audience enthralled.
Johnny Porkpie put together one of the most clever performances of the evening. With Albert Cadabra tied to a chair, debonnaire tailored Johnny proceeded to torture the man with the idea of pain to come but it was all a ruse. As he took off his suit piece by agonizing piece, from his shirt to his pants (but always keeping his stylish fedora and monocle on), he teased Albert with implements of torture which would inevitably transform into hangers for his tossed clothes. It was brilliant!
I'm an 80s kid so I had the horrible experience of watching many despicable cartoons during my youth which thankfully are not around anymore—well, except for My Little Pony but Bronies are just obsessed! One of these was Strawberry Shortcake and the lovely Kitty Crimson did a wonderful job actually turning my bad memories into a positive, new, strip-a-licious experience. If only the original Strawberry Shortcake has stripped down to just a little slip of a red skirt and her shortcake hat, life would have been so different… and the show would have been on at 11pm!
The winner of the most beautiful and blingy costume has to go to Maxi Millions. When she stripped out of her lovely but very cover-y silver overcoat, the white and silver corset, fringe skirt, and matching bra were so covered in crystals and bling I almost went blind. Add to all that her stunning back tattoo and this blonde bombshell was a vision! She spun and spun around on the stage, jewels catching in the lights and her long curls bouncing on her shoulders. So beautiful and a great performance.
Red is my favourite colour—I've had my hair red, my birthstone is garnet, I'd love to have a red car (someday). When Mena Domina came out on stage wearing her sheer red and black robe with the floor length sleeves I was entranced. Such a stunning look. And with a red feather in her hair the look was complete. She spent a long time slowly and sensually stripping out of her barely there robe to reveal her red and black bra costume below. It was a teasing dance with the audience to the last pastie reveal. I now deeply covet that costume…
I love watching period pieces and with Tansy I felt like I was watching something out of Boardwalk Empire or another 20s drama. She has that classic look with such pale skin, hair piled high and stark makeup. Her costume was a loose and layered peach beaded gown reminiscent of the Art Deco period. There was nothing for me here not to love —from the costume, to the makeup and hair, to the performance. I was drawn into the drama unfolding before me as she acted out her longing and loss. The final reveal was a series of statuesque poses that would make Erté blush.
I like a girl with some curves to her—some leading lines along the hips and waist! Donna Touch has some fabulous curves on her and she had a costume that accentuated her figure beautifully. A blonde bombshell with a cute little bob, she was a vision in pale greens, mint, and white, with sparkle everywhere. She made great use of her duster and hovered in the air as she twirled along the stage. She also had a sensuous long white fur boa that she used peekaboo style throughout her final reveal.
Apparently we had some rock royalty take in the show at the Brooklyn Bowl. Robert Plant was in the audience (nope, never saw him but I wasn't looking) and he mentioned the burlesque show in passing in some interviews. He was in town to do some spots on local shows and enjoyed the New York Burlesque Festival evening so much that he booked a show for himself at the Brooklyn Bowl. How's that for a ringing endorsement of the festival?
A huge shoutout to all the other performers that I didn't have a chance to write about: Elle Dorado, Nasty Canasta, Sydni Deveraux, Sauci Calla Horra, Trixie Minx, Motherfucking Akynos (yep, another name change), Aero Trapeze, Rosie 151, Raquel Reed, Lil' Miss Lixx, Apathy Angel, Medianoche, Evelyn Vinyl, Shelly Watson, Iris L'Emour. Every effort was made to have each performers' photos in the gallery but due to the lighting conditions in the venue some performers may not be represented.
Check out all our New York Burlesque Festival coverage.
All photos ©Olena–Photolena–Sullivan for Burlesque Beat. Performers may use shots for promotional purposes, but please credit properly with photographer's full name and a link to this piece. All other requests please contact us to acquire permission.