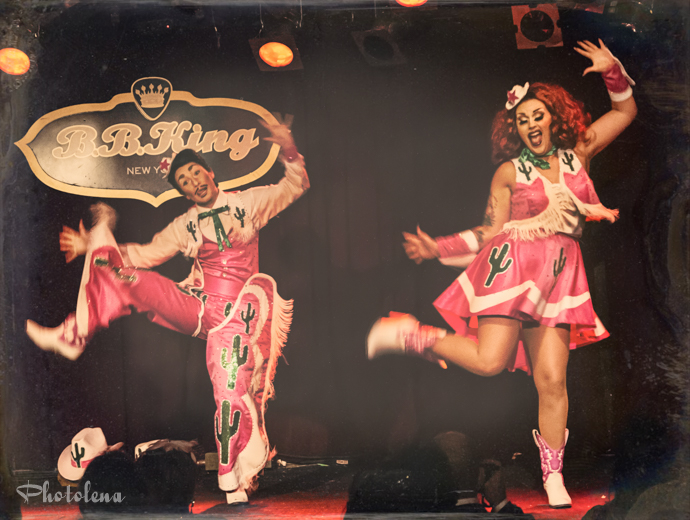 New York Burlesque Festival 2014: The Saturday Spectacular
Saturday, September 28th, 2014
B.B. King Blues Club, New York
So it's my third day in New York, I'm feeling like I have a hang of this whole multi-line subway thing (we have 2 lines in Toronto) and it's a fracking gorgeous day—what better time than to join a gazillion people in the sweltering sun in Central Park! I know, when you're going to be standing all night shooting a show, why not spend the day walking and walking and walking so your feet can swell up and hurt like a mother. Awesome plan, but so worth it. I can't believe I've lived this long and never made it out to Central Park before.
The venue for the Saturday Spectacular was definitely a swanky place and required the full burlesque photographer get up—we're talking red Marilyn dress, Betty hair, striped stocking and at least 3 Amber Ray creations for sparkle. After all, I don't get to go see a show at the famous BB King's in Times Square every day. Hell, James Brown has played there. I forgot just how seriously insane Times Square is and now remember why I avoided it this trip.
The entire evening was one amazing act after another but let's chat about some of the ones that really stood out for me…
The opening band was the Brian Newman Quintet playing awesomely kickass jazz. I know you've heard of Brian Newman since our editors here at Burlesque Beat talk about him and his fantastic band a lot on these pages. You know that not only has he shared many stages with Lady Gaga, has appeared on Saturday Night Live and the Tonight Show, but he also recently put out an album with Lady Gaga and Tony Bennett, Cheek to Cheek (Deluxe)
. It was a fabulous beginning to a great night of performances and the Quintet helped usher in our host for the evening who I can finally say I've seen onstage and am now a huge fan of—Mr. Showbiz himself, the infamous Murray Hill.
Over the years I have had the pleasure to watch many a host emcee an evening and I have my favourites, all for different reasons, but one of the big traits they all have in common is how well they engage the audience between performances. They're not just out there to announce the next performer, they are performers as well. Murray Hill's one-liners and gags were spot on, perfectly timed, right down to his hilarious interactions with the sound guy. He even had his own opening song with backup dancers, which I hear is how he opens the Saturday night show every year. Love you, Murray!
Until this evening I had never seen the world-renowned Pontani sisters perform. What a treat to see both Angie and Helen on the same stage, the same night! Both of them are powerhouse burlesque performers and now I can put a performance to the reputation. Helen really grabbed me with her 20s costuming, from the black robe to the stunning headpiece topped with feathers and framed in beads. With her kohl black eyes and dark lips, she looked like an Erte art piece come to life. Robe discarded, we were treated to a beautiful beaded black corseted piece with long trailing beaded fringe in the front. She was a vision. And is it true that this was the first time she went down to pasties? And I was there for it??
Angie Pontani emerged on stage in a black cape that revealed a stunning red sparkled gown. She wore a gorgeous, tall shimmery crown that sprouted long black and red feathers. As she danced across the stage, she shed her gown to reveal a sparkling bikini with a skirt of white fringe that flittered on the air as she whirled and twirled. The kicker of the act was when she reached up and took the feathers out of her crown and performed a few feather fan moves with them. Gorgeous!
Anyone who saw Dr. Lucky perform and didn't think she was the cat's ass is blind. Her act started off hot sensual, worked up some energy, then grabbed you by the throat and threw you aside when it was done. Keeping up was not an option. In her full length gold gown, she was out the gate looking like a goddess from the start. With her big blonde bouffant adorned with gold flowers, she strutted on that stage like she owned it. Down to her gold fringe bikini, she grabbed the longest yellow boa I've seen and worked it like a pro. The entire time her look said "Don't fuck with me," with the one stray lock of hair that fell in her face—which looked massively sexy btw. I can't even tell you how much I loved this act.
Ever see a gorgeous woman get eaten by a pink fox? If you answered yes then you were at this show with me. I have seen some pretty amazing creativity come out of Imogen Kelly, but this act pretty much took the cake for me. Pretty in pink, Imogen came out on stage in a gorgeous glitter gown with matching opera gloves and sporting the largest fur wrap you've ever seen—a full-size pink fox pelt. It was ginormous! After swapping her gorgeous gown for a strapping pink bikini, Imogen had some issue with the fox—it tried to eat her. Well, not tried, it actually did eat her. The head came down over her and swallowed her whole. There's nothing like looking at Imogen's gorgeous butt sticking out of the fox's big mouth. But no worries, she got herself out of there and became quite the foxy lady herself, sporting a bushy pink tail.
My favourite duet act—ever—is Kitten & Lou and whenever I have the chance to see them perform I get all giddy because these are the most rehearsed and perfect performers on the face of the planet. Their acts are creative, comedic, perfectly timed, and super enjoyable. I'd go see a show of just their acts. This time not only did Kitten & Lou perform as a duet, Kitten also performed solo as a hula hooping cat, which was doubly awesome.
Their duet had them on the run after robbing a bank. Their bandit outfits were the most adorable pink with green cacti all over them and white fringe—a lot of white fringe. Oh, and little tiny cowboy hats. These were the kinds of outfits I remember them wearing on the Donny & Marie show. You know, 'cos she's a little bit country… As Kitten & Lou were chased by the law they got into all sorts of trouble—their clothes came off, they were shot at, and when Lou went to grab the gold out of the bag it turned out to be snakes. To add insult to injury one of those danged snakes grabbed on to his… Yeesh! Luckily they had little wooden horses to run away on.
I love a good hula hoop act and Miss Saturn was definitely that. She was hula hoop with attitude. Sporting an I Love NY t-shirt, red pasties and matching red stockings and garter, she put on a hoop show like no other I've seen. She yelled, she screamed, she got angry, she stuck her tongue out at us—the faces she made were awesome. It was like watching hula hoop therapy or something. It was aggressive and raw, just fabulous.
So let's talk about Mr. Gorgeous for a minute here. Not only super tall, super pretty, but also super talented and creative. I have yet to see the same performance twice from him and he is so amazingly creative with his acts. This was no exception. Here you have a 10' tall hunk (ok, I'm exaggerating… only a bit, the guy is taaaallll) astride a child's hobby horse on wheels, riding out onto the stage wearing a sparkly riding outfit complete with riding crop. The horse looked so teeny. When he stood up it looked like it was a tiny toy. Once the riding outfit came off (not soon enough), he stood there in his black boots, corset, teensy briefs, and barely there top. And this tall hunk wore patent leather heeled riding boots. 'Cos he's not tall enough! Or sexy enough. And to top it off there were the poses—the muscle hunk, look at my guns, yep that's my butt, poses. Ugh, I died.
There were so many more amazing acts and I could go on and on and on but I gotta stop. Check out J.D. Oxblood's New York Burlesque Festival Saturday night Hangover Highlights for coverage of some of the other wonderful acts that night. And major kudos to everyone who graced B.B. King's stage who I didn't get to mention here: Michelle L'Amour, Tigger!, Harvest Moon, Albadoro Gala, The Devilettes, Kelly Ann Doll, The Maine Attraction, Jo Boobs Weldon, Miss Orchid Mei, Gal Friday, Sina King, Missy Lisa, Pepper Sparkles, The Schlep Sisters, Miss Saturn, Broadway Brassy, Brewster, and all the kittens and stage crew.
Up next, the final night of the festival.
All photos ©Olena–Photolena–Sullivan for Burlesque Beat. Performers may use shots for promotional purposes, but please credit properly with photographer's full name and a link to this piece. All other requests please contact us to acquire permission.