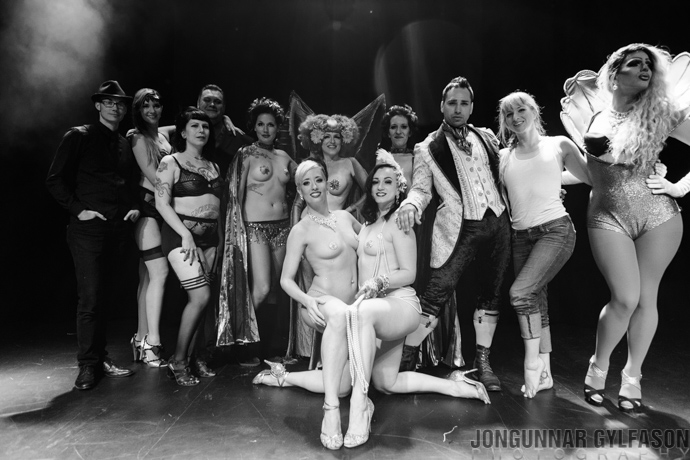 November 15, 2014
The Joy Theater, New Orleans
The last time I saw Bella Blue, she pulled Mardi Gras beads out from her pussy and used them to beat another burlesque dancer that was dressed as a sheriff inside a smoky dive on St. Claude Avenue.
What a surprise when I passed under the lit marquee and walked into the Joy Theatre, filled with over two hundred pretty people and a table of swag provided by Sucré. Five minutes before the show started, Tom Waits on the speakers, singing "Pasties and a G string (at the two o' clock club)", I still wasn't sure what the night held.
Any idea of Bella Blue being a performer who needed shock value to be a success vanished the moment curtains slid open and revealed her and Michelle L' amour in red feather headpieces. Bella is a specimen of perfection, a combination of power and grace in every muscle. The two of them moved together like free flowing water, like they had been twisting and turning and touching each other for decades, Bella wrapping around L' amour's creamy porcelain skin.
Ben Wisdom was right when he said that two stars had come together to form a supernova. In complete control of his audience, he pleased both tourists and locals with his jokes about New Orleans cable company, Cox. "Don't have Cox? You need Cox. Kids need Cox. Grandma needs Cox. Your kids are gonna love Cox. Cox in your fucking face."
Jo Boobs and the Titilliations presented us with an homage to the variety shows of the seventies. Boobs' hair was the pink you would find on the tail of a My Little Pony. She summoned the ghosts of the Soultrane dancers of old as the Titillations bookended her every move.
Next, the curtains opened to a painting. Flesh forming a V inside red satin, down the back past the waist. Flesh moving inside the frame. The frame moving a bit along with it. Darlinda rising from the chair, still facing away from the audience, there is the idea that the body is trapped within the red satin. She turns to face the crowd, breathless and exhausted as the music amps up and she shakes her long red hair and escapes from the frame. She shakes with a possession of being free. She shakes with the possession of being trapped. She shakes like a woman possessed, a struggle between her and the red satin. And then it is over. You have been on this journey with her, but just to let you know that you haven't been where she has been, she splits her lips with a peace sign and sticks out her tongue as she prances off stage.
The evening's drag performer reminded me of a woman who might suddenly appear on stage with Die Antwoord. Madonnathan's hair rivaled Dee Snider's. She appeared to be from the future with a two-foot high collar of silver rising around her neck and shoulders. Her act was more of an admonition as she lip-synced a song from the band Alaska Thunderfuck (my new personal favorite name for a band) with the chorus of Your makeup is terrible, but I love you anyway.
Bella and L' amour faced off once again to the backdrop of the Cure's Lovesong. In black with strings tight around their legs all the way past the thigh and up to the waist, again they performed like veteran partners, bodies in sync, crawling like tigers, rising, wrapping and unwrapping, twisting and spinning. Their every motion resonating the feeling that when I'm alone with you, you make me feel whole again. There is so much sex between them there are gasps in the audience. And then it's over. And Bella slaps L'amour's ass. And we are slapped back into reality.
I had never seen a male perform burlesque. Jett Adore. His dress appeared to be Japanese silk in the design of a peacock. White feathered fur ran from his shoulder to wrist. His headpiece was that of a peacock crossed with those strange nosed things the killers wore in A Clockwork Orange. His body rivaled that of Bella, every muscle visible as he rose up like a bird, flipped and turned until…he suddenly whipped away the cloth and the head of the peacock was between his legs in a gorgeous slight-of-hand trick.
Liza Rose appeared onstage in jeans and a tank top looking like a girl in the cafeteria with her sorority sisters. She was anything but. She eyed the rope hanging from the ceiling as if it was an opponent. Then, suddenly, she jumped, and she was at the top in seconds, above the curtain. She spun for thirty feet, down toward the stage, without hands. The twisting and hanging and climbing defied gravity.
Next Bella is in a blue sparkled dress and black satin gloves with diamonds splashed across her chest and on her ears. It sounds like a monster is singing the song Roxanne (El Tango de Roxanne). Bella dances through this world with a power that defies the grating dissonant music. A brave and determined woman, she spins through the madness of the words without fear. She leaves you thinking…she's gonna make it. Whatever it is…she's gonna succeed.
The night closed with Michelle L' Amour in a spectacular feather headpiece. The dress trailing behind her was red and white feathers, and above this dress was a waist that seemed to move separate from the body while guiding the body. Her shoulders undulate like waves as she faces backstage, summoning smoke in the lights. The red is gone, and when did that happen? A shapeshifter, she spins, a wink in conjunction with the ringing of a bell. The audience leans forward. She puts on a red glove, and the memory of moments ago, the red…all of the red. White mink trails behind her. She runs pearls against her skin and collapses to the floor atop the white feathers, floating like an angel on a cloud, naked save for pearls and the one feather she runs beneath her waist.
What an evocative showcase of poise, beauty, and grace. To see the body move at its highest can make you believe in miracles. And sin. And that is the perfection of Bellamour. You get both.
JonGunnar likes to take pretty pictures. All photos ©JonGunnar, and used here with express permission. Please respect photography copyrights and do not use images without obtaining explicit permission.