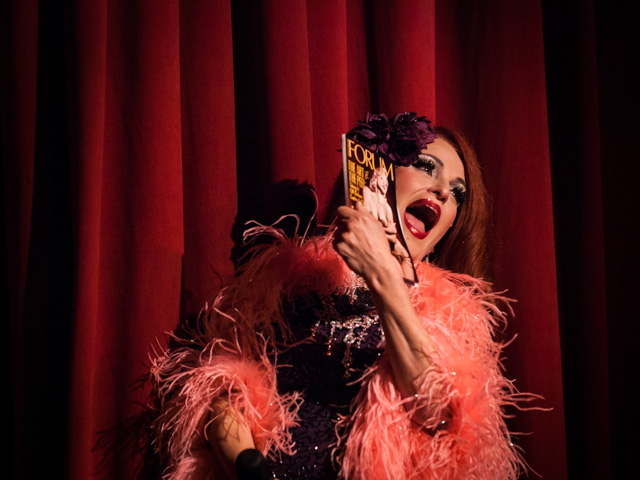 Bedroom Burlesque: A Penthouse Forum Release Party
Monday, Nov. 10, 2014
The Slipper Room, Lower East Side, New York
Leave it to Jo "Boobs" Weldon, author of The Burlesque Handbook
, to host a show at the Slipper Room featuring live readings of Penthouse Forum letters by real-life Penthouse Pets AND performances by some of the hottest names in burlesque. "Bedroom Burlesque—How to Strip for Him [and Her!]" by our own Jo Weldon, is the cover story of this month's Forum, and comes complete with a lusty pictorial by Tasha Reign.
A couple of months ago I got to host an event for the New York Lit Crawl at Toys in Babeland, and I perpetrated the first-ever not-so-Naked Girls Reading. I'm a fan of Naked Girls Reading, but the venue wasn't having the all-nude aspect, so I asked Hazel Honeysuckle—aka Orange is the New Black's "Mystery Lady" from one of Buzzfeed's HOTTEST 2014 TV sex scenes—to read, fully clothed, from Honey: The life and loves of Lenny's shady lady
, the Honey Bruce autobiography.
She read a smoking-hot lesbian sex scene that I'd heard Jo Weldon read at the NGR event at the Burlesque Hall of Fame, and everyone in the room—including Hazel—got wet downstairs.
Why do we like listening to women read so much? I think it goes back to early adolescence. Most of us were read to as children by our parents while being tucked into bed, giving the experience a comforting, relaxing association. Then one day, you're at school, your third-grade teacher is reading to you from, IDK, James and the Giant Peach, and she's strangely compelling in some weird way that your mom is most definitely not, and plus, there's Little Cindy Lou Who sitting next to you on the fraying floor rug, and she's wearing a skirt, and there's this whole thrill going through you that's got nothing to do with James' peach. It's a whole new world.
(I'm describing a scenario from a straight man's perspective, but you can flip gender roles in any of the players above and it still holds some water. Or not.)
Jo's wonderful night of perversion kicked off with gogo from Bunny Buxom, who has grown way confident, eye-fucking the crowd. The show opened with none other than Angie Pontani with her jaw-dropping gossamer pointe act to "La Vie en Rose." Already we knew we were in for a quality evening.
Then we got Perle Noire. Between her hair flips and throwing her arms to the heavens, pausing to level a steely, accusatory stare at the crowd, Perle turns the energy in the room up to 11. It's been a while since I've seen Perle in a small venue, and I was reminded of what that magnetism does in a confined space. Dig how she retrieves an errant earring that had the gall to remove itself not-on-cue. I wouldn't dare.
But we came here to hear hot women read us some smut, and the evening did not disappoint. Penthouse Pet Tasha Reign, who has a women's studies degree from UCLA in addition to being a pornstar, read to us a story that began, "I never thought it would happen to me." Ah, those words take me back to the masturbatory days of the pre-internet era. A shapely blonde rocking the "sexy baby" voice, Reign is adept at pushing the buttons that operate straight men: fawning and titillated, excited and bubbly, with a high-pitched, giggly voice. She said her nipples were hard, but even hotter was her seemingly-unconscious twitch of slowly pulling up her dress.
Jo Weldon made a clever joke about "aural porn" and "oral sex," and read from her piece in the Forum while Jonny Porkpie demonstrated taking it off, which had the whole house roaring with laughter.
Penthouse Pet January 2014 Allie Haze is an irresistible brunette with a voice that was made for this gig—low and smoky, and with a smart sense of humor behind it. She read a story that began "It didn't happen to me"—a straight-up fantasy piece by a guy who didn't get to fuck his secretary, and a witty burlesque of the Forum's usual trope. Haze's reading was both sexy and hilarious. And she was wearing these incredible shoes, which, as any smart straight guy knows, is a perfect ice-breaker to talk to a girl who would otherwise be too terrifying to approach. Allie, great reading—where did you get those shoes?
"Believe it or not," she said, almost apologizing in her tone, "They're Jessica Simpson." She also said that she wore them for eight straight hours at a signing event and that the were "really comfortable."  How's that for a plug, Jessica?
(I can't be positive, but I'm pretty sure they were Jessica Simpson's 'Raglinn' Platform Bootie. Allie, call me if I'm wrong. Actually, call me anyway.)
Cut to a bunch more burlesque. Pinkie Special with a million tassels on her body, and Julie Atlas Muz did her "drunken stripper" routine, perfectly set up by being in the audience with a martini when she was announced—"Oh, shit, that's me!" I loved Calamity Chang's vinyl nun with flaming bible—a terrific act that I'd somehow never seen before, and she did the Wendy O. Williams electrical tape thing. BTW, did you know Calamity did a girl-girl scene in a Steve McQueen flick?
Perle Noire did a rock-out to Buckcherry's "Crazy Bitch," and Julie Atlas Muz shut down the show with Judas Priest's "Breaking the Law," in which she breaks the law. Figure it the fuck out.
But most importantly, we got another reading each from our resident porn stars. Allie Haze read a teacher student fantasy, and slowly rubbed her body, melting the crowd. And
Tasha Reign titty-fucked the mike stand and read us some "Iraq war veteran returning home to hot sex" porn. Which made the crowd feel both horny and patriotic.
There is nothing like getting an entire room hot. And for us, nothing quite like getting turned on while standing very, very close to friends and strangers.
The fun didn't end there. Jo showed us naked pictures of her from a 1993 issue of Swank, and I'm going to spend the rest of my evening trying to order a back issue. She also signed my Forum, "Suck my box!"
Now, go read your lover some smut.
Kiss kiss,
JDX
All photos ©Monty Leman for Burlesque Beat, and used here with explicit permission. Please respect photography copyrights and do not use images without obtaining explicit permission.