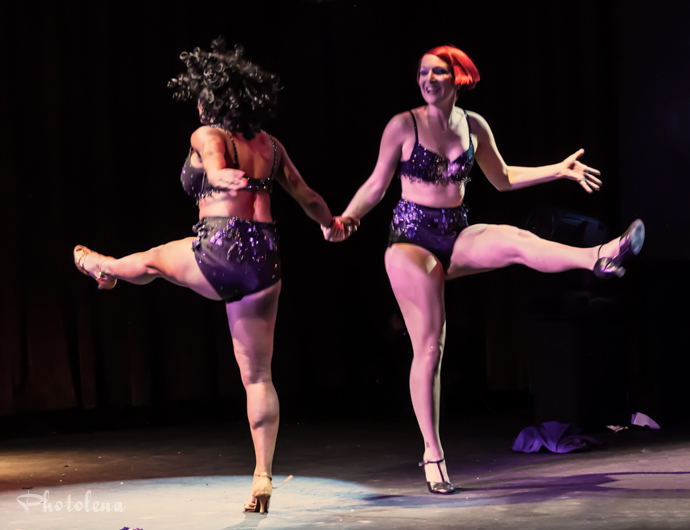 The 2014 New York Burlesque Festival Golden Pastie Awards
Sunday September 28, 2014
Highline Ballroom, NY
My last day in New York city. What a crazy whirlwind of a trip down for the New York Burlesque Festival! OK, so I never really did get to do anything that touristy other than Central Park, meandering through Brooklyn and Chelsea and making my pilgrimage to B & H Photo headquarters, but I wouldn't change a thing. What an experience, being in this fabulous city with all these world-class performers—and of course my Burlesque Beat peeps!
The final evening is a big deal, it being the Golden Pastie Awards, and the venue was super swanky—the Highline Ballroom (damn, never made it to the High Line, next time…) which has seen the likes of Paul McCartney and Lady Gaga grace its stage.
If you don't know what the Golden Pastie Awards are… well, shame on you as you should have been voting online every year! They're like funny Oscars voted by you for your burlesque peeps with categories like "The TMI Award"—Stella Chuu, "the FOMO (Fear of Missing Out) Award"—Albert Cadabra, and the "Legends Award" presented to Val Valentine. Check out our list of the 2014 Golden Pastie awards and winners.
But it wasn't just awards, there were fabulous performances as well. Some of the ones that stood out for me:
I love a good tap act and not only did we get to see the lovely and talented Gin Minsky on stage, but she was accompanied by the equally matched Perle Noire (I had no idea she could tap). The tap-off was splendid as both these dancers are strong and bring so much to the stage in their body language. It was amazing watching them try to outdo each other with their fast and frenzied routine, in the end realizing they're better off as a team and finishing off as a duet.
I've gushed about Kitten & Lou before (Burlesque Hall of Fame's "Most Comedic" 2014 winners) and this time I finally had the chance to watch as Lou Henry Hoover performed a solo act. Such a versatile performer, I've been so used to watching comedic performances from this duo and it was a pleasant surprise to see such a heart stopping act from Lou this time around. A handsome sailor carrying his bag of goods, Lou's pantomime to "Time After Time" by Cindy Lauper was a fabulous concept. A lovely striptease out of the sailor outfit, it reverses itself when it's revealed that there's not only a whole other sailor suit in Lou's bag, but dozens and dozens of red pompoms for the one that fell off his sailor cap. Rejuvenated and renewed, our sailor walks off the stage as the music fades.
Earworm Alert! How many of you know that awesome song "Barbra Streisand" by Duck Sauce? I'll give it a minute to sink into your brain. Now you know how I felt when Corvette La Face came on stage in full Funny Girl leopard print coat and matching hat. She could have been Babs' twin—she had all the mannerisms down pat from the hand gestures when she swiped the stray hairs off her face to her facial expressions. It was uncanny! The amount of leopard print in one act was impressive—jacket, hat, gloves, shoes, bra, garter… yikes! You could pass out from all the glamorous black spots in front of your eyes.
Free Shipping at $50 at RickysNYC.com
Minnie Tonka always blows me away with her creativity and humour and this time was no different. Giving into her retro side, her act was all about the vinyl—45s, that is. Okay, hold up, there's probably some of you out there who don't know what a 45 is. Before CDs, music used to be played on vinyl records and there were these small ones that rotated at 45 rotations per minute. Apparently, these make really good pasties as well. Once that retrotastic 80s glam dress came off, Ms. Tonka showed everyone just how versatile those old records could be—and you know she had them spinning. And the best part is that this was all done to one of my favourite 80s tunes, "You Spin Me Round (Like a Record)" by Dead or Alive. Total Earworm. (You're welcome.)
If you've seen my photography then you might have noticed that I have a thing for flowing fabric. I love the way it just seems to catch the air when a performer is spinning around. So when Grace Gotham come onto the stage with this stunning gown of silken fabric, I knew that I was going to fall in love. With each little movement, it was like watching wave after sultry wave of flowing across the stage. I was almost sad to see the fabric dance end as Grace exchanged her flowing gown for an equally beautiful panel skirt and showed us some of the highest kicks I've ever seen. From sensual to ka-pow all in one act. Brilliant!
One of my favourite characters in the Lord of the Rings movies was Treebeard. I've seen a lot of great cosplay burlesque, but Hazel Honeysuckle's homage to Treebeard was above and beyond. I mean, the woman was on stilts to bring the character to life as close to the movie as possible. From her costume of bark to her headpiece of twigs and leaves, right down to the miniature Pippin she had gently riding with her, this was a piece of art rambling across the stage. I had to remind myself to take photos I was so dazzled by the beauty and majesty of the act. I don't remember Treebeard pulling off parts of his bark to show off his smooth and supple bosom…. wait, what now? Now that would have completely changed the tone of the movies! But who knows, maybe there's a sexy Ms. Treebeard somewhere out there?
It looks like striptease has made it to the digital age. Little Brooklyn managed a burlesque performance that did not include taking off a single stitch of clothing. Well, not on stage at least. This was probably the most creative of all the performances I saw the entire evening and what a unique way to incorporate an iPad into an act. Perfectly timed, as she moved the iPad down her body the audience was given a glimpse of her digital costume. Hovering over different parts—her legs, arm, butt—we watched the striptease as skin was revealed, gloves were pulled, and pasties were exposed. It was brilliant.
Whenever I head out to the festivals I always look forward to seeing our burlesque legends. Such a pleasure it was that I got to witness the New York Burlesque Festival presenting a Golden Pastie award to Val Valentine, who also had the opportunity to wow us with her butterfly act. Such a stunning costume—when she turned around her duster turned into large colorful wings. So creative and this is one legend that's got all the classic bump 'n grind moves down pat. It was such a pleasure to see her perform again—that makes four times now for me I think, and each time has been fabulous.
I want to acknowledge all the other performers that I didn't get a chance to write about. While I don't have the space to talk about all the fabulous acts I saw over the whirlwind weekend, I appreciate every single one of them: host Bastard Keith, Amber Ray, Peekaboo Pointe, Kitty Litteur, Burgundy Brixx, Bettie Blackheart, Rubenesque Burlesque, Miss Vampfire, Calamity Chang, The Harlettes, Trillian, Ben Franklin, Delilah, and The Dizzy Daisies.
This was such a fabulous experience and I will always remember my first time at the New York Burlesque Festival. A huge thank you to Melody and JD for putting me up (and putting up with me) for the weekend. You guys are the best! Already planning for next year. [You bet you are! —Ed.]
All photos ©Olena–Photolena–Sullivan for Burlesque Beat. Performers may use shots for promotional purposes, but please credit properly with photographer's full name and a link to this piece. All other requests please contact us to acquire permission.