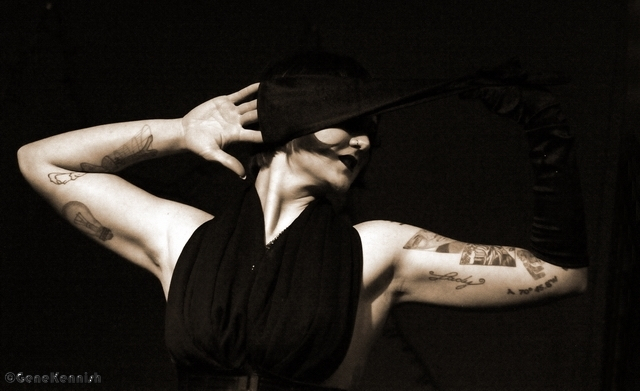 Tuesday, December 2nd, 2014
Parkside Lounge, NYC
One Tuesday evening in early December, photographer Gene Kennish went out to capture this benefit show with a great cause:
Hollaback Girls! A Burlesque Benefit Show to Combat Street Harassment
Rabbit Hole Productions says there's a proper time and place to hoot and holler at women: when they're onstage. We couldn't agree more. In what seems to be a recent influx in the frequency and inappropriate content of street harassment, the show combined social justice with burlesque to create a very nearly naked benefit show to help combat street harassment, to raise awareness, and to provide education in the hopes of change. Enjoy this great selection of shots.
Get 50% off one item only at AdamEveToys.com! Use code OHTOY at checkout.
Hosted By:
Fan Cy Feast and Iris Ex Plosion
With Pickup Artists:
Varla Velour and Gemini Bltz
The show starred an epic lineup of passionate bump and grinders…
Nina La Voix
Beelzababe
Zoe Ziegfeld
Dottie Dynamo
Seedy Edie
Boo Bess
Fem Appeal
Francine "The Lucid Dream"
Lucille Ti Amore
Tiger Bay
Ruby Solitaire
Dandy Dillinger
Sizzle Dizzle
Madame Rosebud
Betsy Propane
Poison Ivory
Bunnie Buxomm
and MORE
All proceeds were donated to Hollaback!
All photos ©Gene Kennish, and used here with express permission for Burlesque Beat. Please respect photography copyrights and do not use images without obtaining explicit permission.