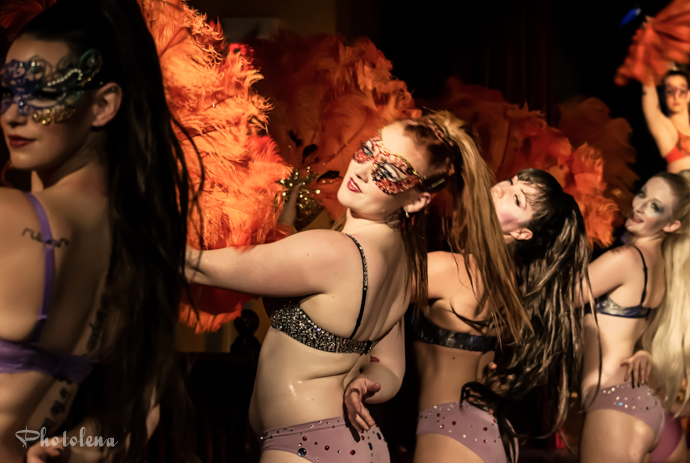 Love Letters Cabaret: Eden
October 28th, 2014
Lula Lounge, Toronto
The Lula Lounge in west end Toronto has been home to Love Letters Cabaret for quite some time now and it's a space that perfectly suits a troupe that's become known for its decadent dance/burlesque theatre. Artistic director and choreographer Pastel Supernova, along with assistant choreographer Kage Wolf, keep a cast of 14 on their toes with several well rehearsed and perfectly executed creative and sexy shows each year.
I had the opportunity to catch their most recent production, Eden. A simple but effective storyline: an island as beautiful and lush as the garden of Eden, full of beautiful and exotic women and just one truly lucky man. They dance for each other, they dance for seduction, they dance for the love of dance, and the entire time you feel honoured and lucky to be invited to have a peek at your wildest fantasies come to life.
Enjoy the wonders of Eden in this gallery and see the beauty of dance and burlesque through the creative vision of Love Letters Cabaret: Pastel Supernova, Kage Wolf, Azura Maneater, Knox Harter, Madi Kin, Petra "Queen of the Nile," Revel, Ruckus, Salt, Thrasher, Minous Chatton Fou, Celina Lee, and Katelyn Vera with special guest backup dancers.
All photos ©Olena–Photolena–Sullivan for Burlesque Beat. Performers may use shots for promotional purposes, but please credit properly with photographer's full name and a link to this piece. All other requests please contact us to acquire permission.