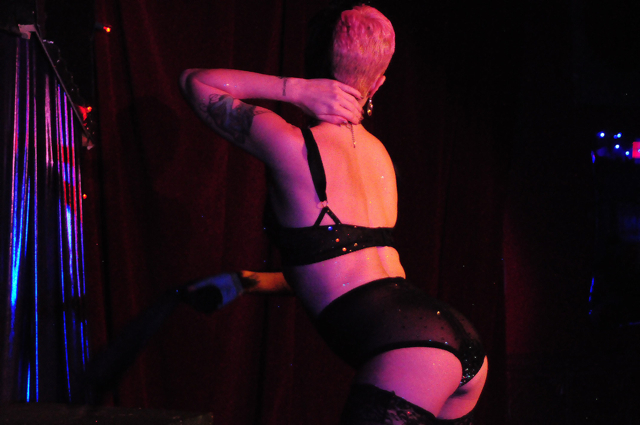 The Dirty Dime Peepshow
January 17th, 2015
The Allways Lounge, New Orleans
Melody Mudd and I had only been living in New Orleans for a week this past winter, but already it was exciting, unpredictable, totally fun—and get this—productive. It's easier to get stuff done when it's not below zero outside. Sorry New York, your winters SUCK.
New Orleans has been having a burlesque moment, getting more attention than usual in the past year. American Horror Story's Freakshow shot here last season, landing Mat Fraser in town for an extended stretch; International Housemom Jo Weldon stayed for a bit; and Chicago powerhouse producer couple Michelle L'Amour and Franky Vivid are spending more and more time here. And every time I fire up my Twitter someone's dropping in for a gig. It's a fun town.
The Allways Lounge, in the Marigny, is clearly the unofficial clubhouse (reminiscent of the old Slipper Room) for both the New Orleans burlesque AND drag scenes, which have a cozy overlap here. Stadium seating, a small proscenium stage, drag queens behind the bar—it's a throwdown. Don't mind that the performers have to enter through the house. Some performers—like drag performer Vinsantos, who entered slowly to her theme music ("Carmina Burana"), greeting the house, and taking the stage to dramatically lip-synch a Jessica Lange scene from American Horror Story,
(This could be a piece all it's own—Vinsantos, who runs the New Orleans Drag Workshop, has taken some shit from certain quarters for allowing non-trans women—cisgender, cissexual—to perform as drag queens, which we saw at Vinsantos' Draguation. The effect, when done well, was a woman impersonating a man impersonating a woman, and made a case that "drag" is a performance genre that has nothing to do with innate or chosen sexuality. Some do not agree.)
Bella Blue, who's getting mad props in her home town for bursting onto 21st Century's Top 50, debuting on the list at #16, gave us a sultry classic tease in black, with the obvious exception that we got a full reveal. Grey areas of the law? Rebellion? NOLA "don't give a fuck"? This is the Dirty Dime, and all shall be revealed. Stunning figure, specific and exact execution—a well-deserved place on the Holli-Mae bandstand.
Bunny Love—yep, she's back in her home town—watched an imaginary opera, clapping politely, and taking breaks to withdraw a tube of lipstick from her—um, purse? (think Bangkok-style gogo acts.) She did it again, and again, the lipstick line on her face outgrowing her lips, until she went all-out and colored her entire face brick red, slaying the crowd.
I didn't quite feel the audacious poetry of Paul Oswell, who read a special birthday poem for Bella and had the crowd in stitches, although I did like the line, "there's something really gay about vaginas." (If it sounds odd out of context; trust me—it was stranger in context.) It's also refreshing to see a man onstage at a burlesque show, mostly naked, who doesn't look like a Calvin Klein model.
Drag performer Madonnathon (and I do believe he was born a man, although I'd never say it out loud—seriously, guessing genders these days is more fraught than guessing if a woman's pregnant.)—ANYWAY he brought the house down with a lip synch to "Wrecking Ball" as if he actually had Miley Cyrus' purse in his leopard onesie pocket. Sick props for ad lib—since it's drag, punters crept up to hand him sweaty bills, and without missing a beat he took one dollar and dabbed his eyes with it; another he bit out of another man's mouth and spat it back; another he simply took and shoved the guy's face away.
Bella did a birthday act that involved a cupcake being smashed into her cupcake, and another drag act by Besame Culo (y'all, it means "kiss my ass"), who is also burlesque performer Lady Lucerne. (Feel free to rant about that in the comments section. The crowd loved her, so let your jealousy fuel your rage.)
I have to give mad props to Ben Wisdom, who has truly come into his own since I first saw him at Slow Burn Burlesque the night of the MOMs Ball four years ago. Another spectator said that he was "half preacher and half used car salesman," and I agree—but only if you accept that as a compliment. Telling me the good news? And getting me to buy it? That's a good burlesque host. And after seeing another host last week who claimed to have been doing it for ten years—and apparently not learning a damn thing—I was enthralled to see Ben kill it. Dirty Dime has a loyal following, and Ben was well-heckled—and he always had a juicy comeback and never flinched. Great host, even if I did call him a child molester. (Private joke between me and Ben—Ben, I don't think that was me.)
Closing out the show in style was Darling Darla James, with a well-executed and sultry grinder act that starts slow and never speeds up. She enters with a shawl over her face, and flips it up deftly to reveal goggles on her forehead, which she waits to set over her eyes, stripping and dominating with a nice use of the full stage. In red leather wrist cuffs and a matching belt with a flat metal "buckle," you see where this is going. (And this would be my chief criticism—grinder acts may not be common in the south, but both times I've seen this act, the grinder was set on stage in full view. Why would you ever deny yourself a reveal?) But it's a strong act, made stronger at the Dime—shooting sparks are even more impressive when she's wearing less—and the grinding goes on. Her use of the full stage is dominating, and she assumes statuesque positions and shoots sparks down and out at the audience, up and into her bare belly and breasts, down and out of her no-no, and in a doggy position, out the back. The crowd went predictably ape shit.
Among her many credits, Bella Blue is also behind the Blue Book burlesque show, now internationally known due to all the controversy with its old drag venue Lucky Pierre's on Bourbon Street.
Four nights a week, drunken Bourbon Street stumblers had the opportunity to take in some local burlesque, and local performers had four nights a week to polish their chops—an opportunity that performers in many cities miss. If your city can only support a few shows a month, how do you practice your art where it matters—in front of an audience? But alas, you know what happened… Cheers to the Bourbon Pub for stepping in and picking up the show.
New Orleans is particularly well-situated to become an epicenter of burlesque in a manner unique to other cities. As an already well-established magnet for tourism with a relatively small entertainment footprint, New Orleans has the chance to tap into an endless supply of new spectators. One problem with revival burlesque internationally has been a reluctance to court media coupled with a small (however loyal) fan base. New performers seem to join the cause at a greater frequency than new audience members, creating rich subcultures while evading rich front-of-house proceeds and straight-up riches. My home city, New York, has arguably the most varied burlesque scene in the world, with multiple shows seven nights a week—but with competing music, theatre, and film scenes, and Lawd-knows what else, the tourists are seldom brought in to the burlesque fold. If a destination city could tap into the tourist market, might these people go home and discover their local burlesque scenes?
Maybe.
Kiss kiss,
JDX
All photos ©Melody Mudd for Burlesque Beat. Performers may use shots for promotional purposes, but please credit properly with photographer's full name and a link to this piece. All other requests please contact us to acquire permission.