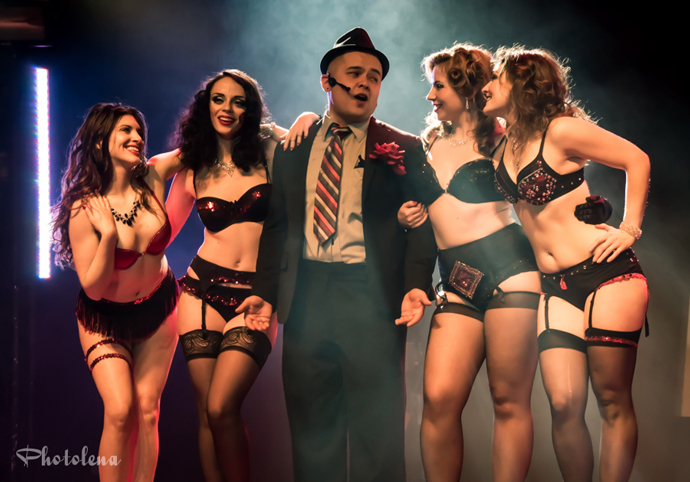 Girlesque 2015: The Saturday Late Show
Saturday, January 24, 2015
The Virgin Mobile MOD Club, Toronto
After an exciting early show and a half hour break to hit the awesome vendors (need more fascinators!) and grab another wobbly beverage, it was time to hunker down and cross my fingers that I had enough memory cards to last through the Saturday late show of Girlesque.
I was really blown away by Laura Desiree's burlesque act. She wore a fabulous blood red costume by Hanna Dolly Bradley that paid homage to her Eastern European heritage—a stunning headpiece of blood red flowers with a silk red train, beautiful beading everywhere, and wisps of fabric flowing off her arms, waist and legs. She glided across the stage, fabric trailing on the breeze. It was a haunting performance, dark and moody, more storytelling than striptease. I was so wrapped up in the beauty of it that I didn't even realize that the story was done until the pastie reveal signaled the end.
I've watched Agatha Frisky perform a couple of times and she's definitely grown with each performance. Her set at Girlesque was definitely a step above any other I'd seen to date. I've got a thing about big feather wings (yeah, I've got a lot of things about things) and Agatha's were huge and light pink. So pretty… Nothing ruins a fan routine like seeing someone use them who hasn't spent the time learning and practicing the moves—that wasn't the case here. She knew exactly what she was doing and used those wings in the most provocative and sensual ways possible. Her pretty matching jeweled corset and pasties blended with the feather fans but the routine was all about the movement and the posing. Even when she was down practically nothing but her pasties and jeweled bikini, the feather fans continued with the tease. It was a stunning performance.
I had a chance to watch Bunny Buxom perform at the New York Burlesque Festival and was very excited to see her again at Girlesque. She performed the same act but this was a whole new audience that had never seen it and there were a couple of new twists in there to keep it fresh. One of the things I love about Bunny is the fierceness she brings to the stage—it's a take no prisoners attitude, she has the power and she knows it. It comes across in her acts, in the way she attacks everything from the stage to ripping off her costume. And this costume is ingenious with the way that the huge fluffy trim at the bottom comes off to become a big boa that is used in the sexiest of ways. And let's not forget that her name is Buxom —I'll let you figure out what that means, dear smart readers.
Best use of a prop for the late show goes to Eva Dluscious and her awesome leopard print chaise. Stylin'! I'm still trying to find a spot for one of these in my place. A good portion of Eva's set was performed on the chaise, including her beautifully executed stocking peels. All that was left was her pretty in pink sheer robe and matching satin corset, which did eventually come off, but I was so entranced by her sensual sprawling on the chaise that I can't remember quite when that happened. She was seducing the audience and they were under her thrall.
Get 50% off one item PLUS free shipping only at AdamEveToys.com! Use code OHTOY at checkout.
I am always happy to see Lucky Minx on the set list because she always brings the most creative acts to any show she's a part of. Her Girlesque act was one of the most fun ones I've seen—who else could make an entire performance out of trying to figure out what to wear? She came out in a gorgeous green robe and had a choice of two very pretty dresses to change into. That's a tough decision—hell, it takes me at least an hour just to figure out what to wear to work in the morning and it's casual in my office. We realize really fast that she's (supposedly) naked under the robe—well, she does a fabulous job of hiding her pasties and g-string for quite a while. She spends the rest of the act doing what we all do, trying to pick between the two dresses by holding them up in front of her to see how they look. Her quick switches from one dress to the other are fabulous and I only spotted her pasties briefly during one swap out. In the end…well, maybe you should see it for yourself.
I've seen an act with a large beaded halo before but it was in poor lighting. Raven Virginia did a beaded halo performance at Girlesque and it was quite beautiful to watch. What's a beaded halo, you ask? Most likely the wrong term for what she was using in her act—picture a very small circle above your head, a larger one below around your shoulders, and everything is connected head to floor by long strings of beads. I know, I don't explain it quite right, but that's why there's photos. Raven would spin on stage and the beads would rise and fall as her skirts would flare out around her. When she took the halo off, she danced across the stage in a beautiful full-skirted gown. But there was more—beneath the gown was a metallic bodysuit that shimmered under the club lights. The act was like a parfait—so many layers.
Our big headliner of the evening was our reigning queen, the amazing Midnite Martini. I had seen this routine before at the Burlesque Hall of Fame 2013 but it's been worked on and perfected since then. If you weren't at BHOF 2013 then you missed just how inventive and creative Midnite Martini can be. This performance wasn't just your run of the mill feather fan act—it used her unique finger feather fan. Yep—that's the one where the fan is on her hand like a glove and each of her fingers is tipped with really long red feathers. Now that's a killer manicure! Throughout the striptease it looked so cool when she moved the feathers individually, like when she would point at someone or wiggled her feather tail. One of my favorite acts of the evening.
Long night—two shows, 2:30 a.m. and there's still going home and downloading photos just to come back and do it all again for the Sunday final shows. Luckily there's only one show on Sunday. Until then… 
Big kudos to Laura Desiree for emceeing the show and to the performers that I didn't have a chance to write about: Belle Jumelle, DD Starr, El Toro, Frenchie Fatale, Kinky La Femme, Gigi Vanilla, James and the Giant Pasty, Kitten Kin-Evil, Kkunt Factory, Mitzy Cream, Natalia Rose, Regina Dentata, Sassy Ray, Sauci Calla Horra, Sudbury Burlesque, and Tanya as well as the wonderful stage kittens.
Be sure to check out my review and photos of Girlesque 2015: The Saturday Early Show.
Don't miss the Beat. Subscribe.