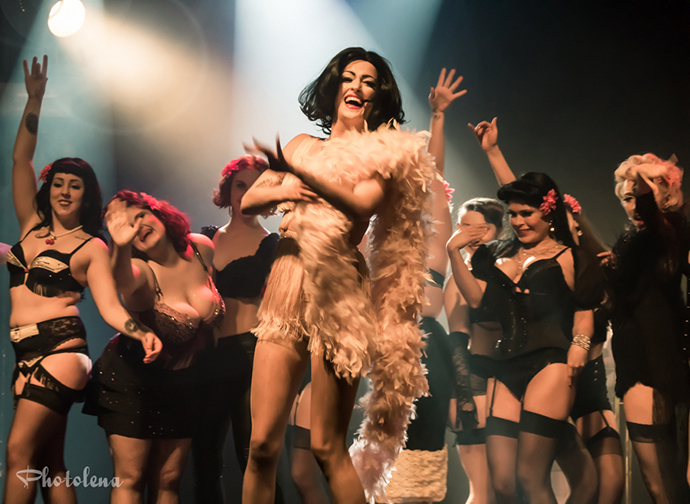 Girlesque 2015: The Sunday Show
Sunday, January 25, 2015
Virgin Mobile MOD Club, Toronto
Well, I survived the doubleheader on Saturday night, slept until noon, cleared out all my memory cards and came back completely stoked for the last night of the Girlesque burlesque festival. I was really excited—it was going to be my first time seeing local lovely Laura Desiree emceeing a show and up until now I'd only watched her perform burlesque acts.
I thought Laura Desiree did a great job as a hostess for the evening and she looked fabulous doing it as well. Plus, she was the first emcee that I've seen with an opening number that showed us the chaos that goes on behind the scenes and just what it takes for a burlesque performer to get ready for a set. Wrapped in a robe with her hair pinned back, her gaggle of assistants powdered her up, spritzed her with perfume, dressed her and helped her with her wig. Top it off with a pink feather boa and voila—perfection!
She had a great way of introducing all her assistants, who also later would be performing in their own or in group acts. As part of the overall intro, each lovely lady came out on stage carrying a very large hand painted name tag so that everyone would know who they were. They made for a quite attractive group of gals up there on the stage at the end—and what a wonderful way to acknowledge them all!
Although the lighting wasn't ideal for her act, Audrey Ivory had a great idea that I do wish I could have gotten better photos of. Coming onto the stage in a white robe and with a feathery swan headpiece, my first thought was hmmm… interesting. Soon we were being treated to a feather fan act with a twist. To make it look like she was flying through the air, Audrey had an assistant in a black bodysuit helping her do lifts while she performed traditional feather fan poses. It did look quite neat from afar to see her soar from one of the stage to the other while pulsing the fans or float straight up. I'm going to venture a guess that the lighting was kept darker so that the audience wouldn't constantly see Audrey's assistant. Unfortunately, from where I was sitting this made it hard to see the actual act as well. I hope I get to see it again with a bit more light as it was quite beautiful and I'd love to get photos that do it justice.
Earworms. You either love 'em or you hate 'em. Depends on the song, really. I have to say that Terrantino's act had one that I'm still occasionally finding myself humming and it's totally OK. That boy didn't just strip down from his robe and smart shirt and slacks to some seriously funky underoos, he did it to the tune of "Footloose." Oh yeah, now you've got it stuck in your head too, right? Everybody cut, everybody cut…. what a fun performance! And that boy can breakdance too—nearly naked. You go Terrantino!
If you ever need a perfect soda shop pinup gal, look no further than lovely Lilla Koi. Hair in a ponytail and sporting a big poodle skirt, she was like Joanie from Happy Days (minus annoying Chachi), getting ready to go to the malt shop.This girl had the cheesecake look down to a T—from batting her eyelashes to giving us that innocent pouty face. Perfection. Underneath all that cute dress was a pretty retro striped bodysuit with frill. And still the layers came off to reveal even more vintage goodies beneath, first bra then pasties. A great act, and her mom was in the audience cheering her on through the entire set!
The award for the most awesome interpretation of a national pastime goes to Loca Lola. I've seen a couple of troupes do a hockey themed act—most notably Boylesque T.O. and the Harlettes—but no one made it as sexy as Loca Lola. Decked out in full hockey gear—helmet, padding, jersey, gloves, pants and stick—this sporty lady was ready for the puck drop. Even with her missing front teeth, she exuded an athletic sensuality. Stripping out of her jersey and pants, she looked all Hulked out in her shoulder padding but there were some surprises in store for us. That Loca's a Canadian through and through, and nothing says Canuck more than maple leaf pasties and a big Canadian flag. So patriotic.
Sometimes you get a pair that do an homage to a movie that's so spot on that you forget you're watching a burlesque act and not a television. That was the case with Betty Quirk & Dolly Monroe's "Two Little Gold Diggers" act with each of them taking on the roles of Jane Russell and Marilyn Monroe, those two little girls from Little Rock. They were perfect and I felt like I was watching what's one of my favorite Monroe movies all over again. It was a combination of the performance and the costuming—those dresses were fantastic and with the headpieces they looked just like the stars. But you could also tell how much work they put into the act to get the moves and mannerisms just right. I've seen some really bad burlesque movie scenes and a few good ones—and this was one of the best. Fabulous work girls! 
Knox Harter's dance background really shows through in all of her performances, from her creative themed work to her more artistic lyrical pieces. Her Girlesque performance was the latter and it was truly a pleasure watching the fluid motions of this engaging dance piece that felt unrehearsed, a natural extension and reaction to the rhythm and flow of the music. In a simple flowery dress, her body undulated with the flow of the melody, bending and twisting like a willow in the wind. I was happy that her striptease wasn't until the final stages of the performance as I was completely caught up in the dance, but all was well timed and felt like it belonged in its timeframe, no sooner, no later. One of my favorite pieces of the festival.
The big headliner of the festival was fabulous Angie Pontani. I've only seen her perform once before at the New York Burlesque Festival so it was quite a treat to watch her again on our Toronto stage. This is one lady who has all the moves perfected! Her act was a classic neo-burlesque piece with a gorgeous long sparkly black gown and train that was shed to show off a hot little black beaded corset. So much bump 'n grind on that stage! When the crowd couldn't take anymore and she teased us down to a demi-cup bra hinting at the sizzling pasties beneath and bikini, out of nowhere appeared a set of bongo drums. Holy, can this gal bongo! It was such a frenzy of drumming and for so long, I never thought the set was going to end. What a way to end off the festival.
Kudos to all the performers that I didn't have a chance to write about but you can check out in the photos: Dolly Berlin, Maria Juana, Dottie Dangerfield, Scarlett LaFlamme, Chow Mein, Koston Kreme, Ruby Moon, Bella Barecatt, Bunny Angora, Les Femmes Rebelles, Bruce Wang, The Rubie and the Pearl and Pastel Supernova as well as the always wonderful stage kittens. This festival is always the highlight of the bleak and horrifyingly freezing Toronto winter and I'm always impressed year after year by the production that Mysterion puts together. Congratulations on another fabulous year!
All photos ©Olena–Photolena–Sullivan for Burlesque Beat. Performers may use shots for promotional purposes, but please credit properly with photographer's full name and a link to this piece. All other requests please contact us to acquire permission.