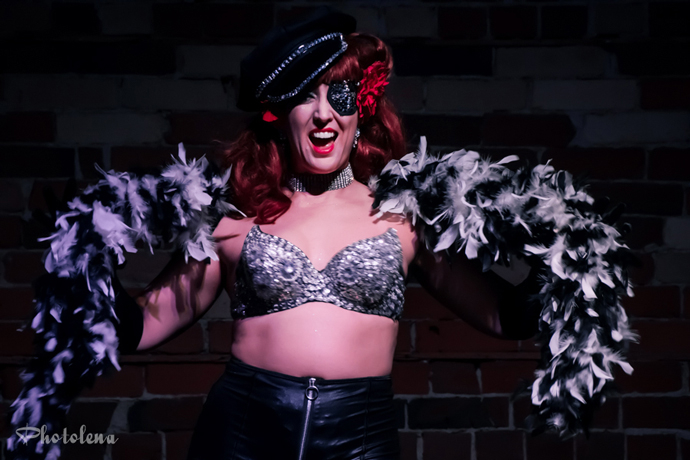 February 14, 2015
The Gladstone, Toronto
Valentine's Day: some people thinks it's the most romantic of holidays ever, and some people think it's a crappy commercial holiday made up to sell greeting cards and chocolates. Personally I love chocolates (dark chocolate, just in case you were wondering), but whichever way you swing on the issue, there's no better way to spend the day then by taking in Skin Tight Outta Sight's annual burlesque love fest at the Gladstone—this time in collaboration with Toronto's big boylesque sensation Boylesque T.O.
Like a Ghirardelli premium assortment of sweets, it was chock full of audience "best of" favourites sprinkled here and there with new acts. Emceed as always by the uber fantastic Ginger Darling & Balonia Wry with Sexy Deutsch Mark Brown, they kept the show—and the audience—on the edge of their seats with a spectacle in the daring tradition of Weimar Republic Berlin (with a huge amount of kink thrown in for good measure).
There were a couple of standout performances that I hadn't seen before that caught my eye:
I love getting a chance to see Mahogany Storm perform. Over the years, I've been watching him learn new techniques and incorporate pole work into his repertoire more and more. Every performer that I've watched who does pole work brings a different aspect to it that makes it special—some make it into an elegant dance, some work beautifully as a duet, but with Mahogany I am always impressed by his control. Yet at the same time, his poses look effortless, even as he holds ones that must be taxing his muscles for such a long time. His routine on the pole was just such a beautifully controlled piece. Gorgeous shining muscles, always those stunning high heels, and posing on that pole cross-legged as if he had not a care in the world. Superb!
I don't get the chance to see Coco La Crème perform very often, but when she's on the bill, I get very excited. She was one of the very first burlesque performers I ever saw on stage and that I photographed, and along with the rest of Skin Tight Outta Sight, inspired my love of burlesque. She is a powerhouse of energy on stage and the joy she brings to her performances is absolutely infectious. I don't know if I've ever seen anyone look like they're enjoying themselves on stage as much as she is. Her act was fabulous—coming out in a hooded cape, the light was just perfect. When she took the hood off and flung the cape back, she looked like a superhero in her costume, complete with headpiece. With the cape billowing behind her, she bounced across the stage, posing powerfully for all. Her cape turned into shimmery wings that she worked beautifully. twirling and whirling through to the end of her act. It was amazing.
Special guest Dolly Berlin wins the award for the most Valentine-y costume with her demi-cup see-thru black bra and heart shaped red sparkle pasties, matching red corset, cascading black fringe skirt, and pretty red flowers in her hair. She looked so damn pretty and performed her traditional bump 'n grind burlesque with large black feather boa as a fabulous prop. Dolly is so skilled at her style of burlesque that watching her is just mesmerizing. She moves like a cat, all sleek and sinewy.
The big headliner of the show was none other than Kitten de Ville. Although I had already seen her Temptress act on BHOF and Girlesque, I always find it interesting to see how performers adapt their acts—and sometimes even improve on them – in order to fit them on smaller stages like at the Gladstone. Even with the much smaller space, Kitten was able to not only do her snake wrap dance beautifully, but the fabric toss across the stage was just as impressive as at a large venue. I've always loved the somewhat reverse strip this act takes on—if you can call it that—actually more of a double reverse strip since she goes from being Eve wrapped in the snake costume, to being nude, to putting on her Temptress costume. She goes through so many phases in the performance, from innocence to corruption, from the Garden of Eden to the wide world, and all the religious symbolism involved therein. It's truly a powerful statement and a powerful act.
As always, it was a pleasure watching Dew Lily perform. I don't think I've ever seen him perform the same act twice—he's always creating new material and I'm always wondering just how he's going to blow my mind next time. The theme this time was education—and I can tell ya I was ready to do some learning. Mrowr! Dew came out in a somewhat scholarly jacket, with glasses, reading a book, and as he stripped out of his teaching duds we would get disciplined with a massive SLAP of his yardstick on the desk on the stage. Holy crap that sound was loud—got my attention! Of course, this being Dew there was a lovely shiny black corset under those scholarly duds. Men look so lovely in tight corsets, mmmm. Apparently we were staring too much. SLAP! SLAP! I'm just glad it was the desk and not my knuckles. He smacked that ruler so hard it broke. Now that's passion. 
Skin Tight Outta Sight always have fabulous music for their shows and this time the notes were supplied by Big Rude Jake and The Jump Devils. They made the pre-show and the intermissions a swinging time. Now if we'd only had some go-go girls on that stage, it really would have been a great time!
It was another great Valentine's Show from Skin Tight Outta Sight and a wonderful way to spend the holiday with my friends, watching some bootie shaking. To those that I didn't have a chance to write about—some loving and warm wishes going out to you: Aviva the Mirage who belly danced up a storm, El Toro for getting so naked for us, Honey B Hind for making a gingerbread man very happy and making sparkly bras with biker caps look sexy, Sauci Calla Horra for showing us the largest pussy skirt and feathering her fans, Tanya Cheex for getting all Art Deco on our asses and crawling back to us, and Wrong Note Rusty for swinging his Heir back and forth. Congratulations to everyone on a great show!
All photos ©Olena–Photolena–Sullivan for Burlesque Beat. Performers may use shots for promotional purposes, but please credit properly with photographer's full name and a link to this piece. All other requests please contact us to acquire permission.