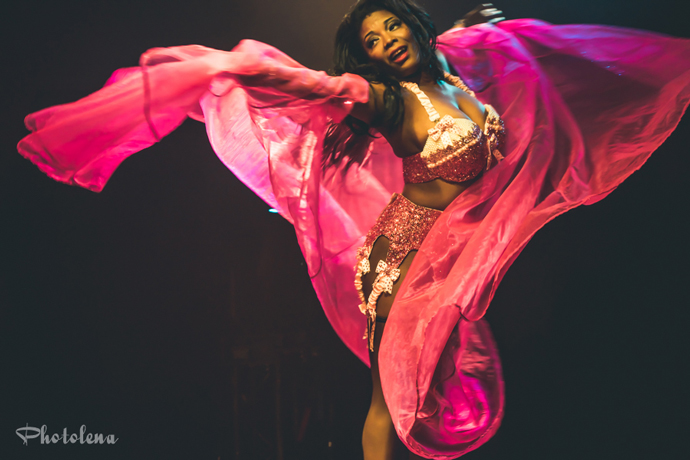 TBF's Crystal Menagerie: Bound & Unleashed
March 21, 2015
Virgin Mobile MOD Club, Toronto
April showers bring… all those summer burlesque festivals! Right about now I'm reading all over Facebook about performers getting accepted into one festival or another all over the world. It's getting harder and harder to find new and original "woot! woot!" memes to post for everyone. One of my favourite festivals — and yeah, I'm a little jaded since this one is local — is the Toronto Burlesque Festival. They've been doing a great job of teasing audiences with sneak preview shows this time of year, and now it's more important than ever for them to keep the festival in everyone's brain since it's had to move one month out to August.
So what better way to get everyone into the spirit of the festival than with an evening of burlesque themed "bound and unleashed"? The first half of the night promised to get us all wound up and then help unleash our pent up sexual tension in the second half. Count me in! You had me at "bound." Who better to emcee the evening than our own lounge lizard Jarvis Lansdowne, a vision in his gold satin just-too-shy-of-short robe and with signature pipe. He kept the evening running smoothly and sarcastically. Herewith a couple of notable performances…
I love watching Knox Harter's dance work, especially the more lyrical pieces, but when she channels her inner Madonna erotica, she truly is superb. This performance, as I find with most of her performances, was less about costume and more about character and attitude. You take one black dress, white cuffs, a riding crop and mix in a bucket load of sensuality, crass, and strength and you have a performance that would arouse Mistress Dita herself. From the oh so slow licking of the crop to the meticulous stripping of her dress, it was a beautifully orchestrated tease meant to leave everyone panting for more.
I don't think I will ever tire of watching Dew Lily perform. I've long believed that he could just come on stage, give us a look like we're interrupting something, sigh deeply then walk off and the audience would go insane. Such is his presence. His sailor performance is one of my favourites and if you've seen it, then you know why. The mood was just perfect — Dew lounged in the dark in his cap and coat, just a spotlight illuminated the smoke from his cigarette. Very Casablanca. But from underneath that rugged and disengaged sailor exterior a hidden kink emerged. And boy does Dew do kink well — this is one man who looks killer in black leather corsets. After slowly extinguishing his cigarette in the palm of his hand (yowch!), it was champagne time. Well, champagne poured down the back of a kinky Dew Lily, that is. Mrowr!
So I know that Laura Desiree can dance (she's got some fancy training I hear), she can model like crazy awesome, and she can emcee like nobody's business but she can sing too? What? You heard me, and I bet she's hiding even more talents that we don't know about. She's probably like an octuple threat or something. When she walked up on stage I was expecting another fabulous burlesque performance from her, and then she turned around in that "oh-my-god-I'm-gonna-have-a-heart-attack" outfit of hers (go ahead, I'll give you a minute to look at the photo…. right? You see what I mean?) and she went all Cabaret on our asses. With a smoky sultry voice, she put on a powerhouse performance that left everyone floored. I don't know if this was her first time ever singing on stage, but I truly hope it isn't her last. As much as I wouldn't want her to stop her burlesque, she shouldn't keep this talent under wraps any longer.
Admit it, we're all a little bit voyeur (ok, maybe a lot). I mean, we are coming to a striptease after all. But sometimes it's even kinkier to watch someone strip not for the audience, but for someone else. To feel like you're looking through a peephole and watching something private. It makes it even more naughty in so many ways. So it was a thrill to watch the fabulous Coco Framboise, all dolled up as a maid complete with feather duster, go through the steps of a striptease of seduction with the lovely Suki Tsunami. We watched all the stages of the tease unfold — feigning disinterest to get more attention, getting some sexy strip footage on film for later viewing, and finally giving in to the tease with some spanking, slicing up of stockings, and…. well, the curtain closed so we'll just have to imagine it from there. Mmmm… so hot!
I have to give the most unique and creative costume award to Svetlana Konswallow (yeah, and an award for her name too, right?). Sure, she looked fabulously slick in her sleek sparkle black shorts, stockings and leather boots, but it's what was peeking out of a sexy V cutout in the front that took the cake. I so wish I'd been a bit closer to the stage to get a better view of her costume 'cos it was so ingenious, but I could only see it really through my viewfinder. But it looked like… hmmm, what do they call that… like she was gorgeously and in-your-face vajazzled. Oh yeah, I'm thinking it wasn't a merkin but a very creatively crafted costume piece that Svetlana used to its full advantage. So much bejeweled thrusting, bumping and grinding of in your face va-jay-jay. It was truly hard to look anywhere else. Kudos!
There were two amazing headliners for the evening and they both performed not once, but twice! Crazy, right? I believe (but don't quote me) that this was the first time that Mr. Gorgeous performed for a Toronto audience. I've been lucky enough to see him perform both at the Burlesque Hall of Fame Weekend and the New York Burlesque Festival so it was a treat watching people who have never seen his awesomess lose their shit. One of the things that make Mr. Gorgeous so great at burlesque is how he interacts with the audience. Sure, he's got those boyish good looks (mrowr!) but few performers involve the audience in their acts as much as he does. When he made eye contact during his acts, or he motioned to the audience as if asking for their opinion on his moves, you felt like you were in on a private joke or personally a part of the performance. The simple acts of unclothing and balancing on a teeny tiny chair or using giant waffle cone pieces for a fan dance became more than just hilarious prop acts, they felt like interactive experiences.
The second headliner of the evening was one of my favourite ladies, the glamorous and riveting Perle Noire. Although I've enjoyed her pink ruffled duster act many times now (and will never ever get bored of watching her perform it), her first act was a new one for me. A truly sensual piece, the gown she wore was a shimmery blue-purple piece with black pattern on it. I have to mention that her hair looked killer — so long, right down to her lower back — and she used it to her advantage, flipping it, whipping it, and looking so sexy when it cascaded down over one eye. I would kill for hair like that. The costume beneath the gown was a simple black beaded and bejeweled bikini number but that's not what anyone was looking at. It was all about her moves — and Perle has the move like no one else out there. When she crawled across the stage on all fours she looked like a powerful tigress, ready to devour you whole — and you wouldn't give a damn either. You rock my world, Perle.
Normally this last paragraph is where I give kudos to the performers that I just don't have the space to gush about, but everyone involved in this production just knocked it out of the park and it's killing me that I can't just go on and on about all the performers and the production. TBF — if this is just taste of what's to come at the Toronto Burlesque Festival this summer then we are in for one hell of a classy sassy festival. Big kudos to Eve of Destruction who brought some much needed sacrilege to the stage, Love Letters Cabaret for always whipping us into a frenzy, Montreal's Lavender May who rocks a saintly headpiece, Miss DD Starr for reminding us why she's the Queen of Como, Rubie Magnitude and her sensual hoop work, Sauci Calla Horra for her feather fan ballet, Rouge La Rouge Toronto comeback, Mahogany Storm for making pole work look so sinful, and of course the ever attentive stage kittens and volunteers.
All photos ©Olena–Photolena–Sullivan for Burlesque Beat. Performers may use shots for promotional purposes, but please credit properly with photographer's full name and a link to this piece. All other requests please contact us to acquire permission.