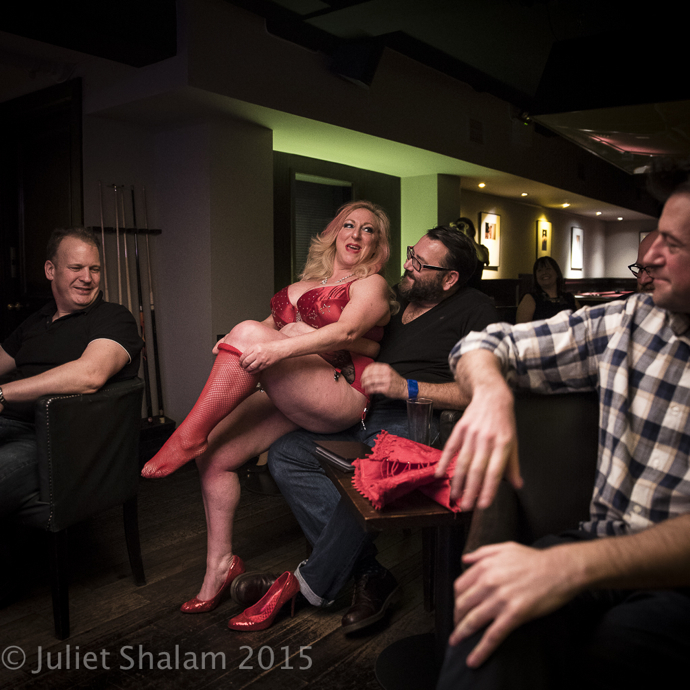 We are truly thrilled to welcome back our friend Rubyyy Jones. Author of her own column on Burlesque Beat from wayyy back in the day, Around Londontown With Rubyyy Jones, our girl has been busy going super-pro with her onstage career for the last few years. But she missed us! And we missed her.
Welcome back, dear Rubyyy. We greatly look forward to you sharing your adventures with us once again in this spinoff column, Diaryyy of a London Showgirl. —Ed.
Goodtime Mama Jo King's Goodtime Cabhooray!
April 10, 2015
Blind Bee, London
Hello Ladies and Gentleman and everyone in between!
How marvelous to be back in the Burlesque Beat bosom once more. I am sending lots of glitter and love from good old London and looking forward to sharing more of my adventures and show treasures from this side of the pond.
I was thrilled when the legendary burlesque stripper and founder of London's Academy of Burlesque and Striptease asked me to take a turn at her latest show, Goodtime Cabhooray. I was equally thrilled when I rocked up to the sumptuous venue. The Blind Bee is a gorgeous speakeasy style space within the Eight Members Club in the heart of the financial district and opens its doors to a ticketed public only for Goodtime Mama Jo King and her dazzling showbiz daughters. As most shows in London are, it's a real mix of styles and skills, but Jo King's remains one of the very few burlesque-heavy shows in the city. I was greeted by the lovely Little Evelyn Carnate, one of Jo's helpers for the event, who showed me to the dressing room.
Guests were poised with baited breath, lush cocktails and delicious nibbles as they waited for the sumptuous showcase to begin. The stage is a modest one but with the layout of the place I could see we were all going to have fun running riot through the audience, teasing the patrons, slyly sipping their round Rioja mid-stocking peel, and there were many enthusiastic darlings ready for whatever fun we were going to throw at them.
Goodtime Mama Jo King started us off, as the compère often does, with an opening number to remember. Slinky, smooth and sexy, Mama showed them what Mama does best, as she wound her way through the audience. Breasts on a sparkling platter, corset laced just right, she gave the audience a lesson in sex and striptease! Jo King is London's Burlesque legend, like the glam elder goddesses we honour every year at the Burlesque Hall of Fame Weekend. She is a testament to perseverance, talent and the true art of the strip. I watched her from the wings, mentally taking notes on this titan of tease, so much poise, power and punch in each eye flick, tit whip and licked lip. I was in stripper heaven.
Mama greeted and warmed up the audience that little bit more with help from her assistant Lilly (more on that in a moment) before I blasted on to the stage with my first act: Shoesss! It's a raw and hard hitting act, so I was a little nervous to be first, but Jo made sure they were ready for the 'Queen of Queerlesque' and it went down a storm. The venue was perfect for playing with the guests and I always love that. Up next was the show's sidekick and saucy stage manager, London Cabaret Award 'Best Newcomer' winner Lilly Snatchdragon. Always lovely to share the stage with my burlesque daughter. Lilly is a hilarious and irreverent performer and she didn't disappoint with her most fun and raunchy act 'Lilly Gets A Job'. All of Lilly's acts are based on the journey of a young Thai girl trying to make it and land a passport, I mean husband, in the UK. Yeah, a little cultural and political satire for your Friday, darlings! Everything was on point tonight, her polished make up, her glistening costume and her expert comedic delivery; the act involves a massage table, a blow up doll and all kinds of resuscitation, another raucous and riotous act for the audience, and they loved every minute of it.
To close the first funny and fabulous act was one of my absolutely favourite cabaret clowns Abigail Collins, who has an arsenal of characters; tonight we welcomed man hungry, hula hooping, hot pocket Peggy Sued, a Las Vegas reject with a score to settle and a dream of a simpler life. Opening with a hilarious rendition of Band of Gold, 'Peggy' employed audience members to help her strip out of her wedding regalia as she barked hysterical jokes and naughty one-liners over the microphone and into their beaming faces. Hooping in a sparkling black two piece, I was doubled over with laughter at the many faces of Abigail: she's doing the hoops, manoeuvring a lower ceiling and a corded mic, but she's one hundred percent delivering entertainment and I was, as I often am, in awe of her energy, professionalism and immense skill. The act escalated to a full on strip to nude sparkling bra and pants as an audience volunteer — Craig the Bear — threw half a dozen hula-hoops on to her already spinning frame while the audience cheered and sang along to 'I Will Survive.'
Act two began with a raffle draw and an impromptu burlesque lesson from the Goodtime Mama Jo King. It was awesome to watch four women get a crash course in the art and to come alive in a new way for a few moments: bump, grind, bump, grind, shimmy, lay back, repeat! I bounded on to the stage and did my signature sing and fling, 'I Wannna B,' but had a small costume malfunction (I totally forgot to take off my dress I was having so much fun with the audience) and remained uncharacteristically clothed by the end. I flung a Volkswagen-size coat, gloves and every O-face you could imagine at them instead. It was such good fun! The cheeky chanteuse Liberty Pink was up next with a set of three sexy songs and her own crimson striptease. Starting off in a red sequin evening gown with a lush organza boa, she crooned and strutted her way through the audience, soon revealing a sparkly black and crystal number and some serious killer legs. Ever the professional Liberty pranced, pouted and peeled through a few microphone blips and finished her call to sexy arms 'Bring on the Men' blasting a capella to roaring cheers. This second act was proving to be melodic and harmonious in a beautiful way, but the audience was ready for one last blast.
The finale of the evening was our MC, our leader, our legend Jo King. First, thanking the audience for their energy and their adoration, dishing delighted thanks to her tremendous cast and lots of love for the Blind Bee staff and crew and then taking the stage once more, at last. We were thirsty for more of Mama and we wanted sass, flash and flesh! The grounded glamour of an artist who has been stripping for decades does not go unmissed. Each movement is deliberate and captivating. Every step has something special, and each beautiful gesture builds on the other and the audience responded ravenously, hollering for more. We were treated to a full fleshy finale adorned with glittering tassels and round ravishing red garter and pants. It was a truly sexy, silly and sensational show at Goodtime Cabhooray. It was an honour to be part of the cast and to be one of Goodtime Mama Jo King's many adopted showgirl children.
Don't miss the Beat. Subscribe.
All photos ©Juliet Shalam and used here with express permission. Please do not use photos without obtaining permission. Performers sharing photos of themselves, please credit the photographer and link back to this piece. Thank you.