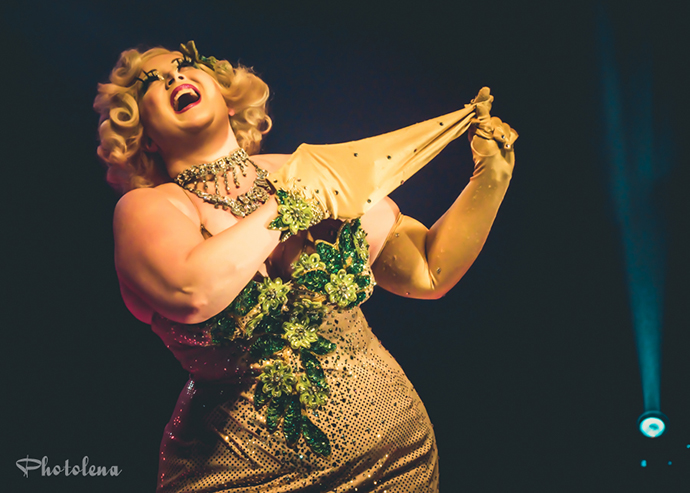 Saturday, May 2, 2015
Virgin Mobile MOD Club, Toronto
With the ramp up to the big summer burlesque festival here in Toronto, the Toronto Burlesque Festival has been putting on some teaser shows to titillate local audiences and get them all crazy horny for the 4-day affair, this year pushed over to August. This show—dubbed "Bombshell"—was the second such teaser and boy, was it packed full of A-list talent both local and international.
One of things that made this evening so much fun was the VIPs—Very Important Parents. To paraphrase emcee Jarvis Lansdowne—we always wonder where these crazy burlesque performers come from and now it was time to find out. In the audience were some of the evening's performers' parents and we had a chance to meet them and find out what they thought of their wonderful offspring. It was so great to see such support and hear how proud these parents were of their burlesque kids.
On to the highlights of the evening…
What's Uptown Funk, you ask? That would be Charlie Quinn, Knox Harter, and Coco Framboise opening up the show with an amazing trio dance routine to get everyone into the mood for the rest of the evening. Those three women came together and worked in complete harmony as one unit and the audience loved it. I had a hard time shooting the performance because the music was so awesome and the ladies were so mesmerizing to watch. They just nailed it!
What do dodos and Agatha Frisky have in common? A burlesque performance apparently. Agatha's routine had a great storyline—the lowly dodo looking for love to stave off extinction. A simple costume really with just the addition of a long beak mask. Her dance routine had some great bird-like leaps and moves and when she had stripped down to her pasties, she scrambled to the back-up dancers that came out on stage behind her and clung to them for dear life. Love, love, love was all she needed. But it was the one thing she could not find and her lifeless body had to be (unceremoniously) dragged off stage by Kitty Litteur.
Dew Lily performed one of my favourite acts—his emperor's new clothes striptease. But that's not a new concept, you say. Sure, but you have to see Dew Lily perform this. His over the top Victorian makeup, big white wig, and enormous tassel on his zebra striped g-string are the best combination. Add in his goofy facial expressions as he performed a striptease with what he believed to be his beautiful, but invisible, clothing and it was a comedic performance that had everyone dying of laughter. The looks he was getting from his two assistants, Coco and Ava, as he threw them his invisible castoffs was priceless. Oh, the horror! The emperor has gone insane! Nah, it's just Dew.
Congratulations to TBF's Ava Noir on her solo performance! She looked stunning in her gold gown and with the wind in her hair, she performed a stunning burlesque striptease that revealed some sexy shimmery gold fringe beading beneath that long fabric. What I wouldn't give for that amazing dress! It had a real Wonder Woman feel to it in the design of the bodice. And Ava truly is a Wonder Woman—performer, producer, and putting together the burlesque festival to boot with Coco Framboise and Sauci Calla  Horra. Wowza!
The last time I saw Charlotte Webber perform was at the farewell show for Les Coquettes and she was just a titch pregnant. Well, that was a while ago and Charlotte's back and working the silks like a madwoman. Her act was fabulous and it was great to see her up in the air on those beautiful ribbons again. She has a real knack for putting a storyline together with her aerial acts that draws you in—and I remember her last hoop act had me in tears. So happy to see you back, Charlotte!
One of my all time favourite performers—and one of the main reasons I fell in love with burlesque photography—was Dirty Martini. To be able to see her perform not one, but two unbelievable acts was more than I could handle. A super class act—her first performance in a gorgeous sparkly gold and green gown was superb. Her brand of burlesque was old school, with luscious glove peels and poses and expressions that drew you right in. The piece de resistance was her second act which as an homage to burlesque legend Zorita and her famous spiderweb act. Stripped out of her pink sparkle gown and down to pink sheer panels, Dirty Martini found herself a prisoner of roaming gloved hands coming out of an enormous bejeweled spiderweb. So luscious! (And I even managed to get a photo of her and me for my scrapbook—woot!)
One third of the Stage Door Johnnies, Bazooka Joe knows how to ride the fine line between serious and comedic when it comes to burlesque. With two acts during the evening, we got to see both sides of his character and I have to say I fell in love with that charming, funny Joe. His first act was a carefully staged, beautifully choreographed and posed piece with paper fans. It was his second number that brought the house down. I never thought I would ever see a perfect reproduction of Bazooka Joe in puppet form, but there it was on stage. Singing along to music about being a lonely heart. And stripping. Then rubbing one out. Srsly! There was puppet…. stuff… everywhere! I haven't laughed that hard in I don't know how long. 
What can be said about Jett Adore? Mrowr just doesn't seem to cut it. Although I've seen these acts a couple of times now, it's great to see how he's added and improved upon ones I thought were perfect to begin with. His first was his peacock routine (and I swear I still hear Katy Perry when he does this routine). Jett is a master of facial expressions—they make his acts just that much better than others I see—and this routine is a great outlet for those. I love watching people ooh and aah the first time they see him do the peacock head with his arm and then peek out over his cape of feathers, all wide eyed. Seeing him with the peacock mask covering his Adore-ing parts is fabulous as well. His second act is a favourite of mine as well—all decked out in his pimped out fur coat and white suit. I love watching him unlace his underwear in this act. So many ribbons! And not for nothing, but Jett walking around in not much of anything on the stage makes my night.
It was my first time seeing the gorgeous Natasha Estrada perform and boy was she a powerhouse. A double-threat, that lady can burlesque and sing like nobody's business. She just came on stage, belted out an amazing song, left and we were all "Holy cow! Did you hear that?" When she came back I was thinking she was going to sing again and instead I got the most amazing burlesque act—a great multi-colour Latin extravaganza of layered fabrics and killer moves. This showgirl was on fire! Her costume was stunning, and under all those layers of fabric was a beautiful hourglass corset that had me drooling. I truly hope I get to see more of Natasha at upcoming shows—her charisma on stage and her multi-talents blew everyone away.
Alas, it seems we always run out of room to get into everyone's fabulous act so I'd like to give some shoutouts to those I couldn't do huge writeups about: our fabulous emcee of the hour Jarvis Lansdowne who kept us rolling in the aisles and the show running smoothly, Percy Katt for his sick matador skillz, Kitty Litteur for taking us to the 5th dimension, Esther deVille for keeping it classy, Laura Desiree and SMB for showing us how beautifully people used to dance together, Pastel Supernova for keeping it hot, hot, hot and Tanya Cheex for showing us time and again why she's a Hall of Fame'r. Huge kudos to Ava Noir, Sauci Calla Horra, and Coco Framboise of the TBF for putting this amazing event together.
All photos ©Olena–Photolena–Sullivan for Burlesque Beat. Performers may use shots for promotional purposes, but please credit properly with photographer's full name and a link to this piece. All other requests please contact us to acquire permission.