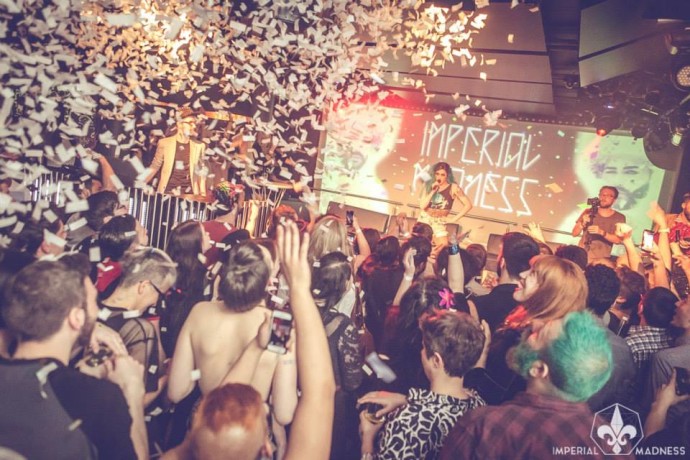 Diaryyy of a Showgirl: On The Scene of Vienna Burlesque
April 5th, 2015
Chaya Fuera, Vienna
Hello Ladies and Gentleman! Everyone in between and beyyyond!
I've had a really fun and thrilling 2015 already, doing lots of travelling and meeting so many amazing performers in other countries; there are so many talented people in our global community, it is inspiring and exhilarating. A few weeks ago I flew over to beautiful Vienna for an exciting event produced by wunderkind Jacques Patriaque, who also spearheads Boylesque Festival Vienna; the fourth of these extravaganzas, the show now showcases a variety of burlesque delights and is hosted by the glamazon alumni of RuPaul's Drag Race.
This month Imperial Madness welcomed the rock and roll mermaid Adore Delano to host and with her, glittering performers from all over Europe. I was in Vienna earlier in the year for the sensational event, Vienna's 1st International Queer Performance Festival, so I was really looking forward to returning. The audiences are gorgeous, arty and enthusiastic. The line up directly mirrored the Viennese kids, the show was chock full of polished, painted looks and big skills blended with so much heart and spirit. The show was at the chic and industrial Chaya Fuera club and DJ Alessandro Caruso and sexy go-go bunny Damien made sure the Easter audience was really ready for this punchy and powerful showcase. A packed crowd of drag race enthusiasts, Viennese celebs DJ Tamara Mascara and Conchita Wurst and cabaret queers were all raring to go!
Adore took the stage in cut-off denim, pleather, fishnets and an electric turquoise wig, the audience went absolutely wild! Adore is an amazing host, quick witted, controlled but fun, and happy to sling her tagline to the super fans thirsty for them. First up are the Wien wonder duo of Pandora Nox and Philisha Conditioner, an incredible dance duet who vogue, stomp and pose with amazing ferocity and precision. No surprise that they are reigning Austrian Dance champions! Painted like the most glamorous reptilians and with long green extensions, this pair were all legs, sexy skills and hair. The audience went absolutely mad for their goth glamour, sharp sinewy sass and evocative shapes. It was mesmerising and so impressive!
Next up, all the way from Paris, France, the intoxicating, riveting and very delicious Soa de Muse with his innovative Voodoo routine and ritual. Boldly beautiful in vibrant white and black face and body paint, dressed in leather, fringe and leopard finery Soa brought so much soul and passion to this arresting performance. A mix of burlesque, drag ball moves and storytelling, this Voodoo piece is so powerful and provocative, the audience were whipped up into a frenzy of cheering and applauding through out most of the act. The sexy Parisian was followed by the awesome queerlesque innovator Captain Cunt with her sweet act 'The Widow'. A grieving wife explores the pain and process of death through ritual, nakedness and the drama of dark chocolate. A slow, sensual and sardonic striptease reveals so many layers and oh-so-much flesh and chocolate, my favourite being a bonbon merkin which the audience was invited to snack on. It was a feast for all the senses!
Burlesque goddess Bayou Mystère slinked on to stage after a raucous warm up from Adore Delano and everyone was transfixed by her smouldering beauty and gorgeous visage. A strawberry blonde bob frames her expressive face and a saucy noir eye patch, top hat and ruff highlighted her glamorous maquillage. The rest of her layered and polished costume swayed as she sashayed and peeled smoothly as she commanded the audience with her bold presence, strong glitter-filled striptease and dynamic sass. The act finished with a strong and sexy fan dance with a fabulous and fleshy reveal. Next up! The return of the dynamic pairing of Pandora Nox and Philisha Conditioner, back with another hard hitting routine, full of flare, fierceness and complete with fan props to accent their flicks and poses. The show was so full of talent, energy and poise, it was incredible to be part of it.
I came on stage, the last of the guest acts, with my Shoesss routine, which Vienna seems to love, and I had an amazing time strutting, kicking and shocking the kids with flexi moves, filthy lip-sync and head-to-toe fuchsia. When Adore stormed on stage after I finished she said I was her 'spirit animal' and I grinned even wider and left a bit more of my heart in Wien. And then it was Adore's turn to give the children what they had been waiting for, she tore up the place with several sensational songs which you could just hear over the screaming of the crowd. Adore Delano is an incredible entertainer, truly, she gives everything and it was amazing to watch her work. Belting out high notes before body surfing over the audience and showering them in confetti and glitter was a beautiful thing to behold.
The powerhouse show was at an end and the glamorous goddess Tamara Mascara took over the decks in a sparkly, nude illusion outfit that would make Amanda Lepore gag, while the crowd continued to flaunt or line up for the meet and greet with Adore. The cast had a quiet moment backstage and we all toasted a fabulous evening, new friendships and each others amazing work. I was sad to not stay and enjoy the rest of the night with them but I had a few hours before I was back at the airport and soaring off to London again. I can't wait to return to Vienna once more!
All photos ©Imperial Madness and used here with explicit permission. Performers may use shots for promotional purposes, but please credit properly and link to this piece. All other requests please contact us to acquire permission.