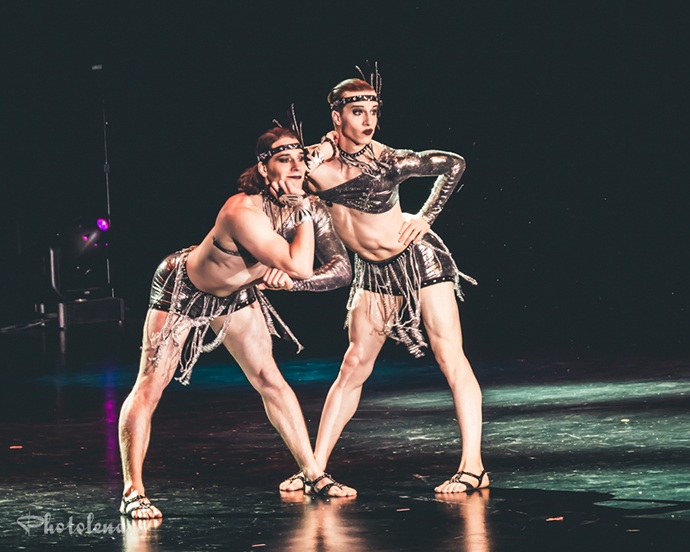 Burlesque Hall of Fame 2015: Best Groups and Boylesque
Saturday, June 5, 2015
Orleans Showroom, Las Vegas
On to Part 2 of the very long evening of competition that makes up the Burlesque Hall of Fame 25th Annual Tournament of Tease. Did I mention that yet? Yep, 25 years. That's what? The big Silver Anniversary! Ooh, I love silver—it's so shiny. Amazing to think that performers have been competing in the Miss Exotic World Pageant since Dixie Evans initiated the first one in 1991 at the ranch in Helendale, California. It's grown a titch since then, adding prizes for groups and boylesque and turned into one hell of a party.
BEST SMALL GROUP
Yeah, the name of this one keeps changing—at one point I do recall this being Best Duet. There were some really strong contenders this year in this category proving yet again that I don't have it in me to judge.
I've seen Circus de Moccos perform a couple of times now and their quirky comedic burlesque style is a favourite of mine. This year's act of a couple of cartoon lovers (it said so on her wraparound skirt—"I heart cartoons") with superhero alter egos tugged at my nerd heartstrings. Watching Superman and Batman strip each other down to just comic "Oh" and "Wow" merkins was fabulous.
If you want to watch a powerhouse Charleston duel, there's no better match-up than Perle Noire and Gin Minsky. It was a perfect pairing of smooth jazz moves and strong exacting tap as they first tried to outdo each other in both dance and style (and body parts…), then just decided to work together in glorious harmony. I have yet to see anyone better at tap than Gin Minsky and Perle ain't no slouch either—these two together are a dream to watch.
So glad to see that Kitten 'n Lou were on the list for the small group category. Their outlaws act is absolute magic. I can just imagine the entire act being played out as a old timey black and white silent movie—stealing the loot, the exaggerated facial expressions, those tiny cowboy hats, Lou's oversized britches, trying to escape the sheriff. Well, except everything is actually pink, lots of pink.
The winners of the Best Small Group category were the Original Twins—Paris and Trojan. It was wonderful seeing these boys perform together (first time for me) and getting a glimpse at a little bit of brotherly competition, angst, thrown in with some occasional cooperation and support. The act was great, with simple silver costumes, allowing them to showcase their choreography and athleticism. And that mostly happened… when they weren't trying to upstage each other like siblings do. It was awesome seeing their strength as Trojan lifted Paris way up on his back. Kudos! It was a truly fun act.
BEST LARGE GROUP
Heading on to the large group (which is anything larger than 2 or 3 people, I think), we had some great troupes compete. From British Columbia, we had the Cheesecake Burlesque Revue which did a fun gold number—everyone in gold! There was a great spot in there where the troupe all took a ribbon off one member's corset and performer semicircle around her like she was a maypole.
The Sizzling Sirens Burlesque Experience had one of the most ingenious acts that brought me right back to my childhood. Every play the game Operation, where the patient's nose lights up if you touch the sides of the wound with your tweezers? Think of that, but live. Up on the stage, one of the troupe members looked exactly like the game, the pieces all stuck on her body—but instead of the red nose she had a red ball gag (nice touch, that!). One by one, doctors came out and tried to pull pieces off her and occasionally got a "bzzzz" if they missed. Dancing and stripping ensued (to MC Hammer which had me doing my own little "Can't Touch This" dance while I was shooting!). In the end, all the pieces came off and she was freed from the game.
Don't Blink Burlesque did the most energetic performance, with Matt Finish and the girls  stripping down to dance in the smallest of white and gold fringe outfits. So much hip movement. So much fringe movement.
The winners of the category—and my favourite act of the evening—was Jenny Rocha and her Painted Ladies. There were so many layers to this act—it was like a burlesque parfait. So damn sweet. It started in a hospital room (creepy nurses a la Silent Hill) with a patient getting breast surgery. When she emerges with her new bosom she does a little victory dance only to find that her new boobs have fallen to the floor—visual: with balls in nylons. But no worries, the same thing's happened to her nurses, so they all break in to "Get Ur Freak On" and dance, using their boobs as visual aids. Awesome with capital O-M-G! Love you guys.
BOYLESQUE
Phew, made it to the last category for tonight—the boys of burlesque. Les men. Manos. Boys, boys, boys… And we had an amazing intro from none other than Tigger! himself who reminded everyone that in this day and age there should be no distinction between "bur"lesque and "boy"lesque—this distinction is based on the "myth of a gender binary."
I've watched Lou Henry Hoover perform his "Time After Time" sailor act several times now and it's still as moving as ever. This is a testament to his craftsmanship—I find that both he and Kitten are meticulous in their performances, which are not just executed to perfection, but every effort is put into the appropriate and true emotion of the piece. It's all in details for me—from the "Lou" sailor tattoo on his back to him stripping out of then back into a duplicate of his sailor suit, right down to putting the red pompom back on his cap. His pantomime tells the sad story beautifully.
A new one for me was Charlie D. Barkle with his Jekyll & Hyde act. I have to say, from where I was standing waaaaaaaaaaaay in the back of the auditorium—don't worry, I like shooting from there—his makeup was so damn convincing, all wrinkled and evil. He went from mild-mannered evil scientist to crazed stripper with just a couple of swigs from his the beaker of neon green liquid. That's the tell right there—neon green anything is usually bad for you.
When I think of Waxie Moon I think of legs that never stop, dresses I would kill for, big heels (them are some big dainty feet), and a hell of a beard. It truly is a signature piece of his look. I love watching him perform, every move punctuated with that humongous smile. It's infectious. Of course he wore another beautiful bedazzled gown for this performance—all black sparkle. It was a hilarious piece—like watching a butterfly flitter this way and that, trying to keep up with the music as it kept changing not only artists, but complete musical styles from classical, to rock, to metal, to opera…. how exhausting! Wonderful piece, Waxie!
The winner of the evening and the new King of Boylesque was a new performer for me—Matt Finish. (OK, I have to say that as a photographer that name just slays me. Bwahaha! Especially since most people like a glossy finish. Oy, a photographer joke! But I digress.) It was nonstop action, action, action for this performance of West Side Story. And as we already saw with the large group category, it's fringe, fringe, fringe for Matt, which worked beautiful with his quick Latin dance moves. The highlight of the act for me was his split, which he held for such a long time, even looking bored at one point and checking his nails over. Awesome!
Up next… Miss Exotic World, the new Reigning Queen of Burlesque competition.
What did you think of the 2015 groups and boys? Leave your comment below.
Read all our BHOF coverage to date.