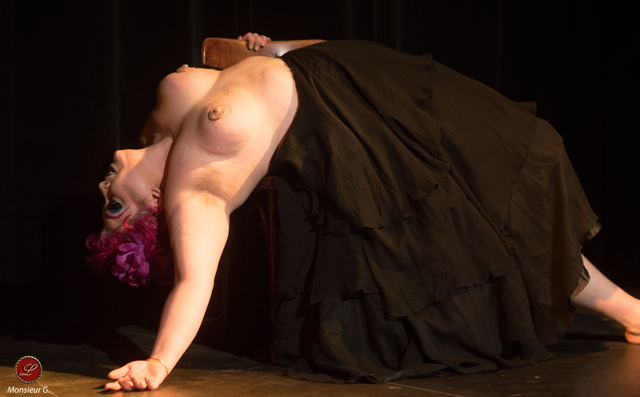 Diaryyy of a Showgirl: Save Rubyyy Jones at the Lettingo Cabaret in Paryyy
Thursday, April 23rd, 2015
La Bellevilliose, Paris, France
Back in April I had the very distinct pleasure of taking my baby, my show "Save Rubyyy Jones," over to Paris to make its international debut. An exchange that was in the works for a while, I was invited by the gorgeous creative director Salvia Badstripes, Parisian burlesque babe and uber professional producer at large, to bring my signature show and some fabulous queer extravaganza to the French fans. I've never done something on this scale before and getting a Burlesque Hall of Fame award winner—Most Innovative 2014, Aurora Galore—and three drag queens from London to Paris and back was one of the most terrifying and enthralling experiences I've had in my burlesque career.
We made it over on the Eurostar with ease and after an afternoon of resting, cheese and last minute costume preparations we all arrived safely at the rough and ready venue of Bellevilliose. The Lettingo team were incredibly professional, friendly and fun; everyone was putting on extra glitter, bling and a third wig because the drag queens were in town. The production manager Kirby Marzelle, sparkling in sapphire blue was in full swing when we arrived and she didn't stop all night, the show went on because of this beautiful babe. And it went off without a hitch!
Salvia and the incredibly charming and cheeky Martin Dust were our hosts for the evening and they had an amazing double act going on. Both speaking in rapid and excitable French, I honesty can't say what they said about any of us but the audience were laughing and cheering before the first act hit the stage. Both were dragged up impeccably, glittering, smouldering and painted for the gods, just a hit of the kind of eleganza that was going to be strutting the stage that night.
First up was moi, doing an intro act to my signature track #YoureWelcome, created by London whiz kid Slim Chance; I frolicked in the audience, stood on my head and lipsynced by lips off while flinging clothes in all directions. It was thrilling to make my Parisian debut! Next up was the sexy, the saucy drag king persona of the sensual showgirl Louise de Ville. And they were amazing. Channeling the sleazy and charming simultaneously, Louise was the cock of the walk in a slim suit, slicked hair and smoking a cigarette. The striptease was as hilarious as it was gregarious and the audience ate up Louise's macho moves, slow strip and the house went wild when Kirby made a cameo just for a de Ville style smooch. Peeling down to next to nothing, while keep the illusion alive, Louise whipped out her package and set it a light for a fiery sparkler finish, before throwing off her wig to reveal her more feminine side. I was beaming and felt so blessed to have Louise de Ville as part of this extravaganza.
Next on stage was the loud and proud Borgeoisie, a drag queen with a powerful visage and costumes to match. Presenting a more provocative piece about the performance of gender and the act of dragging up itself Bourgeoisie stripped down to fishnets and a jockstrap while lipsyncing to some drama from VV Brown and slowly spray painting herself from head to toe. We once choreographed and polished this act in my kitchen and it was so thrilling to watch her make such a strong debut and especially with a piece and artist that have come so far. The lyrics go 'We Are Incredible, Like Wolves In The Wilderness' and Bourgeoisie was just that: wild, howling and incredible. After this haunting hotness, I burst on to stage with my Shoesss act and messed everyone up a bit with this punchy, twisted and, I think, weirdly sexy piece of queerlesque.
Salvia and Martin let everyone know the interval was due but that, also, they had better hold on to their hats because a tornado of talent, feathers and ass envy was about to hit the stage. Burlesque Hall of Fame Winner, Most Innovative 2014, Aurora Galore entered with her signature aplomb: all face, all sass and, yes, so much gorgeous ass. Dressed in red, gold and fur Aurora whipped and stomped around the stage with flare and finesse before grabbing her beautiful, bigger-than-HER feather fans and moving at the speed of light in an mesmerising and impressive dance of fabulous fury. Finishing off with some invigorating and impressive tasseling (she did win Stockholm Burlesque Festival's Tassel Twirling title in 2013 doncha know…) we were left gagging and wanting more, thanks to this petite powerhouse!
Act two began with more love and loveliness from the darling hosts Salvia and Martin, who I realised were looking a bit like Joel and Liza in the 'Money Money' number from Cabaret. Tres chic darlings! The audience were sipping London inspired gin cocktails and, after a few chats with people at interval, I knew they were looking forward to more of our queerlesque, draglesque shenanigans. I came on first and got as naked as possible while singing I Want To Be Loved By You in my own special way. It's interesting, orgasms are definitely multilingual and the universal sign for fisting is funny to most people I've met. I had such a blast stripping and crooning for this adoring and generous crowd. I was followed by London's favourite DJ and burlesque bad girl Tete Bang, who looked sensational in her bio drag blue sequins and with crystals and glitter on every available inch of her pixie face. Stripping in a very filthy and frothy fashion, which they loved those disgusting perverts, Tete finished them off with a feisty finale of angel grinding while the speakers blared 'I Touch Myself' by The D'Vinyls. I laughed my head off while doing a quick change with Prince Lydia in the wings, another unsung hero of this event who would rather break a toe than step one on stage.
Performing my final piece of the evening, I was feeling emotional, and I was so glad it was my emotive dancelesque piece Fridaaa. This is my homage to Frida Kahlo, the accident which changed the course of her life and her body which would never be the same again. It felt incredible to perform this piece in Paris, at this show, for the connected and radiant audience; their attention and affection was palatable through the whole show and I know we all felt so welcomed and supported by them and the awesome Lettingo team. After my final bow, the marvellous host Martin took to the stage and gave the audience some joy in the shape of a raw, funny and silly song; they roared for this artist who they already adored, I think they loved the chance to see him show off too. And they roared some more when the tall stack of sequins, Maxi More, took to the stage. Standing at a modest 7 feet tall in heels, wearing a blinding asymetrical jumpsuit and topped with an enormous head of hair: both beard and wig, she was dolled up the house down and it was a glorious thing to see. Maxi made her cabaret debut at Save Rubyyy Jones and I was almost crying watching her confidently show pony across that stage, lip-syncing like a master, entertaining like a pro and really feeling herself. In a glorious celebration to 'I'm Every Woman' the whole venue were dancing in their seats and felt the energy that Maxi offered in this vibrant and beautiful piece.
Aurora Galore was the closer of the evening, and I relished watching her step on to the stage where only a few years ago she was crowned Miss Paris Burlesque. Baby, look at you now! This was to be a very fiery and very powerful finish with her latest fire act. Aurora has won loads of awards and titles for burlesque, and she's incredible, but her fire skills are definitely something to behold. Masterful, controlled and breath taking, Aurora manipulated and danced with the flames in such a exciting and enthralling way. You truly have to remind yourself to breathe watching this act. Dressed in a beautiful latex corset, striking headdress and signature make up, it's all so captivating as flames lick her body, her mouth holds and flicks fire and as she breaks into furiously fast and slick choreography with flaming sticks. It was the perfect, spell binding way to end a top notch and terrific show.
All photos ©Hervé Photograff  and used here with explicit permission. Performers may use shots for promotional purposes, but please credit properly and link to this piece. All other requests please contact us to acquire permission.