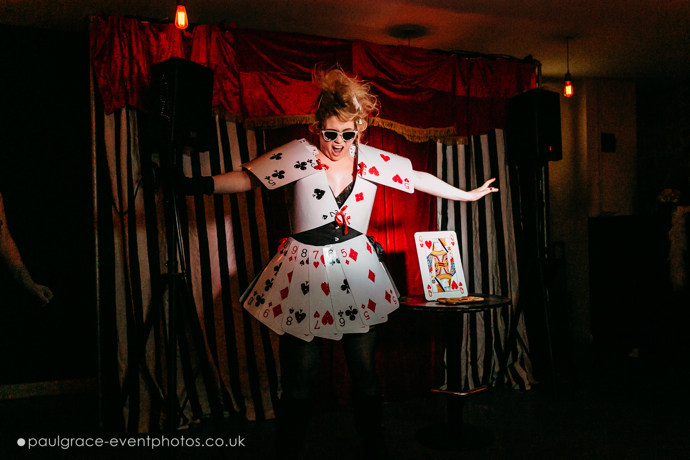 Burlesque In Underland: One Year Anniversary Show
Thursday, June 4th
The Looking Glass Cocktail Club, London
London is an exciting city, filled with all kinds of opportunities for artists and, like most places on this planet, most artists still have to push and create their own spaces for work. A year ago, enterprising neo striptease artist Evelyn Carnate joined forces with her burly sisters—from her course with popular burlesque school The Cheek Of It!—to create a show where they could strut, experiment and create new work. The show was frequently an Alice in Wonderland theme but also produced exciting evenings of Magic Night, Scary Tales and the popular Nerdlesque 'Dork Night.' I have had the distinct pleasure and honour of being involved in the show from the beginning, being the resident host, and working with most of the resident cast one-to-one on various facets of their routines and careers; it has been fun and inspiring watching these new performers explore their craft, their limits and then shimmying like pros, showing off each month. This event was the thrilling one year anniversary extravaganza, the Unbirthday show and I was happy to be hosting once more.
The show got off to a silly and sexy start with resident performer, the burly clown Fifi Croissant re-imagining her Mad Hatter routine in a vivid blue beehive and figure hugging ivory and peach circle skirt dress. A beautiful fool, Fifi is all face and her large round eyes told a sweet story as she beamed and grinned with black out teeth and the watchful waiting of a cat about to pounce. After a minute or so of the clowning, a little tea party was all set up and she got down to the stripping, revealing noir and crimson lingerie, slinking across the stage and finishing with grin and gorgeous flesh flash. The attentive crowd crowed loudly. Fifi was followed by the voluptuous and vivid Tiana Topley, this evening's Queen of Hearts, and we demanded: off with her frock! Tits to toe in a skimming black sequin corseted gown and topped off with a blood red curly bob, tiara and boa, she was indeed a gorgeous and dominating queen. With each peeled layer, more ivory flesh was revealed and playing cards popped out of all kinds of places. Confident and controlled, Tiana tossed her hair and her many sparking pieces, with flare and ease until the final fabulous reveal.
Up next was the bodacious Brazen Bijoux with her Cheshire Pussy, I mean, Cat routine and she popped up on stage in a fuchsia fringed shift dress, pink and purple boa and topped with ears and whiskers. The act started out sweet and coy, some shimmying, dancing and hysterical play with the audience until it all descended into laugh out loud, raunchy chaos, escalating with the audience chanting P-U-S-S-Y while Brazen gave them hit, after split, after tit flick with rosy raucous abandon. Finishing with a hilarious twist, the audience took the roof off for this bold and brazen performer. Closing out act one, another show resident performer, the frilly and funny Pearl Grey pranced onstage in her flamingo finery, searching for love and true lust from the audience and beyond. In one of my favourite moments of LIFE she fell in love with her own reflection before placing a hand mirror between her legs and truly seeing the light. I was beaming and World Famous *BOB* would have been so proud! Off came the many layers of feathers, rhinestones and, because of the heat, both tassels. However, thanks to some lovely feathered fans and the wonderful accident of not noticing till later in the game that they had fallen off, her modesty remained metaphorically in tact until it was abandoned all together for a final cheeky reveal and fluffy, fabulous finish.
Popping up in a lush cocktail bar, the audience enjoyed their interval thoroughly and I enjoyed about two litres of water; London was having a blessed mini heat wave and I was desperately trying to keep myself from melting. Everyone else was looking chic, clutching their bougie cocktails, but wearing 10 lbs of make up and several layers of organza, plastics and sequins, I was looking fiercely flush and playing it as cool as possible. And I marvelled at our next performer's grit, as our resident walrus character strutted out, the brassy and beautiful Pinkie T'boo, wearing a custom, sequined, figure hugging gown…made out of a sleeping bag. Topped with a walrus head head dress, bespoke gown and rhinestoned flipper shoes, Pinkie commanded the stage with her presence, kooky confidence and grounded grace. The audience was in stitches, watching her stripping, strutting and shimmying with a captivating balance of ease and loads of energy, it was a pure pleasure watching Pinkie own the stage. Pinkie's Walrus turn was followed by another animal inspired act, show creative director and producer Evelyn Carnate as a very sultry and captivating Caterpillar. Slinking onstage, smoking up a storm, literally and with pure sex, Evelyn was electric and breathtakingly beautiful as she worked the stage, a chair, the floor and our filthy minds with slicing sensuality. She demanded we succumb, exhausted all our senses and by the end we were all high and swaying in surrender to this opium laced goddess.
The penultimate act of the evening was the multi-talented marvel, Good Ness Gracious, making her Burlesque in Underland debut and representing the playing card soldiers, the Queen's guard. Decked out in giant playing cards as armour, complete with rhinestoned spade spear and a small flush of cards accenting her hair she looked ready and poised for a polished premiere. Creative costume whimsy and characterful clowning 'lesque, Good Ness Gracious was entertaining and delightful as the Queen's tart loving minion. She really shone when she grabbed the microphone and busted into Lady Gaga's Poker Face while simultaneously stripping, flipping suits and surprising the audience with impressive costume transitions. Finishing us all off with a messy, gooey finale Good Ness Gracious did herself proud in a bold and brilliant debut.
And a delightful set up for the show's final act, resident performer and radiant showgirl Athena Beauvoir. Stomping and huffing as the White Rabbit, Athena was very late for an important date and, lucky for us, she was going to be even later because we were ready for stellar show from this siren. Fast paced choreography, terrific timing and a bold costume, Athena was exciting and oh-so-entertaining; I'm also officially obsessed with her royal blue velvet waspie and lingerie set. Pouting and posing with poise, amping up the audience who were dancing in their chairs, sloshing cocktails to her moves and the music of Gwen Stefani. A wonderfully glamorous finale as she fanned herself with bright red feathers, bunny eared head bobbing out from behind ostrich fanciness and a glittering reveal to finish the piece and a truly exciting show full of blossoming burly babes and superstar showgirls in the making. It was a delight to be there for their first anniversary show and I raised a French 75 to the fabulous efforts of Evelyn Carnate and her team, their glamorous work and to many, many more!