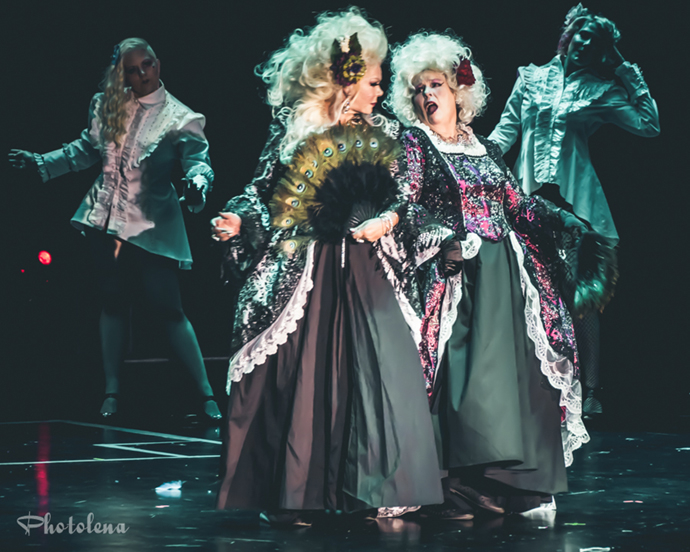 Burlesque Hall of Fame 2015: The Annual Titans of Tease Reunion Showcase
Friday, June 5, 2015 
Orleans Showroom, Las Vegas
I mentioned in my post about the Burlesque Legends Walk that I truly think that the Titans of Tease evening is one that should not be missed by anyone—performer or muggle alike—as these are the amazing men and women that paved the way for the burlesque of today. I really look forward to having the chance to watch them show us how it's done, breaking all stereotypes of age and beauty, and proving that vitality, charisma, and glamour know no boundaries.
As always, all the performers were wonderful and impeccably dressed and there were some surprising and truly memorable moments on the Orleans Showroom stage:
Who better to open the Titans of Tease than the First Lady of Burlesque herself, April March, in a fabulous production number from Grant Philipo? Escorted onto the stage by a gaggle of barely-clad luscious manprops, she was in her element draped in a zebra print coat and hood. It was truly majestic! As she was escorted back and forth across the stage, the boys took their time helping her out of her costume, piece by piece, until she stood there, sparkling like a starry night in a dazzling jeweled gown which eventually broke down into a fringed corset. No surprise at all that she was our Legend of The Year – congratulations to you April March! Truly deserving of the title.
In past years, I've watched Camille 2000 take to the legends stage and always liked her acts but this year her fan dance was really fabulous. Already in a corset and pasties from the beginning, it was all about the fans and she moved fluidly, posing for accent.
Eartha Quake III was a new legend for me this year and what a stunner she is. She had a real relaxed sensuality about her, working with a long feather boa before shedding her long gown to reveal a black sheer panel skirt. Talk about sultry – I've never seen anyone do what this lady did to her panel skirt. She stroked it. She kissed it. She made it stand to attention like it was on day 4 of Cialis and the doctor was being called. That panel skirt had the time of its life!
There was a much larger group piece by the wonderful Grant Avenue Follies – a group I didn't know anything about, but after seeing them perform, I really wanted to learn more. From what I learned about them, the group "brings to life the legacy of San Francisco Chinatown's unique nightclub culture of the past" and we were given not only a group performance, but also two solos as well. The first was a beautiful fan dance and the second was a stunning piece in a traditional costume with paper fans.
Another first for me was watching the amazing Isis Starr, Goddess of Burlesque, perform. She was a vision in white as she floated across the stage, twirling her large cape. I just love the motion of large pieces of fabric and her cape was perfect for catching the air across that large expanse of stage.
It was amazing watching Lovey Goldmine not only perform on stage, but lip sync to her own recorded vocals (lady's got some pipes!). But that wasn't the end of the act, when the curtain rose, she was reunited with Shannon Doah and Kitten LaRue for a saucy trio act. It was a treat to see Lovey and Shannon on the stage together for the first time in 40 years – you couldn't tell, it was like they'd been performing together forever they were so in tune. Their chair act was occasionally interrupted by Lou Henry Hoover who at one point was completely manhandled by Lovey. There was a lot of sass up there on the stage and it was one of the sexiest acts of the evening. Three stunning killer gals!
After watching Marinka perform, you understand why she's called the Queen of the Amazons. The statuesque beauty has such a presence that all she has to do is come onto the stage in a beautiful sheer black gown and wearing a large feathered hat and just…. slink like she does across the floor and people go nuts. To watch her kneel on a chair, flip her hair, and give you her sensual pout… it's just too much. I hope I get to keep watching her for years to come.
The first big surprise of the evening for me came in the form of The Insatiable, Viva la Fever. Sure I've seen her perform before, and I thought this time was going to be another lovely burlesque performance. But when the first bars of Harlem Nocturne started up and she came out onto the stage with her saxophone and I realized – holy hell, that's Viva La Fever playing the song! – I was totally blown away. I mean, sure, it's not like these lovely ladies can't have other talents other than burlesque, which in my mind is a huge artistic talent on its own. But this was awesome too – she so nailed it. It was perfect. Oh yeah, and she did a striptease too.
The second big surprise of the night was having the honour of watching Toni Elling, The Duke's Delight, perform on stage. This 87-year-old gal was all purple fierceness, parading across the stage in a purple gown, with matching purple wig, and sporting a stunning large purple boa. She posed and the crowd went wild. She peeled down to a beautiful white corset and panel skirt and the audience went insane. And she looked like she had an absolute blast every single minute she was performing – especially when she flashed us her pasties at the end.
I love watching Gabriella Maze perform and this year she put together a duet with legend Madame E, with assistance from Jezabelle Von Jane, Kisa Von Teasa, Irena Canova, and Lilith Noir (thanks for the names Gabriella!) that rocked the house! When you put two amazing legends, tattoos (love Madam E's tats), big wigs, Victorian dresses, bustles, and striptease together you know it's going to be a fun time. Add in some tassles and assles and then you've gone over the top.
There were two beautiful tribute numbers throughout the evening. The first was a tribute by Julie Atlas Muz and Peekaboo Pointe to Loie Fuller, a dancer who pioneered the use of color lighting in the theatre back in the 1890s. It was a beautiful and dreamy lyrical piece that really brought the color and light concept across through the use of large fabric wings onto which color was projected. It was a piece that I was able to just sit back and just enjoy the dance aspect of as it was best viewed in a darker theatre for full color effect so for once I was able to take a break from simply shooting. A truly beautiful piece. The second was a tribute to Wild Cherry by Indigo Blue and Coco Lectric that was energetic and had Coco holding poses that had my muscles hurting in sympathy. The best part was at the end, her hair in front of her face, she pulled her fingers through her hair. It was so sensual, so damn hot.
I want to mention all the legends that performed at the Titans of Tease Reunion but I didn't have a chance to write about: Dee Milo the "Venus of Dance", Dusty Summers, "The Untouchable" Ellion Ness, Gail Winns, Holly Carroll the "Singing Queen of Burlesque," Judith Stein, and Val Valentine the "Queen of Hearts". You will always be the heart and soul of burlesque and of the Burlesque Hall of Fame.
Which of our fabulous legends blew your mind? Leave your comment below.
Read all our BHOF coverage to date.