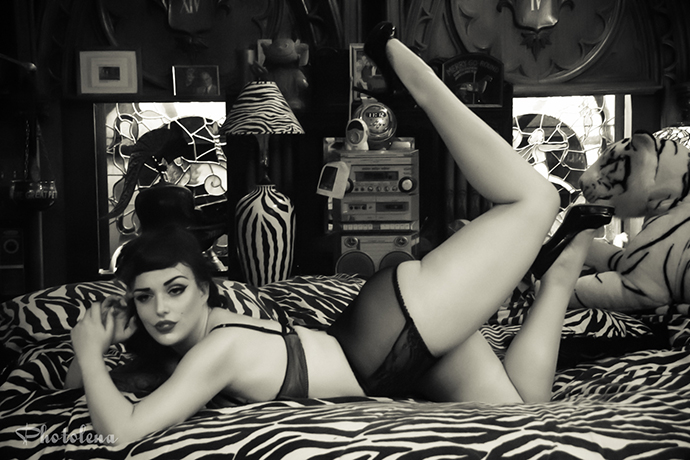 Burlesque Hall of Fame 2015: Pinup Safari
Saturday, June 6th, 2015
All over Las Vegas, Nevada
This is now my third year coming down to the Burlesque Hall of Fame Weekender and one of my favourite non-showcase events has got to be, hands down, no comparison, the Pinup Safari. Nowhere else will you get a double-decker bus full of gorgeous performers and models getting all dolled up on one level, and 30 or so salivating-at-the-mouth to get shooting photographers baking their brains out in the Vegas sun on the top level.
Started by Don Spiro (thank you, thank you!) the Safari is put together by Chris Beyond and Java and for weeks and weeks they were teasing us on the Facebook page with promises of this being a Safari like no other, it being the 10th Anniversary of the event. There was a super special location for us to visit this year…like, SUPER special.
Our first location—as always—was the "Welcome to Las Vegas" sign (the smaller one). I love shooting the performers at this location instead of the big glitzy sign: it's in a kitschy neighbourhood surrounded by quickie wedding chapels, old motels (some boarded up), and some awesome old strip joints that give our shoot there a real vintage vibe.
But the real gem of this year's Pinup Safari was the second location, which we spent at least 2 hours at and it definitely was not enough time to see the entire place! There's nothing like driving out to a nice little residential area and coming up on a HUGE mansion that looks like an Aztec museum, all gleaming white… with a Batmobile parked in the driveway. And we're talking Adam West era Batmobile, complete with costumed figuring in the driver's seat.
This priceless gem is Castillo del Sol, the home of retired neurosurgeon and former 31st Lieutenant Governor of the U.S. State of Nevada, serving from 1995 to 1999 as a member of the Republican Party. He is famous for the eclectic collection treasures that are displayed in his sprawling home and all over his property. It's an unbelievable museum to Las Vegas' past and I was honoured to have the chance to not only discover the objects and oddities he had on his property but to also photograph beautiful women in this environment.
So what kind of stuff does Lonnie have? I wish I could describe it all and yet in the 2 hours I was there I didn't even make it to the second floor of the home. But let me try to give you a sense of the wonder… his staircase is a Liberace, there's a jeweled Liberace upright piano, a model of the car from the TV show The Beverly Hillbillies, the prop from the movie The Time Machine with a stuffed dog sitting in it, and a small chapel (one of two) with a miniature Sistine Chapel ceiling.
Then there's the back yard.
The sprawling estate has several pools, one with a pair of turtles in it that swam around the girls while they bathed to get away from the heat. Hanging over the pool is a submersible and nearby is a 1960s space capsule that you can sit in. Watching over the second pool is a gigantic Tyrannosaurus Rex that everyone had fun modeling with. You can even climb up on top of the house to check out roller coaster cars from the Stratosphere, and a plane.
There's an Egyptian tomb.
Yep! I mean, why be buried in some old cemetery that might be paved over for a condo when you can set yourself up with an awesome Egyptian burial right in your own home. Pretty swanky. The entire room is painted with hieroglyphics and looks pretty damn convincing with a gigantic hinged gold sarcophagus sitting in the middle. Inside is an iron lung that Lonnie plans to be buried in. He's held an "Awake Wake" for himself already—he had a mock funeral service complete with New Orleans style jazz funeral march and then buried himself in the tomb.
One of the best rooms of the house—and where I spent a lot of time shooting—was the bedroom. Probably one of many, this one had a huge circular bed in the middle of the room on a pedestal and was covered in zebra striped fabrics with matching pillows. If it did rotate—and dammit, it should!—we couldn't figure out how to get that to happen. It was flanked by two beautiful carousel horses. Because, why not? And in the corners were two of those old egg shaped chairs—gold, of course—that reminded me of Mork & Mindy. But no bedroom would be complete without a wall of Faberge eggs and the most amazing animated carousel I've ever seen. Three levels, the top one had moving parts and played a continuous carnival jingle. On the bottom two levels were pairs of brass animals—all having some lovin' time. How appropriate for this room.
At the end of the day, once we were all photographed out and the girls had relaxed in the pools it was time for the group photos. In addition to the usual gigantic group model photo that we take every year outside our location, we took another one in that fabulous bedroom with all the models, Don Spiro, Chris Beyond, and Java on the bed surrounding Lonnie. I've never seen anyone so happy. Maybe that means we can come back next year? Pretty please?
Enjoy the photos…
All photos ©Olena–Photolena–Sullivan for Burlesque Beat. Performers may use shots for promotional purposes, but please credit properly with photographer's full name and a link to this piece. All other requests please contact us to acquire permission.