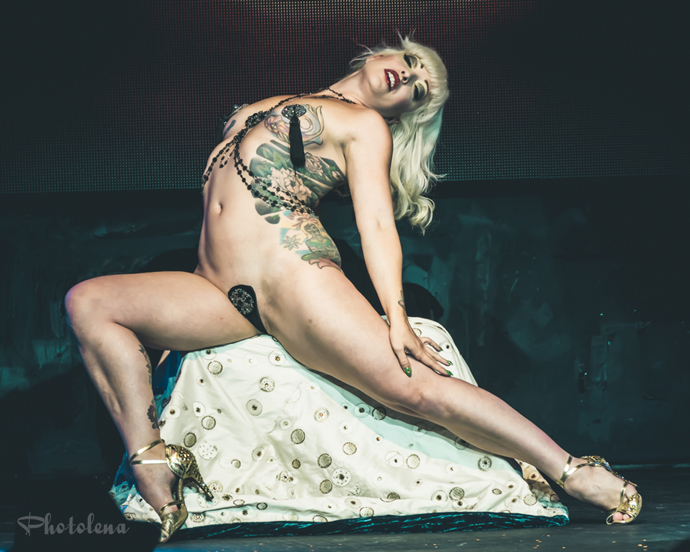 New York Burlesque Festival 2015 Golden Pastie Awards
September 27th, 2015
Highline Ballroom, NYC
This is it. The night that we've all been waiting and campaigning and voting for is finally here—The Golden Pastie Awards.  I had the best seat in the house in between our very own Melody Mudd and performance genius Little Brooklyn, who was a Golden Pastie winner herself earlier in the evening. The Performer Most Likely to Give Themselves a Golden Pastie Award graciously accepted the award from herself. Ah, burlesque!  A tight knit, ever-expanding family of beautiful artists. Thanks for welcoming me into your inner circle and thanks to everyone who made the festival as magical as it was.
Now, on to the show.
The blatant and brazen Scott the Blue Bunny hosted the show and handed out the farcical and coveted Golden Pasties. His blue and sheer bunny suit was as sharp as his wit that night. Lucy Sky Diamond opened the night with a neo-classic number in head-to-toe leopard print which ended with a high jump, landing Lucy right on her knees! I was sore just watching.
Sunday night was filled with some of burlesque's biggest names from New York and beyond. Peekaboo Pointe was mesmerizing in a slow, sensual strip and live keyboard accompaniment by Jesse Albert. Lou Henry Hoover debuted his new mermaid act, which was filled with everything you love to watch from Lou—dazzling costumes and hilarious physical comedy. And then there was Kay Sera. The Blue Bunny was right when he said "She is really fucked up."  I'm not really sure what I witnessed. There were extra limbs and moving body parts in all the wrong places. Perhaps it was a commentary on burlesque celebrating all shapes and sizes?  Or maybe she was trying to make a political statement about the right to bare arms?  Or maybe she's just gratuitously weird?  Either way, I'm into it. The Schlep Sisters, another one of New York's biggest hits, closed the show with a (mostly) synchronized dance routine to a Schlep-anized version of Chaka Khan's hit "I Feel for You" remixed as "I Feel for Jews."  Those sisters have a great shtick that works time and time again.
As much as I love funny and weird burlesque, I also love me some of the classic stuff too. I've seen Medianoche perform on several stages across the country and was looking forward to her performance that night.  Her costumes are always crystalled to a T. She is always well-rehearsed. But, for me, there's something missing from her performances. Maybe it's personality. Maybe it's passion. She is consistently beautiful to watch, but I'm rarely moved by her. And I should be ashamed of myself for saying so, but this was the first time I've seen Nasty Canasta on stage. I've heard so many great things about her and I was not disappointed. She made a martini with her ass!  With her ass!  Classic.
Backstage of the Highline Ballroom must have looked like a zoo with all the animal acts we got on Sunday night. Matt Knife did a Honey Badger act which was a big hit with the audience. I loved that he did the whole act to the narration of "The Crazy Nasty Ass Honey Badger" video that swept the Internet. Cairo did a hilariously irreverent flamingo ballerina act, en pointe while chewing gum that she later spit into the audience. Lady Francesca did an adorable strip as a chick, first to Old McDonald which led into The Chicken Dance. It was sweet and light-hearted and funny.
It was an absolute delight to see Üla Überbusen do her signature act on a proper stage. Here in NYC, we are seriously lacking in affordable, supportive venues with proper lighting and stages.  To see this act that I've seen dozens of times, at the right venue, really brought it home for me. It's a pretty powerful act about stripping yourself of the labels that society places on us. She received a standing ovation—maybe the only one of the night—from a group of her peers. It was beautiful and touching.
There were a few singing duos on the stage that night as well. The XO Sisters did a sweet and kitschy duet as a pineapple and a coconut making piña coladas. They even had tiny pineapple and coconut babies! Sunny Sighed and Bald Lightning switched it up with an opera and violin duo about cocks and balls. And cocks and balls and tits. They pretty much described the sights of our weekend. It was sheer comedy to watch Sunny Sighed let dozens of balls loose across the stage.
I feel like the luckiest girl to be able to see the best of the best in burlesque right here in my hometown. It was a beautiful weekend of smiles and sequins and pasties and performance art.
Have a look at the complete photo gallery of the Sunday night show. All photos ©Olena "Photolena" Sullivan and used here with express permission for Burlesque Beat. Performers may use shots for promotional purposes, but please credit properly with photographer's full name and a link to this piece. All other requests please contact us to acquire permission.