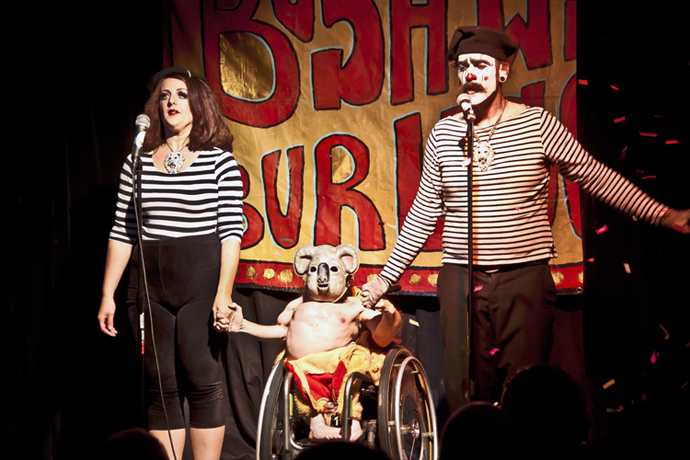 Bushwick Burlesque: The 4 Year Anniversary Show
September 15th, 2015
Bizarre Bishwick, Brooklyn
"Art makes you feel immortal," Scary Ben told the audience at Bushwick Burlesque's 4 Year Anniversary Show, and with that, the Clown Prince of Bushwick set the bar pretty high for the night. I've been to Bushwick Burlesque before, so I was prepared and ready to bare witness to weird—or so I thought.
Opening the show and picking up the stripper droppings all night was Nyx Nocturne, wearing a mouth apparatus that reminded us why we're afraid of the dentist. However, she managed to give me chills for all the right reasons. Velvet Crayon, reigning Mx. Bushwick Burlesque 2016, made an appearance dressed as Winnie-the-Pooh and regaled the audience with a ditty about alcoholism and tales of German airport security. Holly Ween did a "Blob" act that didn't read as well as I'd hoped. I bet if she spent a little more time rehearsing and threw some Jello in there for context, she could really be onto something.
Next up was an act from The Perverse George and Gracie themselves, Scary Ben and Darlinda Just Darlinda. They did a new and improved version of "Performance Art" which burlesques the art of performance. How meta!  Those two definitely know how to entertain, which is why they have one of the most enthusiastic and participatory audiences of any show I've been to. And weird. Did I mention weird? I think Fancy Feast said it best when she described their show as "the [fragrant] taint of New York's art scene."
The Great Enabler that is Jo Boobs, did a slow strip tease that called to mind one of my favorite pieces of performance advice from the Headmistress herself, "Allow the audience to look at you." And that's really all you can do when Jo is on stage. Once the corset came undone and she let her crimson hair cascade down her back, I was transfixed.
Zoe Ziegfeld did a birthday cake number to celebrate the show's fourth birthday. In it, Zoe strips down to nothing and sits on a birthday cake. It's not my favorite act of hers, but the audience ate it up!—pun intended. And the lady has a degree in Performance Art and I do not, so maybe this one just isn't for me.
I can't talk about weird performances without talking about Deity Delgado. Deity is a depraved, debauched, debased, disturbed little deviant and her infanticide cannibalism act demonstrated exactly that.
Fancy Feast, our freshly crowned Miss Coney Island 2016, defines the word "freak"—literally—in the pageant-winning act she brought to the show. She looks very much at home on Bushwick's stage and embodies all the grace and style of a plastic bag. She's a powerhouse and consistently a pleasure to watch.
My favorite act of the night came from Fem Appeal as the 16th President of the United States, Abe Lincoln. The performance itself was actually a lot of what you've come to expect from Fem; ridiculously contorted faces and air humping. But what I enjoyed the most was the energy she puts out into the audience. She's clearly having a blast on stage and invites everyone along for the ridiculous ride. That's the mark of a truly great performer in my book.
The show ended in a curtain call and champagne toast which spilled into a dance party with the help of DJ Johnny 'Orrible. Although I still felt mortal by the end of it, being there in the company of a King, a Queen, a Prince, a President, a Headmistress and even a Deity, I absolutely felt a part of the magic that is Bushwick Burlesque.
All photos ©2015 Ves Pitts and used here with express permission for Burlesque Beat. Performers may use shots for promotional purposes, but please credit properly with photographer's full name and a link to this piece. All other requests please contact us to acquire permission.
Sign up for our mailing list by November 5th for a chance to win a $125 gift card to Pinup Girl Clothing.