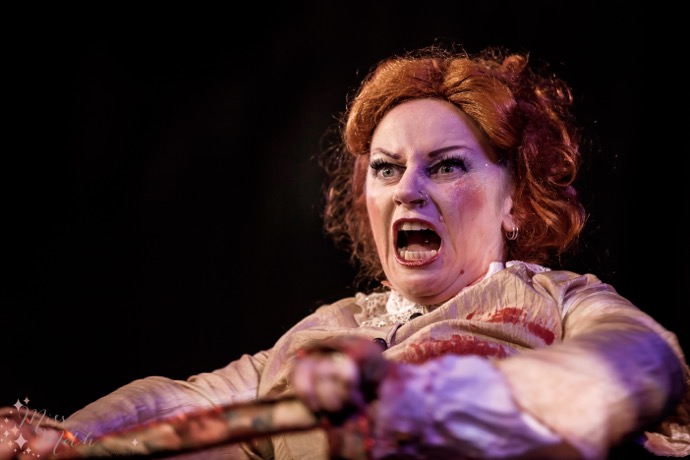 June 13, 2015
Grand Theatre, Swansea, Wales
It was a shimmy-tastic, sensational and glitter filled summer of love; I high kicked in lots of terrific shows and the Bluestocking Lounge was a truly fabulous and exciting evening to remember. Nestled in the fresh and faraway Swansea (not that far away, about a four-hour drive from London) Prince Lydia and I zipped up to the Grand Theatre so I could kiss ancestral soil and whip my clothes off in a frisky frenzy with a bunch of other beautiful burly babes. As performers, we all have shows that we hope to one day do, for one reason or another, and Bluestocking Lounge is—WAS—one of those shows for me. The producer, the much-loved performer Lilly Laudanum, is a lady whose work I admire. She is also a teacher, innovator and beacon in the Welsh burlesque scene, and when she invited me down (up?!) to do the gig, I was positively giddy! The line-up was kooky and sexy and the Bluestocking following was a ravenous one.
Our fearless compère for the evening was the generous and gracious DeeDee DeLa Rouge, who was assisted by the lovely Dawn, and together we were in safe and sensual hands. DeeDee is bright as a diamond and sharp as whip and she was cracking jokes and breaking hearts all night with her schtick. The backstage had a nice vibe, friendly and focused, and we all soaked up the luxury of a veryyy large dressing room, glittering costumes were laid out with care, an accordion pierced the chatter and everything was seamless and sweet, minus when Anna Lou almost lost an eye in an incident with a champagne cork but luck was on our side that evening…
A sold-out audience was buzzing before the show even began and they cheered and cooed over our compère and the impending glamour. First turn of the evening was the boss lady, Lilly Laudanum who is legendary for 'making the historical hysterical' and her suffragette act was just that: factual, fabulous and fucking hilarious. Decked out in a perfect period piece and chained to an iron fence, Lilly reminded us of the sacrifices and strength of the first feminists and their brave, bold moves. then with the spontaneous and silly striptease, she had us laughing and learning about this next wave of feminists who strip because they can, honour with entertainment and bring sass with their class. It was a perfect piece to kick off an evening that was balanced with glamour, humour and power. Next up was the sweetheart, Jack, a brand spanking new burly babe with a scary and haunting exploration of nightmares and things that go bump and grind in the night. A strong start for a fabulous fledgling stripper.
Mixing up the evening's striptease line-up was the super funny and filthy Anna Lou Larkin, a crooning cabaret clown whose accordion underscores some of the naughties, nastiest and most ridiculous little ditties I've heard. Maybe it's the innocent, round eyes, or her petite sweet frame but you never see her coming and then she smacks you across the face with a song about poo or giggling gonorrhoea or evangelical orgies which involve fruit salad, pork rinds and half the line-up of One Direction…Please write that last one Anna Lou… she's constantly subverting, consistently raucous and smart as hell Miss Larkin had the audience rolling with laughter and gasping in disgusted awe. I followed her with a slightly naughty sing and fling, a subverted version of "I Wanna Be Loved By You" and with my references to true love, fisting and BDSM delights the Bluestocking Lounge audience was there all the way—they're passionate perverts and I loved them for it!
The peppy and pretty Havana Hurricane closed out the first act with a gold striptease gift to the goddesses. Fresh from her US tour and dripping in gilded fringing and crystals she was a bump and grind vision, swinging and swirling with effervescent ease and focused ferocity it was so cool to see her live at last. The UK is much smaller than other burly hubs but there are still many sensational strippers I have yet to share the stage with and it was awesome to working with her highness, Havana, in such a fun and frisky show. The audience roared for her curvy, swerve-y finale and thanked Deedee DeLa Rouge for a raucous and radiant first half.
The Bluestocking audience were definitely in for a treat because the second act was even more riotous, glamorous and irreverent. Lilly Laudanum launched the show once again with a fierce and bloody brilliant history lesson about Lizzie Borden, bedazzled blood splatter and all. She gave us forty whacks and forty-one moments of powerful, stripper satire and we were frothing and thankful students. I wish all history lessons involved gorgeous people, glittering costumes and rhinestoned gore. Up next was another naughty newcomer, all white feathers and lace, Daisy Dalores, who delivered a strong and sensuous performance in a polished, glitzy get up and with fabulous and focused fan work. A beautiful and bright turn from a wonderful aspiring showgirl who obviously loves and is dedicated to our art.
Bursting back on to stage was Anna Lou, again spouting some sort of silly sleaze that we all adored… I believe it was a balance all about feces but then again, maybe that was just the first verse, with Anna Lou at the microphone, anything can happen and usually does. I burst on to stage in my shiny new Prince Lydia costume, with my second turn, a real Queerlesque riot, my Pottyyymouth Princess act. Mixing lip syncing of little girls talking about gender equality, sassy striptease and high octane dance, I was super happy with the response to this very political piece. I got a standing ovation from a big part of the crowd but also saw many women on the verge or in tears. As Julie Atlas Muz says in Beth B's Exposed, "I dance for the women of the house," and this is the best way I have found to describe my passion for the art, the audiences and the scene. I was a very happy Rubyyy.
The show finished off in a classy and sassy fashion with the wonderful heartbreaker Havana Hurricane bringing the art back to it's bodacious and bawdy body beauty! Radiant in sparkling red and glimmering ivory, Havana was poised, polished and brilliantly paced in this elegant and electric striptease. It truly was a delightful, diverse and dynamic show, the kind of show that Bluestocking Lounge is known for and as we whizzed through the night back to London, I thanked my lucky stars for the chance to stomp that stage with such bright and bold stars and sisters of the UK scene.

Sign up for our mailing list by November 5th for a chance to win a $125 gift card to Pinup Girl Clothing.
All photos ©Miss Moth Photographic Arts, Amie Lipley and used here with permission expressly for Burlesque Beat. Photos may be linked to or used online by performers/producers for promotional purposes with the credit: "Photo credit Amie Lipley courtesy of Burlesque Beat" with a link to this piece. Please obtain permission for any other use.