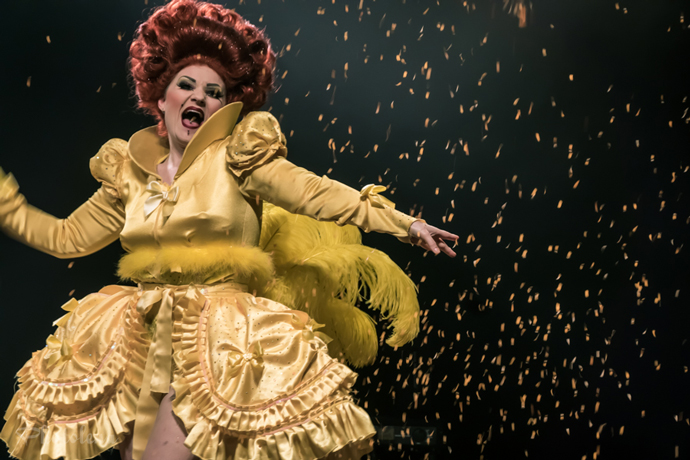 Toronto Burlesque Festival 2015: Glam-a-ganza
Saturday, August 29th
The MOD Club, Toronto 
The end of the year is a great time for reflection and thoughts about marching bravely forward into a new and exciting (and hopefully creative) year full of brash and bold events, over the top performances, and glitter… so much glitter! 
Giving myself some time to take stock of the myriad events I've written about for Burlesque Beat over the years, the one that stands out the most has been the Toronto Burlesque Festival. As I share these photos from the Glam-A-Ganza show from the TBF held back in August, it gives me a chance to reflect on all the amazing experiences I've had with with the producers and performers of this yearly event. It's been going on, and growing bigger and bigger, since it burst onto the Toronto fringe arts scene in 2008. SinceIt's been going on, and growing bigger and bigger, since it burst onto the Toronto fringe arts scene in 2008. Since its inception I've only missed two productions—and if I hadn't been so busy shooting urban decay I probably could have made it to their inaugural show.
I have so much to thank the Toronto Burlesque Festival for. At my first show I fell in love with, and to this day still am starry-eyed over the voluptuous blonde bombshell that is all of Dirty Martini. That festival also introduced me to the mad ranting burlesque of Tigger! and I was hooked. You throw Dr. Lucky into the mix and for an introduction to burlesque, I couldn't have picked a better festival.
Over the years this festival has introduced me to some of the most funny, talented, creative, insane, classic, sensual, gender-bending artists the international burlesque community has to offer: Cherry Typhoon, Lady Josephine, Mlle Oui Oui Encore, Lavender May, Imogen Kelly, Jett Adore, Immodesty Blaze, Kitten de Ville… holy pasties Batman, there's too many to name! And the legends too—the Toronto Burlesque Festival has served its legends well by bringing in those amazing women who inspire such as Tiffany Carter, April March and Satan's Angel.
Two thousand and sixteen will be the ninth year for the Toronto Burlesque Festival and I hope to see it thrive well into its teen years at least, under its very skilled production team of Sauci Calla Horra and Coco Framboise. I hope to be there to document the fantastic acts for Burlesque Beat for years to come and be inspired by the fabulous and creative performances.
Just check out what they put together for their Glam-a-Ganza in 2015! I know it seems like this will be hard to top next year, but if anyone can pull it off, it's the TBF.