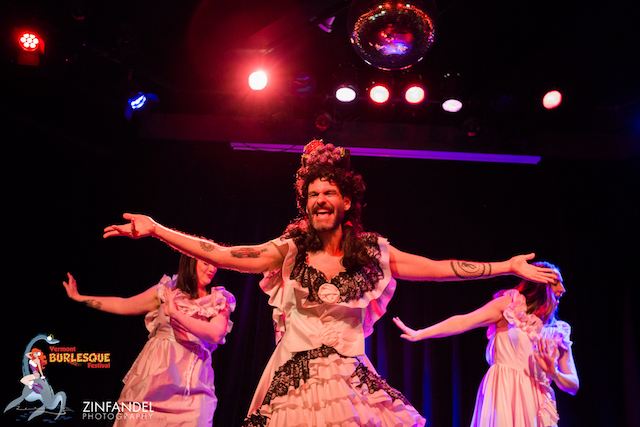 Vermont Burlesque Festival 2016: Opening Ceremonies & Showcase
Thursday, January 21, 2016
ArtsRiot, Burlington, Vermont
The crunchy Northeast vibes hung heavy like patchouli'd dreadlocks at the 2016 Vermont Burlesque Festival's Opening Ceremonies & Showcase. I've never been to a burlesque festival that featured face painting AND live sketch artists. Kidding aside, the show had a homespun vibe and friendly, comfortable ambiance. Seems the burlesque up here is as quaint as its burgs.
I was able to duck in just as New Jersey's Broody Valentino whipped off his bottoms. Host Curtis Suede followed with a wonderfully filthy rendition of "You Make Me Feel So Young" (Here's a sample line: "I made her taste my cum"). I dug Curtis' sleaze ball drag, which had a distinctive small town New England bent; trucker hat, mullet, you get the picture.
This show had an unusual amount of MCs. At times, the MCs made the show uneven but also broke it up nicely. Each MC 's style differed from the other: Curtis and his dirt bag personae, Leif Peepers with a classic burlesque barker schtick, along with stand-up comedians Annie Russell, Hillary Boone and Kendall Farrell. The variety gave the night a classic vaudeville feel, a welcome change to static MC's bringing acts on and off stage. It's a shame stand-up isn't carried over from the classic burlesque era more often. The two pair so well.
Kitty "Bang Bang" Halloway from Gypsy Layne Cabaret & Company did a fan dance to a jazzed-up "All About That Bass." Trixie Fawkes' sexy butch style was reminiscent of Seattle's Iva Handfull but unfortunately lacked Iva's energy, or any sort of arc. While the act featured some creative props, such as a rhinestoned AK-47, the act fell flat, lacking a climax. Mike Monaco, also from Gypsy Layne Cabaret & Company, brought things back with a reverse strip bringing to my mind a 1930's drag show, lip syncing to "I've Been Kissed Before," a song made famous by Rita Hayworth in 1952's Affair In Trinidad, but actually sung by JoAnn Greer.
Curtis Suede and Bobbi Pins from Cape Cod's Brazen Belles did a fairly seamless comedic routine to "9 To 5" albeit with re-worked lyrics. They had palpable chemistry and the act got especially nasty with Curtis jerking off in the corner at one point. The lip-syncing was bad enough to be a distraction but all in all a high energy, raucous act that danced on the line between improv and burlesque.
Burlington's Green Mountain Cabaret finished up with a synchronized group routine to Squirrel Nut Zippers' "My Drag." Coincidentally, it's one of the first songs I learned to play on my accordion for a burlesque show over a decade ago. The act made good use of the song's sultry vibe and the troupe was a nice cross-section of ages and body types. Unfortunately, they cut the song's upbeat closing refrain that would have given the routine a much-needed finale. No matter, it was clear the audience loved their hometown troupe and their strong, confident moves. All in all, a good kick-off to the festival as well as an excellent introduction to the Northeast burlesque scene.