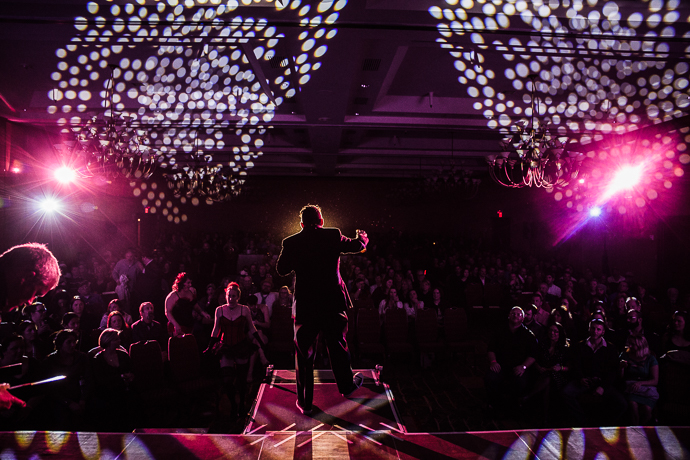 Vermont Burlesque Festival 2016: Saturday Night Extravaganza
Saturday, January 23, 2016
Burlington Hilton, Burlington, VT
It was definitely surreal. The Vermont Burlesque Festival's Saturday Night Extravaganza going on in a ballroom neighboring a high school dance. Tipsy parents took in the burlesque while the kiddies danced the night away. One confident teen boy, dressed in red suspenders and fedora, winked at me in the elevator, which was filled with dolled-up burlesque queens. He loudly proclaimed, "I think you and me just hit the jackpot!" You go kid.
The Saturday Night Extravaganza consisted of two shows, the Early Show ("A Bit Nerdy") and the Late Show ("A Bit Dirty"). I worked registration for both so ducked into the early show a bit late, but caught the tail end of Matt Knife's act. Lafayette, Louisiana's Felix Elixir, did a swing-inspired routine to Royal Crown Revue's "Hey Pachuco" and Merrique Hysteric brought the nerd vibe with a Jurassic Park-inspired routine complete with dinosaur puppets. The act went on too long, and the cinematic score didn't help. Perhaps a more rhythmic remix would've moved things along better.
Hailing from New York and Lake Como, Italy respectively, Ruby Mechant and El Malevo did a strong tango to Moulin Rouge's version of "Roxanne." I've seen this song used quite a bit recently in burlesque routines. I would've preferred something without lyrics and more drama. There are so many great tango pieces to choose from. That said, their moves were solid and the act was strong. Virginia's Bella La Blanc did the same wicked witch routine I saw in Boston last year. Entertaining but not strong enough to rehash for multiple festivals.
Burlington's Ginge O'Lolly followed with a steampunk-inspired routine, and Richmond's Ellie Quinn ("The Duchess of Dork") did an Incredible Hulk-inspired routine. Both repped the nerdlesque scene well, but they paled in comparison to Brazen Balls' Ghostbusters boylesque routine. The boys worked the crowd, had a strong physical presence, great props and noticeably increased the energy in the room.
The Balls' moment of glory was brief, because Blanche DeBris freakin' brought the house down with her "Sound of Music In Six Minutes" bit. The act began with a nun's habit, featured a skirt that contained a puppet show and ended with her in a red, white and blue-rainbow headdress. All while performing snippets of each key tune from the movie and frantic plot synopsis. The crowd was on their feet. This was the only act on audience members' lips as they shuffled out of the ballroom. Not only a highlight of the show, but for me, the entire weekend as a whole. I've seen Blanche multiple times in the last three years and I've never seen her do the same act twice. Stellar.
The Late Show was packed to capacity with 500+ attendees, one of the biggest burlesque crowds I've seen aside from BHOF. Not only that, when host Blanche DeBris asked how many burlesque newbies were in the house, half the room cheered. Burlesque has arrived to Vermont. The excitement was palpable and this was obviously the biggest audience for many of the performers.
Portsmouth's Lady Luck Burlesque kicked things off with a group routine to "Proud Mary." Scarlet Starlet stole my heart, performing a baton act to Balkan beats. Ottawa's Kitty Kin Evil's gorgeous fan dance had me loosening my collar. Cape Cod's Bobbi Pin did a solid flapper routine to Cole Porter's "It's De-Lovely" and Montreal's Scarlett James finished out the first half of the show with a sexy, boa routine backed by Santana's "Black Magic Woman." The sexual energy hung heavy long after she left the stage. Wowzah!
Unfortunately, hunger and fatigue got the best of me after a long weekend, so I cut to my room at intermission but I was impressed with all the support for the festival. Festival organizer Cory Royer said this was their biggest crowd yet and all in all, the festival represented the Green Mountain State well. While few of the Northeastern burlesque acts I saw broke new ground, the performers were confident and had enthusiastic audiences. It was heartwarming to see that level of hometown support. I predict a shimmery future for Vermont burlesque.
Wonder if that kid from the elevator ever managed to sneak into the show…