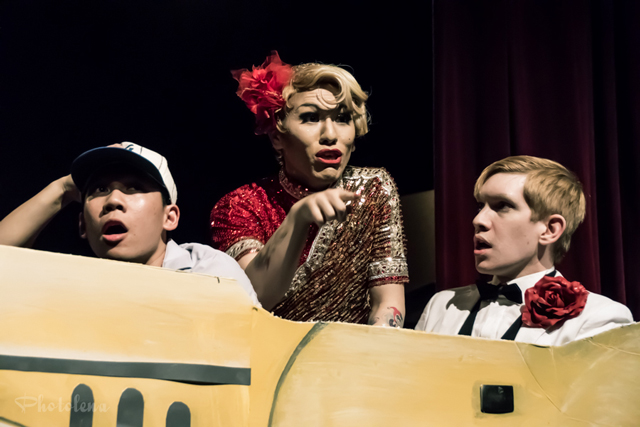 Spielberg-lesque
Saturday, March 5, 2016
The Great Hall, Toronto
"Raiders of the Lost Tease? Jurassic Parts? Close Encounters of the Third Hind?" I have to admit that when I saw the promos for this PeepshowTO theme show I was psyched! I grew up on Spielberg movies— love, love, love Indiana Jones (except for that horrid Crystal Skull fiasco)—so I was intrigued with the idea of pairing up his concepts with striptease.
I can definitely name a few movies that shouldn't be attempted in the burlesque art form— at least I don't think The Terminal, Letters from Iwo Jima, or Twister would make a smooth transition from screen to stage adaptation. But hey, Goonies would be awesome! So what material did Toronto's geek-themed burlesque crew pick? Here's a few highlights….
Dr. Jones is Everywhere!
The Indy movies (well, the 3 good ones) were very popular! Zilly Lily opted to play out a favourite scene from Raiders of the Lost Ark as the spirit from the Ark. She emerged from the golden box in a swirl of fabric, all dressed in gold with lightning in her hair, and glided along the stage like the avenging angel she was. The melting face on the guard was a nice touch— it's the little things, right?
I was truly blown away by Leelando Calrissian's ode to Temple of Doom and the famous Club Owi Wan nightclub scene. With a spot-on reproduction of Willie Scott's sparkling gown and coiff, Leelando brought the Mandarin/English "Anything Goes" song and dance number to life. To top it all off, Sky Blew's Indiana Jones whisked him off to a waiting prop car (complete with Short Round) where they stripped with running away from those damn Nazis to the tune of Aqua's "Dr. Jones."
Dinosaurs Galore!
The Jurassic Park movies were ripe for the picking. Betty Quirk had the darndest time keeping her clothes on with all those dinosaur claws ripping away at her shirt, pants, and hat. Really nice touch with the glammy claw marks on her bra and panties.
Henrietta VIII and Fatti LaBelle showed us that sometimes a T. rex and a quirky actor can find love. I always thought that there was something in that look the T. rex gave Jeff Goldblum when it stared at him through the jeep windshield— wink, wink. Now we know.
It's Pirate Time!
We were truly lucky to have Jeez Loueez in town as a special guest for the show. And what better act for a Spielberg theme than her iconic Rufio performed to Michael Jackson's "Bad." There are way too many reasons to list as to why I love this act— and Jeez Loueez— but suffice it to say that she's one of the few performers I've seen that comes out on stage, does it her own way in a raw and honest way, demands your respect and attention, and then tells you to fuck off— and you love every minute of it. She truly is "bad."
Da-dum Da-dum Da-dum!
Can you do shark burlesque? Yes. So says PeepshowTO and so says Veronica Vile who had a truly creative way to perform a Jaws-inspired act. Her pretty swimmer flirted with a manly-man shark that ripped her skin off as it kissed and sucked on her, leaving trails of blood and open wounds. Apparently these were quite the turn on as she kept going back for more and more, getting more and more bloody and naked throughout the act. So creative! 
Do You Have That Report Ready?
Another movie I didn't think you could make into a sexy burlesque act but Delicia Pastiche proved me wrong with her Minority Report act. What, you didn't think someone could make a precog look sexy? You haven't see the things that Delicia can do with fabric, latex, lights, and her imagination.
Phone Home Already
You wouldn't think that E.T. would be an easy movie to burlesque-ify but Sevvy Skellington did just that, and in such a creative way. With her little extraterrestrial fascinator, she looked absolutely adorable on stage. Complete with light up finger and a pocket full of M&Ms, she took out her Speak & Spell (where the hell did you find that???) to try and talk to us. And of course, once she had shed her mortal clothing, she hopped on a bike at the foot of the stage and rode off into the night.
The Big Finish!
I love the movie Catch Me If You Can— the opening graphics, the music, the romance of the heyday or airline travel and stewardesses. So I was psyched to see the finale be a big group production number based on this movie. With Dew Lily as Leo's faux but charismatic pilot, he emerged on the stage flanked by blue uniformed stewardesses Sevvy Skellington, Betty Quirk, Dolly Monroe, Delicia Pastiche, Loretta Jean, and Zilly Lily. The outfits were perfect down to the pillbox hats and white gloves. As the girls went through a choreographed striptease, Dew dodged the FBI using the girls as a distraction. It was a group number worthy of a Las Vegas stage— with chorus line moves and perfect syncopation. What a perfect ending to the show!
I wish I had room to chat about all the acts but I want to give kudos to all those I couldn't mention: the producers of the show— Sevvy Skellington, Leelando Calrissian and Betty Quirk; host Velvet Valhalla; performers Bianca Boom Boom, Sky Blew, Cerise Noir, Dr. Tease, and Naughty Nezumi, and all stage kittens and volunteers.