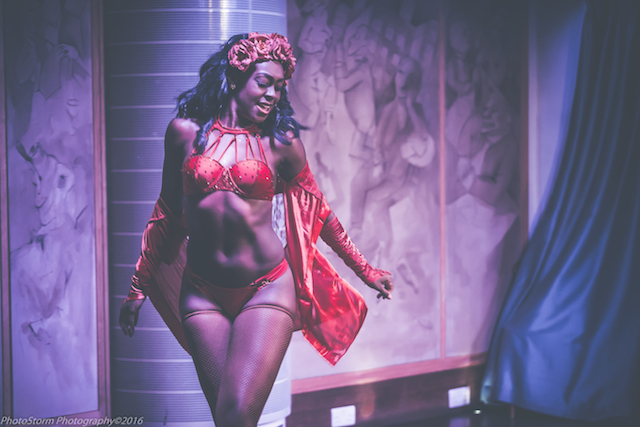 Diaryyy of a London Showgirl
Friday February 13, 2016
The Hospital Club, London
Showfolk can all surely relate to the unique experience of having our busiest nights, and weeks, of work for the year, while other people work themselves into a frenzy to forget about their jobs, and perhaps year too. New Years, Valentines, Hallowe'en, Winter Holidays Galore, sometimes we work two, three, five gigs a night while people from all walks of life do their, usually booze fuelled, celebrating. Typically this means a semi-sober NYE, a three-day Hallowe'en marathon and/or serenading valentine's couples while our significant other beams from the bar or orders a take away in time for you to enjoy with when you get home… at 4 AM. Or, if you're me this year, you bring your Prince/cess/x along with you to a new show and you celebrate your valentine by picking up enthusiastically whipped knickers and sweeping up piles of glitter! As we were both working out of town on V-day, my love and I decided this was our date, and it was a really great Valentine's.
Sadie Sinner, MC and producer extraordinaire, brought a new night to the member's only Hospital Club in London: "Love Songs and Showgirls," an evening of loved ballads and sweet soulful tunes, sparkling neo-classic showgirls and spoken word. After a last minute show cancellation, I signed up myself, and Prince Lydia, to stage-manage and kitten the evening! I feel like I haven't seen a show— that I wasn't in— for ages, so it felt like a real treat. Sadie produces a number of different shows around London and beyond, all of them with a different focus, from a sparkling classic show for raising funds for charity to a bad ass rock gorelesque night filled with fab freakery and tons of skin and sass. This show was about diversity, sensational songs and entertainment to the max.
Bringing us En Vogue, Destiny's Child, Candi Staton and more, Sadie brought so much passion and fun to her songs, in the selection and in the performance. I'm still singing 'Emotions' and then chuckling over some of Sadie's wicked jokes about Michelle vs Beyoncé, the 'African lady in a cupboard' who made her yummy gown and her powerful sweetness and sass. It was a night full of excellent songs but also lots of laughs and learning. As producer of the show but also half of the entertainment, Sadie Sinner had a big challenge as a performer and pulled it off with charm, humor and a sparkling smile; she could sell sand to the Sphinx.
Travis Alabanza brought further variety with their queer-tastic spoken word sets which hushed the Hospital Club audience with the weaving of erotic fairytales under scored by pop lullabies and punchy sermons which had our synapses firing and minds swimming; charged, provocative and tender confessions of growing and growing up queer, as a PoC and someone beyond labels. A different kind of love song: one for self and for expanding us all, and one of the highlights of this glittering and polished event.
The showgirls for the evening were all equally awesome and unique in their own ways but each brought neo classic glamour, professionalism and poise in spades. Didi Derriere, the current Burlesque Idol UK, did two terrific turns, which had the crowd wow-ed and whistling. A trained dancer, Didi is all limbs, looks and luxurious lines. Seriouslyyy, feet to die for! It was wonderful to watch her perform again, first in her award winning act 'Bring on the Men,' dancelesque at it's finest, draped in a naughty noir costume with sensual dynamic choreography and fists full of cheek and then in a beautiful gilded fan dance that was elegant and delightful to behold.
I had the pleasure of seeing relative newcomer, Riri Caboose, perform live for the first time! One of the 'new' Folly Mixtures and a solo stripper in her own right, Riri is a poised and practiced showgirl. Solid strutting, measured movements and subtle sensuality, her acts were grounded and gorgeous. I loved the simmering song choices and the incorporation of her dance skills, and it'll be exciting to see where she goes with her style in future. She delivered a sweet and sexy crimson turn to kick off act two and her first set was excellently sound tracked by Janet Jackson and it was awesome to watch her dance— chainé actually— through a pastie falling off and landing her turn in a perfect pose, one hand over the offending nipple and the other poised in triumph.
Lena Mae was the last one of our bombshells and this pretty pixie played cupid all night with her amusing faces, slick moves and engaging energy. Her first turn was a gorgeous and glittering fan dance, which really had the audience roaring. Such a perfect blend of wonderful costuming and total entertainment, Lena was luscious to behold and a breath of fresh sparkling air. She was also our finale act with an energetic and saucy striptease which finished with a glitter pour that the audience was definitely gagging for. I actually heard a sigh of relief as the stream of glitter hit her skin. I'm not exaggerating. This audience got everything they wanted and more for a dynamic, fun and entertaining evening of variety.