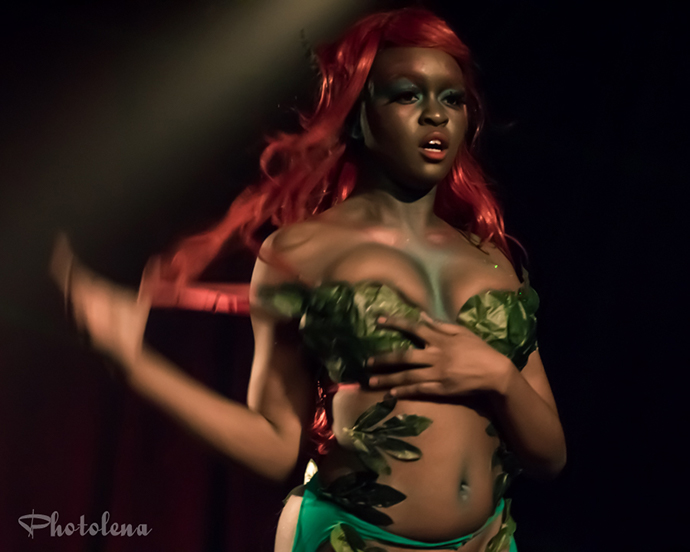 April 24, 2016
Revival Bar, Toronto, Canada
Achievement Undressed: Pwning in Pasties
We've all played them— and most of us still do (you know you do!). We all grew up on PS4s, Nintendo— and here I'm going to completely date myself— Atari and even Colecovision. The games today may be more slick and the soundtracks way cooler but you gotta give some credit to those early days when the the Mario theme song would get stuck in your head for weeks.
Can you create a burlesque show around something as digital and fleeting as video games? You betcha! If you have the creativity and the skill, you can create a theme around any pop culture reference I think. And Nerd Girl Burlesque did just that with their Achievement Undressed: Pwning in Pasties show at the Revival. It was a great evening that brought everyone down 8-bit memory lane.
I was happy to see that only one or two of the games stumped me— but I was never in the fighting game. Was more a Zelda gal myself. Here are some highlights of the games (ok, the ones I knew)…
Final Fantasy VII
I have to give props to our host for the evening Reddy who managed to take a character from Final Fantasy VII and make it look absolutely and adorably hot. When I think of Red XIII, I kind of see a snarling red lion-like creature. With her feather adorned cat ears and head-to-toe red outfit, Reddy looked fabulous while keeping us all in stitches throughout the evening.
BioShock Infinite
One of my favourite games even though I can never finish it— whatevs. Leelando Calrissian was fabulous as Elizabeth from the game. So classy and elegant, yet covered in a subtle layer of grime. As always, Leelando is a master of costuming and had Elizabeth's original blue skirt/white top outfit and his hyper-stylized motions and expressions were fabulous.
Katamari
Nerd Girl Burlesque's Helen of Tronna did double duty with two acts— one of them being Link from Zelda— but the costume she had for her Katamari homage was truly gorgeous. What I remember of the Prince character, with his little purple legs and wide green head had me wondering how she'd pull it off, but Helen was able to morph a little green cartoon into a burlesque character, no problem. And as she stripped off her layers, she'd roll a ball around the stage collecting all the pieces, just like in the game.
Sonic the Hedgehog
The award for the most kickass, devoted, accurate sexy burlesque video game character has to go to Betsy Swoon for her amazing Sonic costume. The colour of the fur was perfect, the peaks in the fur, the makeup, the little teeth… right down to the red sneakers. And the striptease! Dang, this was the sultriest, sexiest hedgehog I'd ever seen anywhere, video game or otherwise. Had to be my absolute favourite act of the evening. 
Ultimate Street Fighter
I never played this game, but it's so iconic of the time, and I did have a best friend in school who was totally hooked on this one. Not only did Dr. Orifice perfectly suit the part, but I had no idea that he actually does martial arts (and teaches too!). After some comedic warmup kicks and stretches, he got down to business breaking wood panels with his hands and head, and since this is burlesque he had to break one with his crotch. He also amazed us with some smashing of concrete blocks, including a set broken with his head. All this, and striptease too!
Pikachu
Every time I see Sevvy Skellington perform with a theme, she seems to pick the most endearing characters. Last time I saw her she was ET, this time it was Pikachu. From the cute yellow ears right down to the lightning bolt tail, it was a yellow ball of cuteness on stage from the moment she came out from behind her Poke Ball umbrella.
I want to give a shout out to all those I didn't get a chance to mention this time around (and some whose characters I couldn't figure out) because this was a show where all the performances were awesome: Brian Bedside Manor and Titus Androgynous from the Yes-Men: A Drag King Collective, Mahogany Storm (Tetris— I know this one!), Zilly Lilly, Zyra Lee Vanity, Loretta Jean (James Bond 007, right?), and Delicia Pastiche (Portal— I got one, right?). As always, big kudos to all the volunteers and the stage staff.