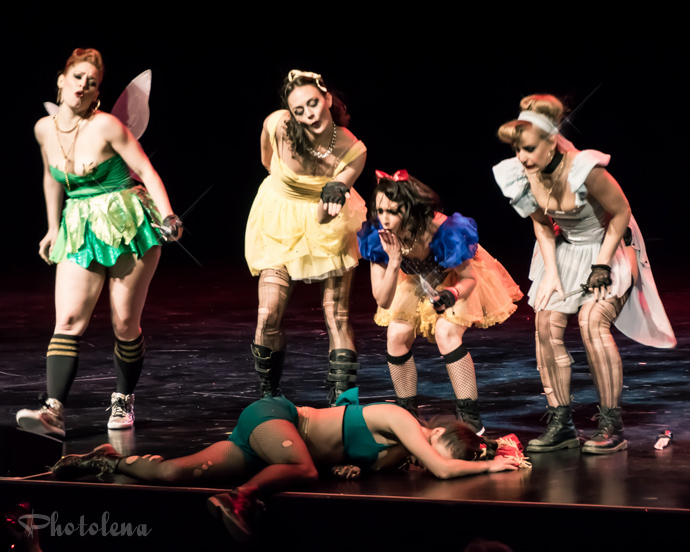 Burlesque Hall of Fame 2016: Movers, Shakers and Innovators Showcase
Thursday, June 2, 2016
The Orleans Showroom, Las Vegas, NV
Greetings from Las Vegas and the Burlesque Hall of Fame Weekender. What a first night! The Movers, Shakers, and Innovators showcase was a whirlwind of acts that went from romantic, to comedic, to astounding. Read a review of the evening after feasting your eyeballs on this photo gallery of Thursday's gorgeous acts.
This year's hosts Armitage Shanks and Sailor St. Claire were great at keeping the show moving along. Some highlights for me were the Barber of Seville performance by Montreal's Bon Bon Bombay which incorporated a really fabulous multimedia aspect – some performers do pieces behind a white screen, but hers included motion graphics as well that had her running up and down stairs. Very cool.
Madame Romanova from the Netherlands wowed us with her signature quick change act. A hilarious Mister Bigalious was the proverbial sexy plumber who did a juggling act with toilet plungers. And hey, I had no idea Hazel Honeysuckle could sing – I just remember her as a very large Treebeard – so that was a really nice surprise when she belted out a ditty about boobs. There was some great hoop action from San Antonio's Teddy Bare – a hoop like I've never seen before, with a secondary hoop in the bottom like a hole. At one point during Peekaboo Pointe's burlesque hip hop routine, she turned into a rotating disco ball – that was awesome.
The step down numbers from Jenny Rocha and her Painted Ladies and Matt Finish were great spectacles. Who hasn't thought, "I bet those Disney princesses really hate each other." Jenny Rocha has. It was a hoot watching Snow White emerge victorious only to die from that damned apple. And Matt Finish's ode to all things Mickey right down to his Sorcerer's Apprentice costume from Fantasia. It was quite apropos to have Armitage and Sailor lead the entire room in a round of Pink Elephants on Parade at the end of the evening before heading out to the after-party.
Enjoy the photos below and read Burlesque Beat's review of the Movers, Shakers and Innovators showcase here.
Check out all our BHOF coverage to date.
Don't miss the Beat. Subscribe.