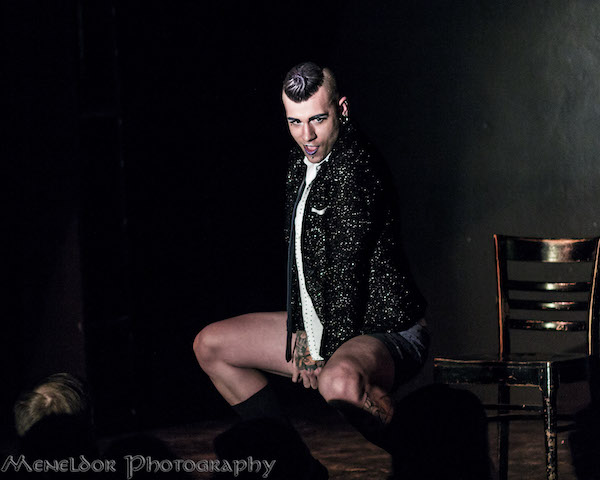 Seattle Boylesque Festival 2016 Teaser Party
Thursday, April 28, 2016
The Re-Bar, Seattle, WA
As expected, meat references were a flyin' at the Re-Bar for The 2nd Annual Boylesque Festival's Teaser Party. Not two minutes would pass without a wiener pun from emcee Ernie Von Schmaltz. These played well with Stage Panther Willie Strokum's long-legged stage-stalking, complete with pervo-rocker get up and come-hither leers. These two had some serious chemistry and it was reliably side-splitting throughout the night.
Chicago's Willie LaQueue kicked things off with a Victorian-gothic vibe: minimal electronic beats, a silk body suit and an androgynous "Cabaret" feel. It brought to mind Marc Almond and Dita Von Teese's love child. Also hailing from Chicago, TheGla Monster hit the stage next. He rocked his twinkiness to an electro-pop soundtrack that made every gay man in the house pant with desire. However, his routine felt lackluster. Some impressive acrobatics, including a headstand on a chair and a fully nude finish (junk covered by hand) saved the act in the end.
After a Chicago-heavy beginning, Seattle's hometown heroes took the stage. I loved Marquis Facade's bizarre, Lynchian routine. It began with him in a suit and ended with him in lingerie and taped nipples, all performed with a deadpan expression and a countrypolitan Patsy Cline soundtrack. The whole thing felt creepy and wrong and I loved every second of it. EmpeROAR Fabulous did a Schoolhouse Rock-inspired routine. I didn't get the reference myself until I asked him about it afterwards but he delivered with his usual confidence. I was bummed I didn't get to hear him sing; boy has some pipes. Al Lykya finished off the Seattle triumvirate with nerdlesque that I believe referenced "Firefly." As with a lot of nerdlesque, the reference was lost on me, but he did a great job whipping up the crowd with solid moves and energy.
Chicago returned with Jimmy Swagger and another fully nude finish, albeit with scarf-covered package. Seattleites Fosse Jack and Apollo Vidra brought the emotion with their Tennessee Williams-themed routine that was dramatically enhanced by their classical dance skills. They are lovers in real life and the romantic energy was palpable to all in the room. Absolutely gorgeous. Edmonton, Canada's Beau Creep brought us into intermission with a solid, but not groundbreaking, routine to the Scissor Sister's "Tits on the Radio." Seriously, can we have a moratorium from using their music? It's getting out of hand. Just saying.
After intermission, Coney Island's Donny Vomit made a surprise appearance. He happened to be in town and wowed the crowd with his sword swallowing skills. I've been wanting to see him perform for years, so what a welcome surprise. And, yes, the sword swallowing did give Ernie Von Schmaltz some more material to work with in the double entendre department. Portland's Will Longfellow kicked off the second half of the evening with a strong garbageman routine.
The best act of the night, possibly the decade, came from the UK's Major Suttle Tease. Words do not do justice to this act. Let's just say it started with a strong British music hall vibe before transforming into an 80's gay disco routine, albeit filtered through a Python-esque filter. The climax featured a decidedly un-sexy drag reveal, some impressive acrobatics, the most perfect tassel twirls I have seen from a man, and multiple pairs of underpants. It was amazing. It was surreal. No one could process what the fuck they had just seen. House brought down. I pity the performers that had to follow that because it was a game changer. Hands down one of the best things I've witnessed all year.
Seattle's Jesus La Pinga followed with a silks routine and Colorado Springs' Brotherhood of Boylesque did a well-choreographed priest/altar boy routine to George Michael's "Faith." New York's 2 to Fly finished with my second favorite act of the night, an athletic acrobatic routine based on the Mad Hatter's Tea Party. Their synchronization was incredible, as well as their physicality. They walked off stage to a standing ovation.
While I was bummed I couldn't catch the rest of the festival, especially based on the talent on display at the Teaser Party, I left feeling like boylesque is growing as a subgenre and has its own, unique talents that place it apart from the larger burlesque world. Boylesque in 2016 is its own thing. Bring on the meat!
Don't miss the Beat. Subscribe.