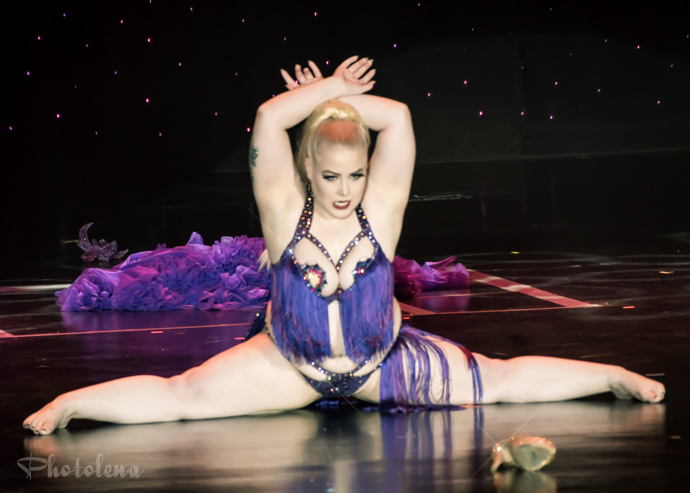 Burlesque Hall of Fame 2016: 26th Annual Tournament of Tease, The Debut Category
Saturday, June 4, 2016
The Orleans Showroom, Las Vegas, NV
Woot! The Burlesque Hall of Fame Weekend Competition night — the big shebang, the night when everyone competes for the whole enchilada, the big trophies that can't possible fit in carry-on luggage but sure look damn amazing and sparkly. There's so much talent in these five — oh yeah, you read that right, five! — hours of performances that you need to digest all this goodness in small chunks.
So let's start with the Best Debut category which tends to bring something a bit more unique, challenging, and daring to the competition. In no particular order, here are some standouts about the performances.
Memphis Mae looked stunning in her red gown and headpiece, but what really made her performance stand out was getting to hear her internal dialogue as she ran through her number. I always wondered what goes through a performer's head as they do their striptease up there on the stage and watching her ace a glove peel or tiger claw while hearing "nailed it!" and "rowr! I'm a lion" was hilarious.
Another favourite was Sassy von Straddler who really knew how to work her curves to perfection. The buxom blonde bombshell was covered in purple fringe that shivered with every shimmy shake of her hips. And her agonizingly slow split, lower and lower with each hoot from the audience, was just fabulous.
Lila Luxx pulled off the best effect of the evening. Her gorgeous Victorian gowned lady (burgundy, my favourite color) danced a sad story of seduction, love, and betrayal. As her character shed her many layers of fabric and emotional baggage, you could see how go through all the stages of grief, choosing to dwell on sadness. Under a spotlight, she slit her own throat — masterfully pulled off with a manipulation of her red choker. Très tragic.
If there had been an award for best tassel twirling, it would have gone to Bunny Galore, who not only twirled tassels on pasties, but also a lovely pair of assels as well, giving a glittery new meaning to T&A. Not content to just twirl, she showed off her tassel prowess while doing a handstand, backstand, and in all sorts of acrobatic poses. This is one talented tassel twirler!
Coco Pearl came to Best Debut via New Caledonia. I'm ashamed to say I had to look that up (it's an island between Australia and Fiji and now I want to go there!). Her performance exuded the islands, from her huge feather and grass headdress to her coconut bra. It was a fast paced performance and just when you thought it was going to be a more traditional dance routine, she pulled out a straw, stuck it in her coconut bra, and proceeded to get drunk off her island cocktail. It got even more fun from there as the striptease became a bit more loose and energetic. What a blast.
Lovely Miss Bettie Bombshell brought her signature Charleston act to the best debut category and it really showcased her classic Hollywood beauty and style. It started off with a Vaudeville magic show in top hat and tails and included a costume change mid-performance to a 20s red hot cutie flapper number. Full of energy and with a Betty Boop doe-eyed beauty, her act brought you back in time to the days of Gatsby (but without the crappy movie remake).
From what I understand from her bio, Briana Bluebell makes her own costumes. If so, the one she made for her best debut number proves she is a master costumer. What a stunner! Performing her act Envy, she slinked across the stage in a gorgeous costume of green and blue lace and silk, beads, and rhinestones that flowed like waves along the shore. Seduction was the name of the game as she shed fabric panels like veil dance. It was truly beautiful to watch.
Cherie Nuit brought a favourite act of mine to BHOF this year, one that I had seen her perform at the New York Burlesque Festival back in September. The hilarious Tourist act was added upon and improved and had her annoying knee-high socked, fanny-packed, horribly dressed visitor to the big city looking even more hilarious. This time, not only did she strip down to a fanny pack bra and matching merkin (fanny pack panties?), but the bra came off to reveal fanny pack pasties that zipped open so she could pull out tassels! Ingenious. You can never have too many fanny packs. Never.
The most classic performance of the evening was by Diesel Darling who did a classic Las Vegas showgirl number complete with bejeweled feathered headpiece, blinged out body jewelry, and stunning and huge ostrich feather fans. It was everything I imagine an old-school Vegas showgirl act to be — the ones you would see in the days of the Rat Pack. Classy, gorgeous, glittery, and divine. 
The winner of the evening was Chicago's Gaea Lady whose beautiful veil dance was a little challenging for me to see as it was performed in low light (this is from a photography perspective only). The mood was beautiful, however, and what I did manage to catch of the performance I found very moving and mesmerizing. I just kept wishing I could see more, even of the veil itself, perhaps with a colored light to keep the mood. It was a beautiful piece and congratulations to Gaea Lady for winning Best Debut.
Enjoy the photo gallery of the performances below and congrats to everyone who got into BHOF this year to compete. 
Check out all our BHOF coverage to date, including the list of winners.
Don't miss the Beat. Subscribe.