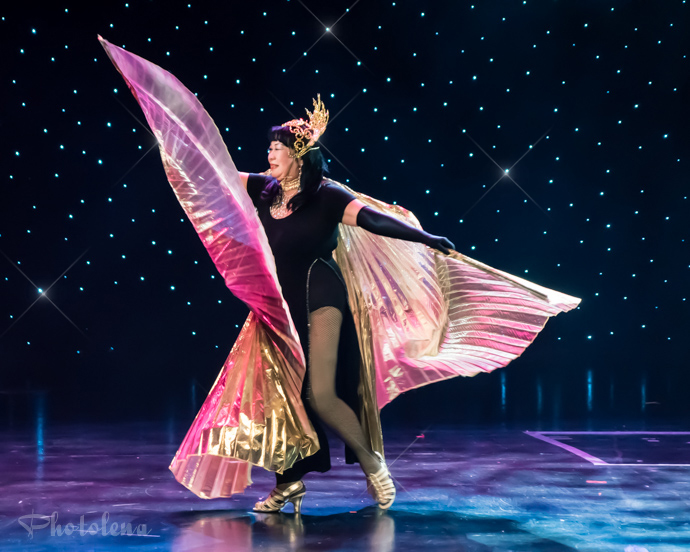 Burlesque Hall of Fame Weekend 2016: Titans of Tease Reunion Showcase
Friday, June 3, 2016
The Orleans Showroom, Las Vegas, NV
It amazes me — I looked back through my photos and I've been coming to see and be inspired by the legends for four years now. And since 2013, you've probably heard me say the exact same thing: this evening is one that should not be missed by anyone as these are the men and women who paved the way for the many forms of burlesque today. And every year, they own that stage, reminding us that creativity, sass, sensuality, and glamour do not fade with age.
There were some new faces this year both on the walk and performing. Joining the walk this year were author and legend Bambi Jones; Fabulous Fanny; Georgette Dante who grew up in the carnival life; musician, actor, and nightclub producer Jack Cione; champion bodybuilder and Miss Exotic World 1995, Pillow; and Rusty Warren known as the Knockers Up Gal and known as the mother of the sexual revolution.
I loved the way they changed up the walk this year too — instead of having just one emcee to introduce all the legends, they had three different legends take turns introducing the different decades of performers. Bic Carroll started the whole shebang off in true comedic style, handing it off to fabulous Toni Elling, who in turn passed on the baton to Camille 2000 to finish off the walk. It was a great personal touch.
There were also some fabulous performances that you'll get glimpses of in the gallery below: a pinup worthy tribute to the legends by one of my favourites, Dirty Martini; a sexy tribute to Rose La Rose by Darlinda Just Darlinda; a stunning showstopper of an opener with three costume changes by Julie Mist; another great song and dance piece from Lovey Goldmine (I love it when she sings!); Marinka proving she's Queen of the Amazons; and Tiffany Carter taking the stage for a great trio piece (we missed you so much last year!). There were just too many to write about — you can tell from all the photos in the gallery, the biggest one yet.
Enjoy this photo gallery, and be sure not to miss Burlesque Beat's review of this show.
Check out all our BHOF coverage to date, including the list of winners.
Don't miss the Beat. Subscribe.