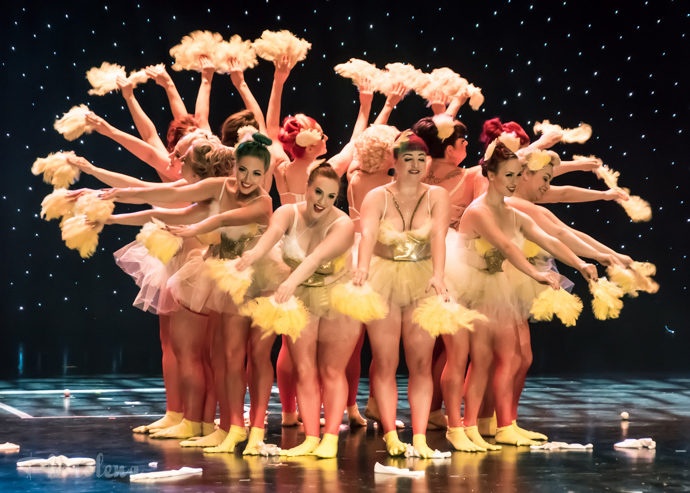 Burlesque Hall of Fame 2016 26th Annual Tournament of Tease: Boylesque and Groups
I've been to many Burlesque Hall of Fame competition nights, but I think this year's was the fiercest — in all the categories. From the beginning of best debut to the end of the evening when all the fabulous contenders competed for the title of Miss Exotic World Queen of Burlesque, it was a whirlwind of top notch acts up on that Showcase stage. Since I've already covered the Best Debut category, let's chat about the the Groups and Boylesque categories.
Best Small Group
I would have had a hard time judging the Best Small Group category — as Johnny Porkpie and Blanche Debris had a laugh pointing out meant "more than 1 but less than 4, but really that's just 2 or 3 people." All the competitors had absolutely solid performances, with the winners — 2 To Fly — pulling off an amazing and surreally athletic performance with mad hatters and wolves (or donkey, or was it a rabbit with flopsy ears — I couldn't quite tell) thrown into the mix. So fabulous!
One of my all time favorites — Kitten 'N Lou — competed with their triple play clown act which I loved seeing in New York. The colors and costuming were bright and bold and the non-stop action act morphs from polka dotted clowns to censorship in a barrel to high fashion mime.
You have to give it to the Schlep Sisters — they know how to take a great 80's song and get the crowd moving to the beat with their "Schlep-a-Con: I Feel For Jews" version of the iconic Chaka Khan song. It was a fabulously comedic act that brought me back in time to my awkward teens, trying to look cool doing the wave and breakdancing (so badly!)
Taffy Tittlywinks and Emma D'Lemma really tugged on the nostalgic heartstrings by performing an act set to one of my favourite movies and stories — Willie Wonka and the Chocolate Factory. Dressed as Wonka and an Oompa-Loompa who does fantastic feats of aerial imagineering with ribbons. Yes, they find the golden ticket in the end.
Best Large Group
The Best Large Group — again made fun of by Johnny and Blanche as "more than 4 people but less than 1" — were all fabulous troupes leaning mostly to the comedic with winners Screaming Chicken Theatre Revue bringing everyone to their feet with a truly hilarious fowl-based performance that must have had two dozen chickens (and one rooster) up on stage by the end.
Another outstanding performance had an unusual twist as well. Don't Blink Burlesque came up with the ingenious idea of doing their entire act as stripping air dancers. You know, the kind you see bobbing around at car lots and malls? Each a different color, they even had pasties on them! It was fabulous — what creativity!
Gina Louise and the Ladyslippers evoked a time gone by with a stunning Art Nouveau inspired piece. It was like a moving piece of art or an Erte statue come to life. Truly beautiful. At the opposite end, Burlesque Noumea had us all breaking out in a sweat watching them perform in 80's gym attire with huge blow up balls, going through some exercise routines during their striptease.
Best Boylesque
The Best Boylesque category is always fabulous to watch — with such top notch performers. All the competitors brought their A-game, but winner Harden Reddy's Pinocchio-like marionette routine was fabulous with his constricted use of a red curtained theatrical box from which he languished on his strings.
Chris Harder really had the crowd roaring with laughter with his pizza man routine. How ingenious to have the pizza be so flexible — he could pull and spin the crust off and use it as a prop. And not only was his g-string a pizza slice, but he pulled on an errant piece of cheese just to have it stretch, and stretch, and stretch…. Hilarious!
I've never seen EmpeROAR Fabulous perform before but I understand why ROAR is capitalized in his name. What a frackin' hilarious hoot he is! His act was performed to Schoolhouse Rock's "Naughty Number Nine" (go ahead, look it up on YouTube — it's fabulous just like all the other Schoolhouse Rock songs are). As the song counted through the numbers, he matched his striptease to reveal glamorous, glittery blue numbers all over his body. Sexy, naughty, and educational to boot! 
It was great to see the additional touches here and there that Lou Henry Hoover made to his mermaid/Poseidon act which I first saw at the New York Burlesque Festival. It's still the story of a mermaid shedding it's tail to take up Poseidon's trident and do a fabulous contemporary dance number across the stage – using a conch shell as codpiece. But the addition of aerial work at the beginning to show the mermaid hanging, caught up in a net, struggling to get free, seems to really have brought the piece together.
OK, so we've still got the Miss Exotic World Queen of Burlesque competition left. Until then, enjoy the photos below and check out all our BHOF coverage to date, including the list of winners.
Don't miss the Beat. Subscribe.