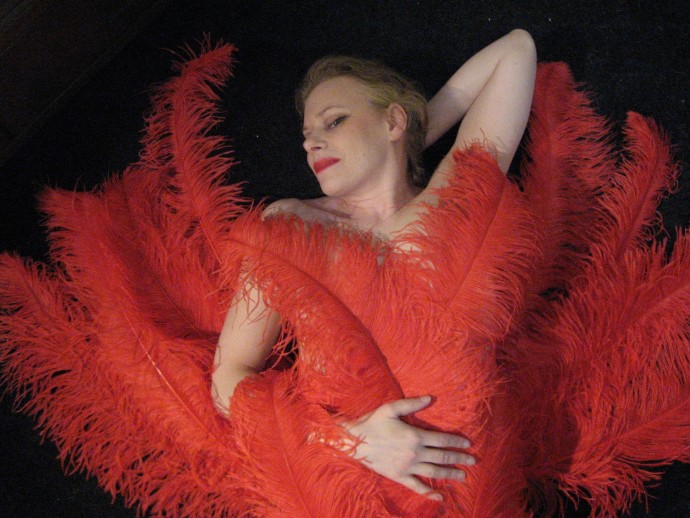 Burlesque Bookshelf  is dedicated to the memory of Julie Vogt aka Dr. Uberblonde, whose idea for this ongoing series was to offer reviews and commentary on the various books about burlesque. Even as Julie suggested it, she quickly admitted that there never seemed to be enough time for everything. For Julie, it was, sadly, all too true: She passed away on December 4th, 2011, at the tender age of 38.  She is survived by her husband, Todd, and son, Miles. —Ed.
*This piece contains affiliate links. If you click and buy, we may get a cut of the sale.*
Miss Mina Murray's Little Book of Better Burlesque
Mina Murray's little gem contains more than seventy useful bits of advice for burlesquers in a concisely written book that you can take with you anywhere. Heck, you can almost tuck it in your g-string!
[Spoken like the true burlesque legend you are, Dusty! —Ed.]
Here are a few of my favorites:
You don't have to be in constant motion. I would add that not every second of your number needs to be or should be choreographed. A pause as Mina suggests, gives you a chance to connect with your audience.
Cut the tags out of your costumes. Seems pretty basic but it is also good advice for your everyday wear too and one of my husband's pet peeves. He's always nagging me to cut out the tags from the neckline of my blouses. I would like to make a top and decorate it with the tags from all of my clothes! Thank goodness many manufacturers are now stamping the size and other information to the inside of the garment.
Count out your rhinestones before you start a project. Common sense really, but how often have you overdone a rhinestoning project and ran out of bling before you finished your project?
If you have to use "gimme" or "I can't hear you" gestures to get an audience to react, then maybe it is you and not the audience. While it might work, I personally don't like to see a performer begging for applause.
Rehearsing in front of a mirror is good but video is better. This advice is probably the best tip in the book. I videotape my own shows so that I can see if my costume needs improving and if I need improving! My videos also refresh my memory when I haven't performed a certain show in a while.
Wear a protective g-string under your undergarments. Mina adds another great suggestion with having a lining that will snap into place under your g-string or panties.
Avoid the phrase "you know what you should do," when offering a critique of someone else's show. Avoid giving a critique unless you are asked. Compliments, however, are always welcome!
Put an old stocking over the end of your vacuum cleaner hose to vacuum up rhinestones caught in your carpet. This is a tip I really like because I probably have enough rhinestones, sequins and glitter buried in my carpet to make a new costume not to mention a few missing needles and straight pins, ouch…
Mina Murray is a performer, producer, burlesque instructor and blogger. Many of her golden tidbits have been previously published on her blog Oh, The Glamorous Life!. There is something here for everyone, from novice to experienced performer.
And be sure you get one of Mina's bookmarks. It also serves as a ruler, a pre-show checklist, and it has a handy scale for rhinestone sizes from SS 10 to SS 34.
Buy the book: Miss Mina Murray's Little Book of Better Burlesque
About The Author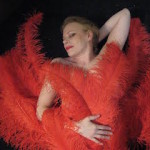 After the job market for glamourous archaeologists dried up, Miss Mina Murray abandoned her Ivory Tower and turned to the art of the striptease. "The Martha Stewart of Burlesque" is a co-founder of The Boston BeauTease (formerly The Boston Babydolls) and Headmistress of the Boston Academy of Burlesque Education (B.A.B.E.).